NFL: Late Ackers' field goal sees 49ers top Seahawks
FANCY FOOTWORK: Veteran kicker David Ackers had a stellar game as his four field goals helped him set a new NFL single-season record with one game in hand
San Francisco's David Akers kicked four field goals, including the 39-yard winner with 2:57 left, as the 49ers edged the Seattle Seahawks 19-17 on Saturday to keep alive their chances of receiving a first-round bye in the NFL playoffs.
Larry Grant sealed the win by forcing Tarvaris Jackson's fumble that was recovered by Donte Whitner with 1:07 left. San Francisco (12-3), which already clinched the NFC West, remained in position for the No. 2 seed in the conference.
Akers set an NFL record with his 42nd field goal of the season. Frank Gore had San Francisco's only touchdown, with a four-yard run on the visitors' first drive of the second half.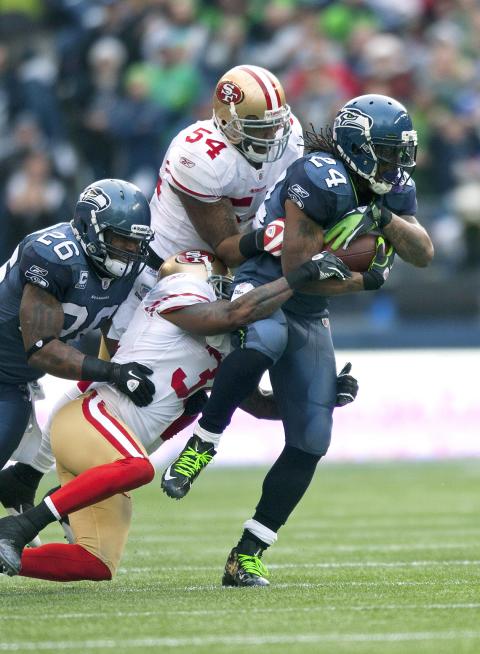 The Seattle Seahawks' Marshawn Lynch, right, is tackled by the San Francisco 49ers' Larry Grant, top, and Donte Whitner at CenturyLink Field in Seattle, Washington, on Saturday.
Photo: AFP
Marshawn Lynch scored on a four-yard run with 6:41 left to give Seattle (7-8) a 17-16 lead. It was the first TD rushing allowed by the 49ers this season.
LIONS 38, CHARGERS 10
In Detroit, the hosts secured their first playoff spot in this millennium as Matthew Stafford threw three touchdown passes in the first half to beat San Diego.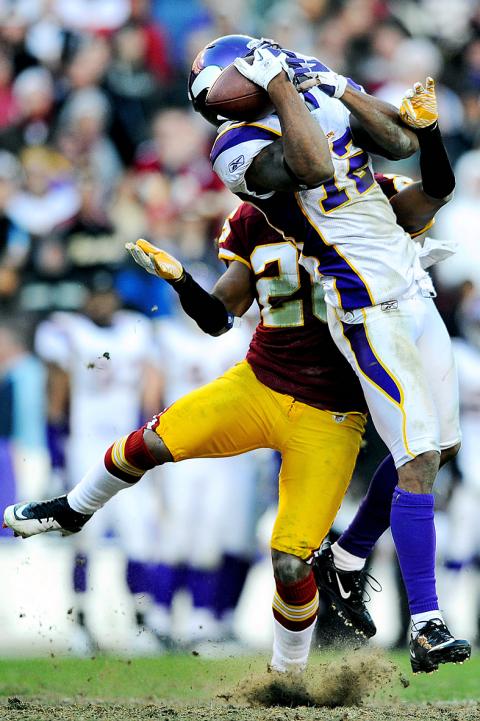 The Minnesota Vikings' Percy Harvin pulls in a reception during their game against the Washington Redskins in Landover, Maryland, on Saturday.
Photo: AFP
Detroit (10-5) have won three straight after a seven-game slump to earn a wildcard spot.
The Chargers (7-8) will not be in the postseason for a second straight year after making it five times in a six-season stretch. And that might cost coach Norv Turner his job.
The Lions held San Diego scoreless until midway through the third quarter, when Philip Rivers threw an 11-yard pass to Malcom Floyd to make it 24-7.
PATRIOTS 27, DOLPHINS 24
In Foxborough, Massachussets, Tom Brady ran for two touchdowns and threw for another as New England came back from a big halftime deficit to beat Miami and clinch a first-round bye in the playoffs.
The Patriots trailed 17-0 at halftime then scored on their first five possessions in the second half. The Dolphins contributed to their own demise, as Matt Moore lost a fumble at his 38-yard line, then threw an interception that Devin McCourty picked off at the Patriots two-yard line.
New England (12-3) won their seventh straight game. After the Texans lost to the Colts on Thursday, the Patriots needed a win or a tie to lock up one of the AFC's top two spots.
Miami (5-10) is now 1-1 under Todd Bowles, who took over as coach when Tony Sparano was fired.
BENGALS 23, CARDINALS 16
In Cincinnati, Andy Dalton threw a pair of touchdown passes and Cincinnati withstood yet another fourth-quarter comeback by Arizona to win and remain in playoff contention.
Another small crowd at Paul Brown Stadium saw the Bengals (9-6) secure only their third winning record in the last 21 years and stay in the running for the final AFC wildcard.
Dalton threw touchdown passes to Jermaine Gresham and Jerome Simpson, who did a backflip over a defender and landed on both feet in the end zone. Dalton joined Peyton Manning (26), Charlie Conerly (22) and Dan Marino (20) as the only NFL rookies to throw 20 touchdowns.
Arizona (7-8) rallied from a 23-0 deficit and had a chance to tie it. Receiver Early Doucet was uncovered at the goal line, but tripped as he ran, letting a fourth-down pass fall incomplete with 1:11 left.
RAVENS 20, BROWNS 14
In Baltimore, Joe Flacco threw two touchdown passes as Baltimore downed Cleveland and moved one step closer to winning the AFC North.
Ray Rice ran for 87 yards and caught a TD pass for the Ravens (11-4), who led 17-0 at halftime and held on against the bumbling Browns. Baltimore completed their first unbeaten season at home (8-0).
The Ravens can win the AFC North by defeating Cincinnati this week. That would also give them a first-round bye and a home playoff game.
Josh Cribbs had a career-high 84-yard punt return for Cleveland (4-11), but the Browns generated little offense and were victimized by questionable play calling, bad clock management and untimely penalties in their fifth straight loss.
VIKINGS 33, REDSKINS 26
In Landover, Maryland, Minnesota overcame injuries to Adrian Peterson and Christian Ponder on back-to-back plays to edge Washington and end a six-game losing skid.
Toby Gerhart filled in for Peterson after a knee injury and set up a touchdown with a 67-yard run, while Joe Webb threw for two TDs and ran for another while subbing for the concussed Ponder.
Webb's eight-yard pass to Percy Harvin broke a 23-23 tie early in the fourth quarter and rookie Mistral Raymond's first career interception set up Ryan Longwell's 23-yard field goal that gave the Vikings a 10-point lead with 4:05 to play.
The Vikings are 3-12. The Redskins lost their sixth straight home game to fall to 5-10.
EAGLES 20, COWBOYS 7
In Arlington, Michael Vick threw two touchdown passes as Philadelphia defeated Dallas in a game that had all the intensity of a preseason dress rehearsal.
This game became somewhat meaningless midway through the first quarter. A victory by the Giants eliminated the Eagles (7-8) from the playoffs and turned the Dallas-New York game this weekend into a showdown to decide the NFC East title.
The Cowboys (8-7) rested quarterback Tony Romo after just one series and running back Felix Jones after two.
Vick threw a touchdown pass on the opening series and again just before halftime. Alex Henery kicked field goals of 43 yards and 51 yards for the Eagles.
In other games, it was:
‧ Raiders 16, Chiefs 13, OT
‧ Steelers 27, Rams 0
‧ Titans 23, Jaguars 17
‧ Panthers 48, Buccaneers 16
Comments will be moderated. Keep comments relevant to the article. Remarks containing abusive and obscene language, personal attacks of any kind or promotion will be removed and the user banned. Final decision will be at the discretion of the Taipei Times.