Miguel Cotto stops Margarito by TKO
PAYBACK: The Puerto Rican avenged himself three years after losing to the Mexican in a knockout later called into question after Margarito was caught with loaded gloves
Miguel Cotto battered a one-eyed Antonio Margarito over nine lopsided rounds before winning a TKO decision at the start of the 10th in their highly anticipated rematch on Saturday at Madison Square Garden in New York.
Cotto, who improved his record to 37-2-0, earned a punishing measure of payback for his loss to Margarito three years ago.
The Puerto Rican fighter was never seriously threatened and easily retained his WBA super welterweight title.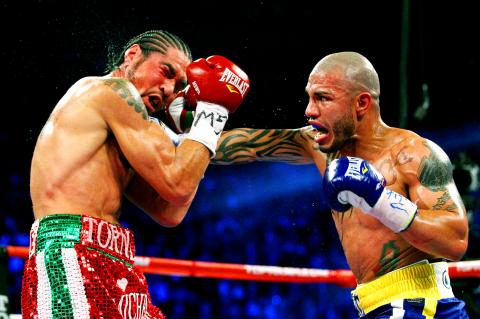 Puerto Rico's Miguel Cotto, right, connects with a right-handed punch to the face of Antonio Margarito of Mexico during the WBA super welterweight title fight at Madison Square Garden in New York on Saturday.
Photo: AFP
Margarito beat Cotto in July 2008, only to later have his reputation tarnished when he used illegal hand wraps before a loss to Shane Mosley. Margarito did not box again for more than a year.
The Mexican needed surgery to repair a fractured orbital bone following a loss to Manny Pacquiao last year and considered retirement. The New York State Athletic Commission did not license Margarito until Nov. 22 after ordering another examination of his eye. Cotto took quick aim on the eye and it was swollen shut in the seventh round.
Cotto said he believed Margarito also used illegal hand wraps in their first fight and that he had the photographs to prove it. He stared down Margarito in his corner after the bout was stopped.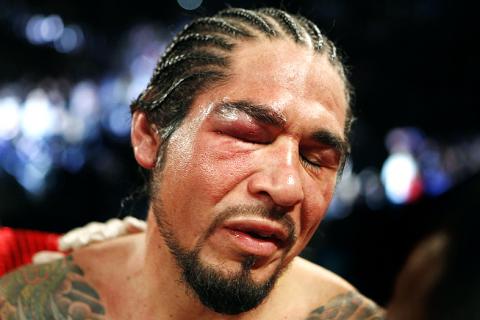 Antonio Margarito of Mexico reacts after his fight against Puerto Rico's Miguel Cotto was stopped after his right eye became closed during their WBA super welterweight title match at New York's Madison Square Garden on Saturday.
Photo: Reuters
"Just to look at him and taste my victory on him," Cotto said. "He means nothing to me. I'm here with all my crowd and all my people. He means nothing to me."
The Tijuana Tornado stopped Cotto in the 11th round in Las Vegas in their first meeting. Cotto said he long resisted a rematch because he did not want money going to an opponent who did not fight fair.
The sellout crowd at MSG went wild for Cotto during Saturday's fight, honking horns and waving Puerto Rican flags.
Margarito laughed, smiled and even taunted Cotto after suffering several big blows early on. His demeanor did not help him at the end of the seventh round, when he sat on his corner stool, his right eye shut.
Margarito gamely fought on with one eye, hoping for that one brutal blow that could change the fight, but ring doctor Anthony Curreri stopped the fight because of the eye three seconds into the 10th round.
"It came to the point where there was no vision at all from the eye," Curreri said. "I think it would have been dangerous for him to go out there without any visual field. He did go quite a bit with the eye impaired."
Referee Steve Smoger did not know what the doctor wanted, causing confusion at the end.
Margarito insisted he could continue, though he was way behind on the scorecards.
"I told them how many numbers I had up," he said. "I knew from now on they were out to protect him because I was building [momentum]."
In an undercard bout, Brandon Rios stopped John Murray in the 11th round after battering the Englishman against the ropes and forcing the referee to step in.
Rios, who now has a 29-0-1 record, had surrendered his WBA lightweight title when he failed to make the 135 pound (61kg) weight on Friday night. He could win the fight, just not the title.
Delvin Rodriguez beat Pawel Wolak by unanimous decision in a junior middleweight bout, landing 65 of his 101 power shots in the final round.
Also, Mike Jones won a unanimous decision over Sebastian Lujan and will get a fight for the vacant IBF welterweight title next year against Randall Bailey.
Comments will be moderated. Keep comments relevant to the article. Remarks containing abusive and obscene language, personal attacks of any kind or promotion will be removed and the user banned. Final decision will be at the discretion of the Taipei Times.