MAJOR LEAGUES : Record-setting McGwire comes clean on steroids
'FEEL GOOD' The player who passed Roger Maris' 1961 home run record in 1998 said he took small amounts because he didn't want to look like Arnie or the Hulk
Mark McGwire doesn't remember all the names of the performance-enhancing drugs he used during his baseball career, but says he preferred taking them orally rather than injecting them in other ways.
During a lengthy interview on the MLB network television, the 46-year-old McGwire expressed relief at finally coming forward about his steroid use after years of silence on the issue.
"The names I don't remember," McGwire said. "I did injectibles, but preferred the orals. The ones I did were low dosage. I didn't want to look like Arnold Schwarzenegger or Lou Ferrigno. I took low doses because I wanted my body to feel normal."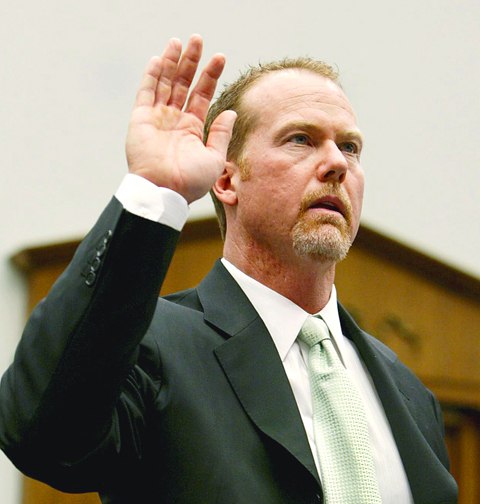 Retired Major League Baseball player Mark McGuire is sworn in prior to testifying before the House Government Reform Committee's hearing "Major League Baseball and Use of Steroids" in Washington on March 17, 2005.
PHOTO: EPA
Ferrigno played The Incredible Hulk in the 1970s US TV show.
McGwire, who hit 583 career home runs with Oakland and St Louis, is best know for his record-breaking home run year in 1998, when he outdueled Sammy Sosa by swatting 70 dingers.
During that season a bottle of the anabolic steroid Androstenedione was spotted in his locker. At the time the drug was not banned, but it is now. McGwire said on Monday he liked the effects.
"I took Andro. It was over the counter," McGwire said. "It made me feel good. It made my body feel good."
Another he said he used was human growth hormone: "I tried it. I don't know. Once, twice maybe."
McGwire said he used performance-enhancing substances for almost a decade because he felt they helped him rehabilitate his body after injuries.
McGwire's admission comes after years of speculation that he used steroids and less than two months before the St Louis Cardinals open training camp with him as their new hitting coach. As a rookie hitting coach in the big leagues, McGwire said if someone asked him for advice on steroids he would tell them not to do it.
"It was the stupidest thing I ever did," he said. "There is no reason to go down that road. It is an illusion."
McGwire feels his records on the field were not connected to the drugs. Asked if he could have hit 70 home runs in a season without them, McGwire didn't hesitate.
"Absolutely," he said. "Look at my track record as far as hitting home runs. They still talk about home runs I hit in high school. I was given the gift to hit home runs."
He said he took steroids because he was trying to recover from injuries quickly.
"With the toll my body was going through, and the level I had to play at, I thought with the low dosages it would make me feel normal," he said.
He asked people not to judge him too harshly.
"They say the truth sets you free. We will see if this is really true," he said. "It is the most regrettable thing I have done in my life. I wish it never came into my life. I apologized to everybody in Major League Baseball, the Marises, my family and the [commissioner] Bud Selig."
Roger Maris held the single-season home run record of 61 in 1961 until McGwire came along in 1998. Three years later Barry Bonds, who has admitted taking steroids but not knowingly, hit 73 to surpass McGwire.
The Maris family now believes that the 61 mark should once again be considered the official record.
Comments will be moderated. Keep comments relevant to the article. Remarks containing abusive and obscene language, personal attacks of any kind or promotion will be removed and the user banned. Final decision will be at the discretion of the Taipei Times.