Asian teen skating queens prepare for Olympic clash
In fierce midsummer heat, a gold medal rivalry on ice is shaping up between Asia's two teenaged figure skating queens, with the 2010 Vancouver Olympics the glittering target.
South Korea's world champion Kim Yu-na will play a sexy "Bond girl," while 2008 title holder Mao Asada of Japan attempts a nerve-jangling triple toe-loop in an unprecedented jump combination with her trademark 3.5-revolution triple axel.
The two university students, who will both turn 19 next month, have outlined their 2009-2010 programs, six months ahead of their Olympic debut.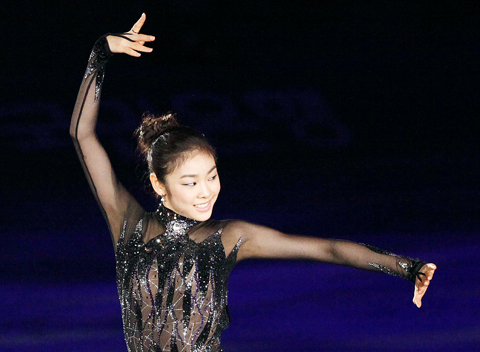 Kim Yu-na of South Korea performs during the Samsung Ice AllStars figure skating gala show in Seoul last Friday.
PHOTO: REUTERS
Too young to be eligible, both girls missed the 2006 Turin Olympics, but have since dominated the sport, carving up the Grand Prix Final crown between them.
In her new short program, Kim will skate to a medley of James Bond themes such as Thunderbolt, Die Another Day and Dr No.
"I wasn't sure about it at first," Kim said about choreographer David Wilson's choice.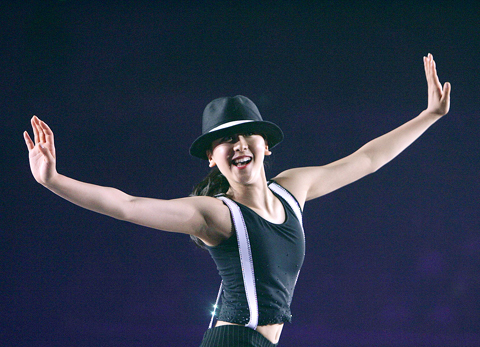 Japan's Mao Asada performs during the "2008 Superstars on Ice" figure skating show in Seoul, South Korea, on July 20 last year.
PHOTO: REUTERS
Traditionally, Bond themes have been preferred by male skaters.
"But it has become so good that I enjoy listening to it in my normal life," she said in Seoul after arriving from her training base of Toronto.
Kim's free skate, meanwhile, will be based on Piano Concerto in F by George Gershwin.
"I am used to music that has a story. Right now, as I use classical music, I can perform more softly," she said.
"It's a whole different direction and it's fantastic," said Brian Orser, Kim's coach for three years, about her new programs.
The short one is "mature and even on the verge of sexy," the Canadian, a world champion and two-time Olympic silver medalist in the 1980s, told the figure skating Web site icenetwork.com.
In December, Asada became the first woman ever to land two triple axels in the same program when she regained the Grand Prix Final title after Kim's two-year domination.
But then Kim captured Asada's Four Continents crown in February before dethroning the Japanese star at the world championships in March.
With steady skating and artistic expression, Kim collected a total 207.71 points at the worlds, breaking the previous record of 199.52 set by Asada in 2006.
Asada finished fourth with 188.09 as she struggled to master the demanding programs under Russian coach Tatiana Tarasova. Canada's Joannie Rochette ended second and 2007 world champion Miki Ando of Japan was third.
"I'm free from any hitch in my combinations. Everything is going well," Asada said during training in her hometown of Nagoya. "There are many highlights in the free skate with which I might impress the judges."
For her short routine, Tarasova has chosen Aram Khachaturian's Masquerade, the music Asada used in her free skate last season.
In the free program, Asada will skate to Sergei Rachmaninoff's profound piano piece Prelude in C sharp minor.
"Mao is trying the most difficult elements in the world," said Tarasova, who plans to add a triple axel-triple toe loop combination in the skater's performance. "She [Asada] can win by doing what nobody else can do."
"Her body has become perfect for an athlete after power and speed training. A little girl has grown into a mature beauty," the coach added.
Asada is due to skate at the Japan Open team event in Saitama, north of Tokyo, on Oct. 3.
She will then join Kim, Turin silver medalist Sasha Cohen of the US and Italian Carolina Kostner at the Grand Prix series opener, the Trophee Eric Bompard, in Paris from Oct. 15 to Oct. 18.
Leaders from the six-event series will clash in the final in Tokyo from Dec. 3 to Dec. 6.
Comments will be moderated. Keep comments relevant to the article. Remarks containing abusive and obscene language, personal attacks of any kind or promotion will be removed and the user banned. Final decision will be at the discretion of the Taipei Times.