Ancelotti impressed by resilient Blues
KEEPING CONTROL Although Sunderland took a surprise lead through Darren Bent and were leading at halftime, Chelsea came from behind for the third consecutive time
Carlo Ancelotti believes Chelsea's 3-1 win at Sunderland gave an indication that his stars are determined to fight for the Premier League title.
Just as they did against Hull on Saturday, Chelsea showed admirable resilience on Tuesday to recover after Sunderland poured forward in the opening 45 minutes at the Stadium of Light and took a surprise lead through Darren Bent.
Ancelotti insisted that he was not worried at any stage of the first half, although his gestures on the touchline occasionally suggested otherwise.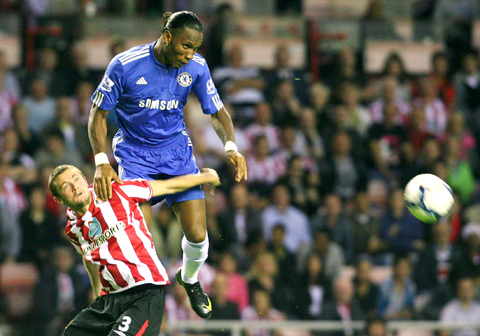 Sunderland's George McArtney, bottom, struggles with Chelsea's Didier Drogba during their Premier League match at the Stadium of Light in Sunderland, England, on Tuesday.
PHOTO: EPA
But, eventually, Chelsea proved that class usually comes out on top in Premier League as goals from Michael Ballack, Frank Lampard and Deco sealed the points.
"I am very happy. I thought we played very well in the second half. I know we went behind, but we had control of the match and good possession," Ancelotti said. "There wasn't a lot of shooting from us, but we had control of them. Sunderland were strong in defense in the first half and applied pressure. They ran a lot and they were tired, which made it more difficult for them to control us."
Chelsea have now gone behind in all three of their matches this season, including the Community Shield against Manchester United, but Ancelotti said: "I am not concerned about coming from behind."
"It can happen in football and what's important is to show a good reaction and not be afraid when you do go behind," he said. "We have been behind in three matches, but still showed good control."
There was much to admire in the way Sunderland played, but Sunderland boss Steve Bruce reserved most of his praise for the west London club who are certain to be challenging for the title again.
"Sometimes you just have to admit you've been well beaten by a very good team. It seemed at times that we'd had a man sent off," Bruce said.
"We gave everything we could give, but couldn't cope with the way they moved the ball. It was a very difficult evening for us. We all aspire to be the best but when you see a performance like that you can see why they will be there or thereabouts in every competition," he said.
Chelsea took control of the second half and Ballack equalized before Lampard's penalty and Deco's strike erased the memory of their first half difficulties.
"Darren got a wonderful goal and we were very pleased at half time," Bruce said. "But Chelsea were terrific and played to their maximum. They're the real deal and that's why they are top of the tree. Anybody who beats them will win the league."
Ancelotti made four changes to the team that beat Hull.
The former AC Milan coach said: "I changed it because I have very good quality players and I want to use them because we have a lot of matches. I want to keep them fresh and in good condition."
He also ruled out any chance of selling Deco, who was outstanding.
"He doesn't want to change and we don't want him to change," Ancelotti said. "Deco is working very well now. This is a very important year for him before the World Cup. He played very well — for himself and for the team."
Comments will be moderated. Keep comments relevant to the article. Remarks containing abusive and obscene language, personal attacks of any kind or promotion will be removed and the user banned. Final decision will be at the discretion of the Taipei Times.