CPBL 20: Drizzly Bears tame lackluster Lions
Typhoon Morakot might have flooded Taiwan with torrential rainfall over the weekend, but it did not drench the spirit of baseball as the CPBL managed to squeeze in a game at the Taipei Municipal Baseball Stadium in Tianmu on Sunday afternoon, with the La New Bears roughing up the Uni-President Lions in a rain-shortened 13-4 final.
Homers played a big part in the game, accounting for all but five of the 17 total runs, with the ball carrying extremely well because of the strong breeze from Morakot.
Lions starter Chu Wei-ming took a battering, with Lin Chih-sheng picking up where he left off last Thursday by nailing his league-leading 22nd homer of the season in the top of the first to give the Bears a quick 3-0 lead.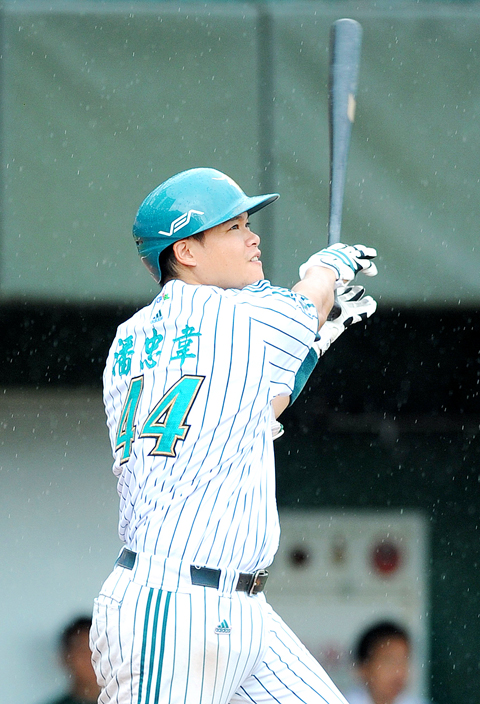 La New Bears batter Pan Chung-wei nailed two homers against the Uni-President Lions at the Taipei Municipal Baseball Stadium in Tianmu on Sunday.
PHOTO: WANG YI-SUNG, TAIPEI TIMES
Pan Chung-wei made it 4-0 with his fifth blast of the year. Pan would end up with two homers on the day and five RBIs, tying his career-high in both homers and RBIs in a single game.
After Lin Chih-ping's one-run single put the Bears ahead 5-0 in the second, Pan drove in his second run of the game with a single to deep-right.
Newcomer Jacob Cruz then joined the home-run parade with his first round-tripper of the season: a two-run shot off Chu that made it 8-0 through the third.
The Bears tacked on three more runs in the fourth, courtesy of an RBI triple by Lin Chih-sheng and Pan's second homer of the game to blow it wide open at 11-0.
Held scoreless through the fourth, the Lions finally got on the board in the top of the fifth with Pan Wu-hsiung sending an offering from Bears starter Hsu Wen-hsiung over the left-field wall for a grand slam.
After the Bears put up two more runs to lead 13-4 in the bottom of the fifth, the light drizzle turned into a steady downpour, forcing the game officials to end the contest after the sixth, giving the Bears their third straight victory.
Hsu picked up the win, taking the shutout into the fifth before giving up the grand slam in a six-hit effort.
Counterpart Chu allowed 11 runs on 14 hits over four frames.
July's Pitcher of the Month looked nothing like the hurler who was last month 2-0 in two starts and four relief appearances, with a miniscule ERA of 1.77.
Comments will be moderated. Keep comments relevant to the article. Remarks containing abusive and obscene language, personal attacks of any kind or promotion will be removed and the user banned. Final decision will be at the discretion of the Taipei Times.