Bartoli topples Venus Williams in Stanford final
Venus Williams was upset by Marion Bartoli 6-2, 5-7, 6-4 in the final of the Bank of the West Classic on Sunday for her first title on US soil.
The eighth-seeded Bartoli, who lost in last year's final, played a steady match against the second-seeded Williams and will likely move up two places into 12th when the next world rankings are released. Williams is expected to remain third.
"Venus is one of the greatest champions ever," Bartoli said. "That's what I practice for, to play her. To beat her is even better."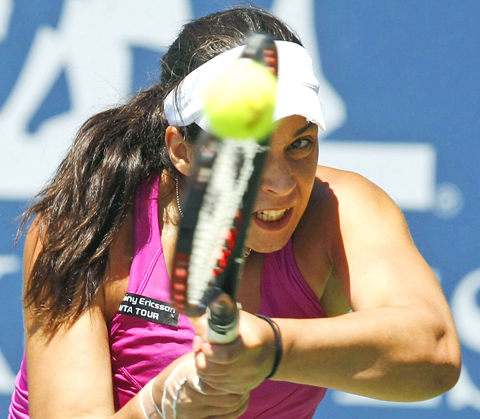 Marion Bartoli of France returns to Venus Williams of the US in the final of the Bank of the West tennis tournament in Stanford, California, on Sunday.
PHOTO: AP
Bartoli recalled days of scraping away snow in her native France to practice tennis with her father and coach. Those thoughts made her victory all the more special.
"It would be zero degrees outside and we'd sweep off the snow just to practice," said Bartoli, who earned US$107,000 for the win. "People would say I wouldn't be any good at tennis if I let my dad [Dr Walter Bartoli] coach me. That was about the time Venus was just starting out and coached by her dad. She went to No. 1. That helped me develop mental toughness."
Her father still coaches her and has a unique form of motivation.
Taiwan's Chan Yung-jan, second left, Monica Niculescu of Romania, left, and Serena, right, and Venus Williams smile as they hold their trophies after the doubles final at the Bank of the West Classic in Stanford, California, on Sunday.
PHOTO: AFP
"He told me before the week there's no way I would make the final," Bartoli said. "Today he said the only goal was to avoid losing 6-0, 6-1."
Williams, making her first appearance at the event since 2005, reached her seventh final in eight appearances at Stanford. She's won two titles and none since 2002.
"Marion played really well," Williams said. "I couldn't find my game. I was fighting myself a lot and I couldn't find the court. I'm not used to that."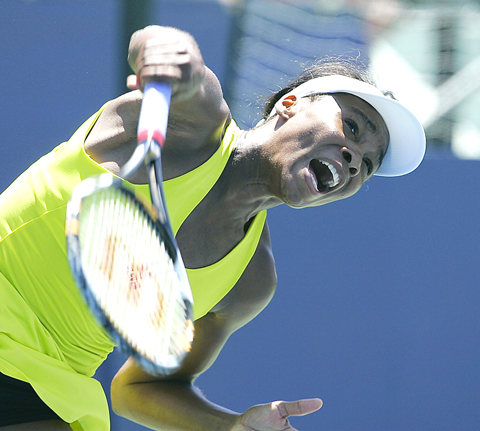 Venus Williams serves to Marion Bartoli of France in the finals of their Bank of the West Classic at Stanford University in California on Sunday.
PHOTO: REUTERS
Bartoli made an adjustment this season with her serve to get more power from her legs, and it helped keep Williams — who favors a strong baseline game — on her heels at times.
"I have to give Marion credit," Williams said. "That's one of the best games she's played since I've seen her."
Williams fell to 31-8 on the season, with four of those losses to top-15 players. She lost for just the third time in her last 15 matches, after winning 14 straight earlier this season.
Bartoli improved to 32-13 in winning for the seventh time in eight matches. She's 3-4 against the top 10 this year.
An hour after her defeat at the hands of Bartoli, Venus Williams and her sister Serena cruised to a 6-4, 6-1 victory in the doubles final over Taiwan's Chan Yung-jan Chan and Monica Niculescu of Romania.
The title was the third this year for the Williams sisters, as the duo also captured the crowns at the Australian Open and Wimbledon. It is the 15th championship overall for the Williams sisters and the first non-Grand Slam doubles title since 1999.
Serena Williams and Venus Williams enjoyed a dominating run through the tournament, never allowing more than four games to an opponent.
Playing together for the first time, Chan and Niculescu were also impressive during the week. Unseeded in the draw, Chan and Niculescu's signature moment came during the quarter-finals in the form of a 7-5, 6-3 victory over the top-seeded team of Cara Black and Liezel Huber.
ADDITIONAL REPORTING BY STAFF WRITER
■LA OPEN
AP, LOS ANGELES
Sam Querrey ended a string of final round frustrations on Sunday by beating Australia's Carsten Bell 6-4, 3-6, 6-1 to claim the LA Tennis Open title.
Querrey was playing in his third straight final and fourth of the season, but he had yet to win a tournament.
"I didn't want to lose three finals in a row," said the 21-year-old Querrey, who lives in nearby Santa Monica and had to come up with about 120 tickets for family, friends and his raucous "Samurai" fan club.
Twin brothers Bob and Mike Bryan, the top seeds, won their fifth LA Tennis Open title with a 6-4, 7-6 (2) victory over Benjamin Becker and Frank Moser.
■CROATIA OPEN
AP, UMAG, CROATIA
Top-seeded Nikolay Davydenko routed former No. 1 Juan Carlos Ferrero 6-3, 6-0 to win the Croatia Open on Sunday.
It was the Russian's 16th career title and comes a week after winning the German Open. Davydenko had return to playing in Hamburg after missing nearly four months due to injuries.
Davydenko, ranked No. 9, is now 18-3 since the French Open.
■ISTANBUL CUP
AP, ISTANBUL, TURKEY
Vera Dushevina of Russia beat Lucie Hradecka of the Czech Republic in the Istanbul Cup final on Sunday to win her first WTA title.
The fifth-seeded Dushevina defeated No. 8 Hradecka, 6-0, 6-1 in 41 minutes.
Top-seeded Vera Zvonareva and No. 2 Patty Schnyder were knocked out in the first round.
■LEGG MASON CLASSIC
AP, WASHINGTON
Ernests Gulbis of Latvia beat American Kevin Kim 7-5, 3-6, 6-3 to advance to the second round of the Legg Mason Tennis Classic on Sunday.
Wayne Odesnik of the US defeated Chile's Paul Capdeville 4-6, 6-2, 6-4 in the opening match of the main draw.
Comments will be moderated. Keep comments relevant to the article. Remarks containing abusive and obscene language, personal attacks of any kind or promotion will be removed and the user banned. Final decision will be at the discretion of the Taipei Times.