Record crowd welcomes Ronaldo to Real Madrid
'CHILDHOOD DREAM': The most expensive player in the world received the No. 9 jersey formerly worn by club legend Alfredo di Stefano and Javier Saviola
Cristiano Ronaldo said on Monday he had fulfilled a "childhood dream" as he was officially unveiled as a Real Madrid player before a record-setting capacity crowd of nearly 80,000 people at the Santiago Bernabeu stadium.
"I am very happy to be here," the 24-year-old Portuguese winger told cheering fans at the Santiago Bernabeu stadium in the Spanish capital after completing his long-desired move to the club from Manchester United.
"For me it is the realization of a childhood dream, which was to play for Real Madrid. I never expected the stadium would be full just to see me. It is impressive," he added.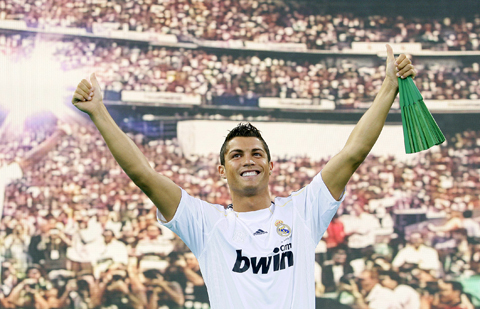 Real Madrid's new player Cristiano Ronaldo of Portugal waves to fans during his presentation at the Santiago Bernabeu stadium in Madrid, Spain, on Monday. Behind him is a live image of the stadium projected on a giant screen.
PHOTO: AP
Club officials said the event had smashed the previous record for attendance at the unveiling of a soccer player set in July 1984 when Diego Maradona was presented at Naples after signing from Barcelona before 75,000 people.
Real acquired the player from Manchester last month on a six-year deal worth 94 million euros (US$131 million) and he will reportedly be paid 13 million euros each season, making him the most expensive player in the world.
Ronaldo, last year's FIFA world player of the year, said he was "proud" to be the world's best paid soccer player and would do all he could to help the team win the Champions League.
Security guards prevent a supporter from climbing onto the stage where Portuguese striker Cristiano Ronaldo was being presented at the Santiago Bernabeu stadium in Madrid on Monday.
PHOTO: EPA
"I want to prove that they paid the right price for me," he told a lengthy news conference after he was unveiled where he fielded questions in English, Spanish and Portuguese.
"We have a great team, a great coach, and we have to take it step by step. We have a really good chance to win the Champions League," he added.
Real, Spain's historically most successful team, last won the Champions League in 2002.
Ronaldo wore the black and white No. 9 jersey once sported by club legend Alfredo di Stefano during his unveiling.
The Argentine striker, Real's honorary president, was present at the unveiling as was Portuguese legend and former Real player Eusebio.
The No. 9 jersey was recently vacated by Argentine striker Javier Saviola, who joined Portuguese side Benfica last month.
While Ronaldo wanted to keep the No. 7 which he used during his six years at Manchester, that number is already taken by Real captain Raul.
"Nine is a mythical number at the club. The numbers don't play. It is me who is going to play and I am going to play well," he said.
Ronaldo arrived in Madrid on Monday afternoon on a private flight from his native Portugal where he was on holiday to undergo medical tests before he was unveiled.
The head of Real's medical services, Carlos Diez, said Ronaldo was "in perfect condition" after the player underwent medical tests.
"His cardiac and lung capacity is extraordinary," he added.
Fans, many equipped with food and drinks to ease a lengthy wait, starting gathering at the stadium hours before the official presentation, which lasted about 30 minutes, got underway at 9pm.
Real president Florentino Perez praised Ronaldo's "professionalism and talent," saying he was capable of taking the club to "the peak of world soccer."
Ronaldo will team up with Kaka, the 2007 FIFA world player, who signed with Real from AC Milan for 65 million euros from AC Milan in early June.
Kaka was officially unveiled on June 30 before 55,000 fans. He was the first big name who Perez signed since he returned in June for a second stint as president of Real.
Perez, who brought Luis Figo and Zinedine Zidane to Real during his first term as the club's president between 2000 and 2006, is seeking to rebuild a squad which trailed arch rivals Barcelona last season by reviving his policy of signing soccer superstars.
Among Real's other signings is French striker Karim Benzema from Lyon and defender Raul Albiol, who joined from Spanish side Valencia.
■RIBERY PRICE TAG
AFP, BERLIN
Bayern Munich have set a price tag of 80 million euros (US$111.7 million) on French midfielder Franck Ribery, tabloid daily Bild reported on Tuesday
The German giants have been insisting all summer they intend to hang onto Ribery, who insists he wants to join Real Madrid.
According to Bild, Bayern have given the Spaniards an ultimatum of July 16, the day when the squad begin preseason training, to decide if they are ready to stump up the cash or not.
The paper did not divulge their source.
Bayern's new coach Louis van Gaal indicated on Sunday he wanted to see an end to the uncertainty over Ribery's future.
Comments will be moderated. Keep comments relevant to the article. Remarks containing abusive and obscene language, personal attacks of any kind or promotion will be removed and the user banned. Final decision will be at the discretion of the Taipei Times.