South Africa rugby chiefs in hot water
The International Rugby Board (IRB) on Monday charged the South Africa Rugby Union (SARU) for alleged misconduct in breach of the IRB regulations relating to the game, including breaches of the IRB Code of Conduct.
The IRB pressed the charges because the Springboks wore armbands during the Third Test defeat to the British and Irish Lions on Saturday as a symbol of solidarity for Bakkies Botha following the upholding of his two-week suspension by an independent Appeal Committee for dangerously charging into a ruck without binding on a player.
The IRB took the view that such an act demonstrated a clear disregard of the disciplinary process and did so in a manner that brings, or has the potential to bring, the game into disrepute. The IRB has notified SARU it intends to begin the disciplinary proceedings. The matter will now be referred to the independent judicial panel chairman, who will appoint a judicial officer or committee.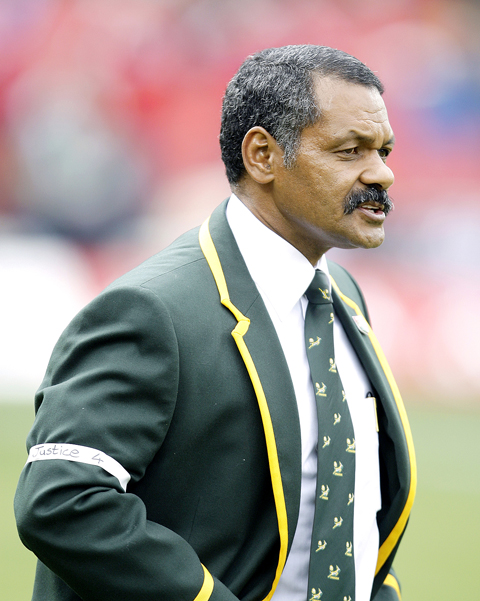 South Africa head coach Peter de Villiers stands on the sideline with a white armband in protest against the suspension of Bakkies Botha before the match against the British and Irish Lions in Johannesburg, South Africa, on Saturday.
PHOTO: AP
Botha was banned for two weeks for the second-half charge in the Springboks' nailbiting second Test victory over the Lions — which gave them the series — on Adam Jones that left the Welsh prop needing corrective surgery to right a dislocated shoulder.
The Springbok and Lions coaching staff, as well as Jones, have insisted that they saw nothing untoward in the second-­rower's charge, arguing he had merely been clearing a ruck.
"As a sign of solidarity the Springbok players decided to wear white arm bands during the Test match," said Piet Heymans, head of the South African Rugby Players Association. "At the same time the players want to send a clear message that they require the IRB to have an urgent and serious relook at Law 10.4 (j)."
Comments will be moderated. Keep comments relevant to the article. Remarks containing abusive and obscene language, personal attacks of any kind or promotion will be removed and the user banned. Final decision will be at the discretion of the Taipei Times.