Manny goes 0-for-3 in return to MLB
COMES BACK SWINGING: Dodgers fans took over San Diego's Petco Park to see Manny Ramirez in his first major league decision since receiving a 50-game ban
NATIONAL LEAGUE
REUTERS AND AP, SAN DIEGO, CALIFORNIA
Manny Ramirez made a low key return to the Los Angeles Dodgers line-up after serving a 50-game ban for a doping offense on Friday, the slugger going 0-for-3 during his team's 6-3 win over the San Diego Padres.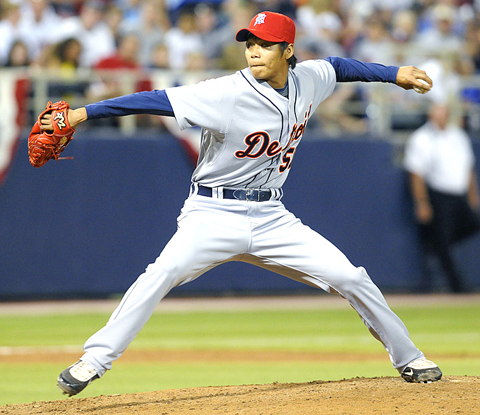 Detroit Tigers reliever Ni Fu-te of Taiwan pitches against the Minnesota Twins during the sixth inning of their game in Minneapolis, Minnesota, on Friday.
PHOTO: AP
Playing for the first time since the suspension was handed out on May 7 for violating the Major League Baseball drug policy, Ramirez brought the Padres home Petco Park to its feet during his first at-bat, a first-inning walk.
The right-hander also grounded out twice and popped out before being replaced in left field by Juan Pierre in the bottom of the sixth.
"It was great. I was nervous at first but it was fine," Ramirez told reporters. "I want to thank my fans. I think they drove from [Los Angeles] just to watch me play and it was unbelievable. This team can do a lot of great things without me. I'm just trying to follow those guys."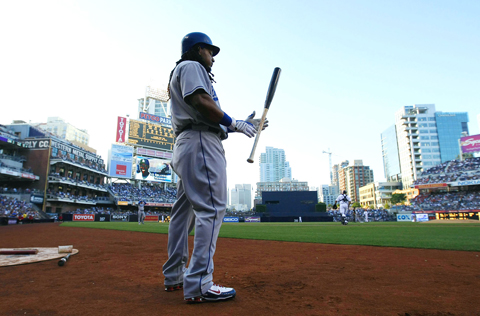 Los Angeles Dodgers slugger Manny Ramirez waits in the batting circle before his first at bat against the San Diego Padres in San Diego, California, on Friday.
PHOTO: REUTERS
With a large contingent of Dodger supporters making their way to the sold-out stadium of 42,217 fans, Ramirez was welcomed warmly for the most part with the applause drowning out the boos.
Ramirez's greatly anticipated return included a pre-game news conference in which he apologized to fans and teammates but refused to answer questions about the banned substances that evoked his suspension.
"I don't want to get into [that]," Ramirez told reporters. "I don't want to talk about my record. I just want to talk about the game. It was tough but it's over. I'm moving on."
Before his suspension, Ramirez was batting .348 with six home runs and 27 RBIs.
Even without his big hitting, the league-leading Dodgers (51-29) managed to stay afloat with a 29-21 record and enjoy a seven-and-a-half game lead in the National League West.
The Dodgers struck quickly against Padres (34-45) by notching five runs in the first inning off losing pitcher Chad Gaudin.
In other NL action, it was:
• St Louis 7, Cardinals 4
• Cubs 2, Brewers 1, 10 inns
• Giants 13, Astros 0
• Phillies 7, Mets 2
• Pirates 7, Marlins 4
• Rockies 5, Diamondbacks 0
• Braves 9, Nationals 8
AMERICAN LEAGUE
AP, BOSTON
In Minneapolis, Placido Polanco's second extra-inning RBI single gave Detroit the lead for good, prevailing 11-9 in a 16-inning marathon against Minnesota.
Taiwan's Ni Fu-te (倪福德) helped Detroit gain the win, stepping in during the sixth to strike out two Twins players, Joe Mauer and Justin Morneau.
Polanco drove in a run in the top of the 14th, but the Twins drew level in the bottom of the inning.
In the 16th, with runners on second and third, Polanco singled to drive in Ramon Santiago with the go-ahead run. The Tigers added two insurance runs, and Minnesota was only able to pull one back.
In other AL action, it was:
• Yankees 4, Blue Jays 2
• Mariners 7, Red Sox 6
• Rangers 3, Rays 1
• Orioles 6, Angels 4
• White Sox 5, Royals 0
• Indians 15, Athletics 3
Comments will be moderated. Keep comments relevant to the article. Remarks containing abusive and obscene language, personal attacks of any kind or promotion will be removed and the user banned. Final decision will be at the discretion of the Taipei Times.