Taiwan's Ni pitches, but Tigers mauled by Athletics
AMERICAN LEAGUE
AP, BALTIMORE AND OAKLAND
AND STAFF WRITER WITH CNA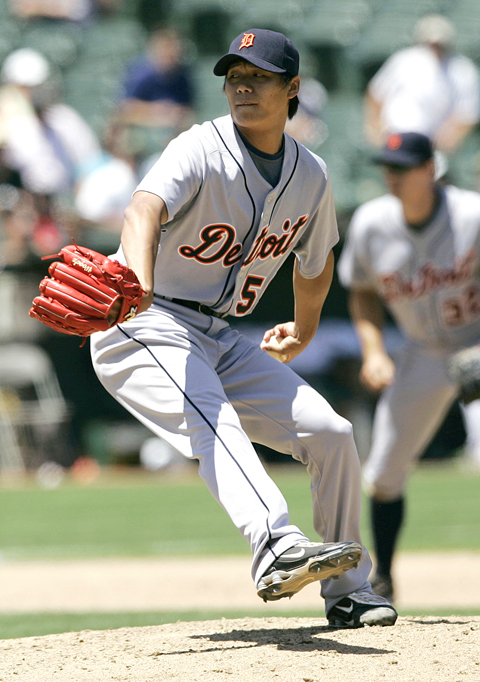 Taiwan's Ni Fu-te of the Detroit Tigers pitches against the Oakland Athletics on Wednesday in Oakland, California.
PHOTO: AP
At Oakland, California, Jason Giambi and Jack Cust broke out of funks with two-run homers, Dallas Braden ended a four-start winless span, and Oakland beat Detroit 5-1.
Giambi, with an AL-low .197 batting average, homered in the sixth off Justin Verlander (8-4). Cust had been 4 for 24 with 13 strikeouts in his previous seven games.
Braden (6-7) pitched seven strong innings to win for the first time in five starts since June 5.
Taiwanese player Ni Fu-te pitched for 0.2 inning with one strikeout for the Tigers.
Reliever Ni replaced starter Verlander in the second half of the seventh inning. After the first hitter Travis Buck made a two-base hit, he grounded out the second, as Buck took the third base. He then struck out Adam Kennedy before being replaced by Zach Minner, who struck out the next hitter and ended the inning.
Ni tossed 10 pitches with eight strikes and struck out one, securing a scoreless inning for the Tigers.
The Tigers placed the injured Nate Robertson on a 15-day disabled list on Sunday morning, replacing him with the 26-year-old Ni of the Triple-A Toledo Mud Hens, the first Taiwanese player to pitch for the Tigers and the sixth Taiwanese to make the Major Leagues.
After Ni's first two games on Tuesday and Wednesday he has a 3.86 ERA (earned run average), allowing two hits, four strikeouts and no walk.
YANKEES 4, MARINERS 2
At New York, Alex Rodriguez hit a tiebreaking homer and Andy Pettitte pitched seven strong innings to lead New York to a seventh straight victory.
Johnny Damon and Melky Cabrera also went deep for the Yankees, who won their 10th straight home game against Seattle.
Rodriguez hit a two-run drive in the sixth.
Pettitte (8-3) outpitched fellow lefty Jarrod Washburn (4-6).
In other matches it was:
• Red Sox 6, Orioles 5
• Blue Jays 5, Rays 0
• Texas 9, Angels 7
• Twins 5, Royals 1
• White Sox 6, Indians 2
NATIONAL LEAGUE
AP, LOS ANGELES
The Los Angeles Dodgers prepared to welcome back Manny Ramirez by edging the Colorado Rockies 1-0 on Wednesday, the last game of the star slugger's doping suspension.
Rafael Furcal had a pinch hit RBI single in the eighth inning, providing the victory that gave the NL-leading Dodgers a 29-21 record during Ramirez's absence.
Brad Ausmus led off the eighth with a single and advanced on a sacrifice. Catcher Russell Martin ran for Ausmus and scored when Furcal stroked a single to right field.
In other matches it was:
• Cardinals 2, Giants 1, 10 innings
• Mets 1, Brewers 0
• Braves 11, Phillies 1
• Cubs 4, Pirates 1
• Astros 7, Padres 1
• Reds 1, Diamondbacks 0
• Marlins 5, Nationals 3
Comments will be moderated. Keep comments relevant to the article. Remarks containing abusive and obscene language, personal attacks of any kind or promotion will be removed and the user banned. Final decision will be at the discretion of the Taipei Times.