Brazil leaps atop World Cup qualifying with 4-0 romp
Brazil leaped to the top of the South American qualifying table for the 2010 World Cup on Saturday with a 4-0 rout of host Uruguay, while former leader Paraguay fell 2-0 at home to Chile.
Brazil won at Centenario stadium for the first time since 1976 on goals by FC Barcelona star Dani Alves in the 11th minute, AS Roma cenral defender Juan in the 35th, Sevilla's Luis Fabiano in the 52nd and AC Milan star Kaka on a penalty kick in the 74th minute.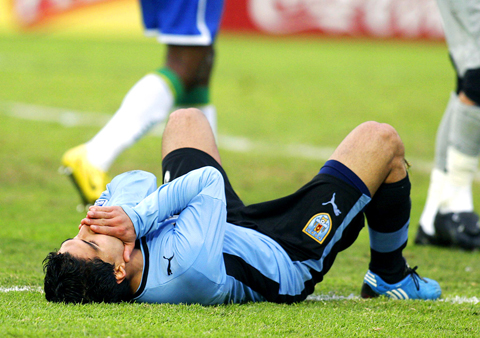 Uruguay's Luis Suarez lays on his back after missing a shot against Brazil during their World Cup qualifier in Montevideo on Saturday.
PHOTO: REUTERS
Goals by Matias Fernandez in the 12th minute and Humberto Suazo in the 50th gave the Chilean a critical away triumph that put them only one point off the pace of Brazil and Paraguay, which now trails on goal difference.
FIVE TO GO
Together with Argentina's 1-0 triumph over Colombia at Buenos Aires, the four top teams have separated themselves with five matches remaining to decide the four squads that will qualify for the World Cup showdown in South Africa next year.
Brazil (6-1 with six drawn) stand on 24 points, moving atop Paraguay (7-3-3) by virtue of superior goal difference, with Chile (7-4-2) next on 23 points and Argentina (6-3-4) fourth on 22.
The Uruguayans are in fifth place, five points back of Argentina but only one ahead of Venezuela and just three atop Colombia and Ecuador, which has a match in hand.
HOPE REMAINS
The leaders are not out of reach, but even if they hold onto their spots, the remaining six teams have World Cup hope.
South America's fifth-place finisher will meet North America's fourth-place team for another 2010 World Cup bid.
Uruguay knew extra heart-break from a fifth-place finish in 2005, losing out on a World Cup trip to Germany in a playoff against Australia.
Daniel Diaz's goal in the 55th minute gave Argentina a crucial home victory, stretching the gap on lower rivals for coach Diego Maradona's side and staying within reach of the top spot.
Bolivian heartache continued with a 1-0 home loss to Venezuela after scoring an own goal in the 32nd minute.
Ecuador, level on 14 points with Colombia, was set to try to move up with an away victory yesterday at doormat Andean rivals Peru in Lima.
Comments will be moderated. Keep comments relevant to the article. Remarks containing abusive and obscene language, personal attacks of any kind or promotion will be removed and the user banned. Final decision will be at the discretion of the Taipei Times.