A-Rod shamed both his name and the game, says Selig
Unable to punish Alex Rodriguez for flunking a drug test that was supposed to be anonymous, Major League Baseball commissioner Bud Selig could only chastise him.
"What Alex did was wrong and he will have to live with the damage he has done to his name and reputation," the commissioner said on Thursday, three days after the Yankees slugger admitted using banned substances from 2001 to 2003 while playing for the Texas Rangers.
"While Alex deserves credit for publicly confronting the issue, there is no valid excuse for using such substances, and those who use them have shamed the game," he said.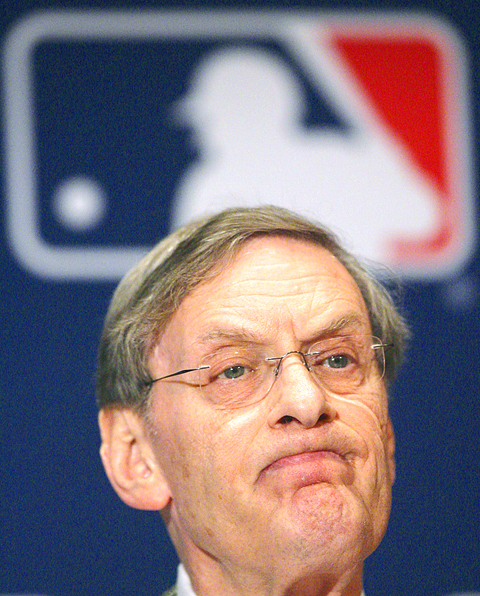 Major League Baseball commissioner Bud Selig speaks during a news conference in New York on Dec. 13.
PHOTO: AP
BOOTING BONDS
Selig also told USA Today that Hank Aaron could be reinstated over Barry Bonds as the all-time North American home run king.
He said he was considering returning Aaron to the top of the list with one of the greatest sports milestones in US history ahead of Bonds, who faces a trial next month on perjury charges.
"This is breaking my heart, I don't mind telling you that," Selig said.
Bonds, the former San Francisco Giants slugger, has been dogged for years by doping allegations. His former trainer was among those convicted in the BALCO steroid scandal.
Bonds is set to go on trial on March 2 in San Francisco for lying to a federal grand jury when he said that he did not use performance-enhancing substances.
Aaron, who turned 75 last week, hit 755 homers in his career but Bonds, 44, surpassed the mark in 2007 and finished with 762 homers.
PRICE OF ADMISSION
Rodriguez's admission followed a Sports Illustrated report that he was on a list of 104 players who tested positive for steroids in 2003, when testing was intended only to determine the extent of steroid use in baseball.
The results were seized by the government in 2004 and remain under seal. Because it was an anonymous test and because Rodriguez's confession involved the years before an MLB drug agreement took effect, there is little Selig can do to punish him.
"It is important to remember that these recent revelations relate to pre-program activity," Selig said. "Under our current drug program, if you are caught using steroids and/or amphetamines, you will be punished. Since 2005, every player who has tested positive for steroids has been suspended for as much as 50 games."
Comments will be moderated. Keep comments relevant to the article. Remarks containing abusive and obscene language, personal attacks of any kind or promotion will be removed and the user banned. Final decision will be at the discretion of the Taipei Times.