Alinghi remains unbeaten in regatta's second phase
America's Cup-holder Alinghi beat Italy's Luna Rossa by 23 seconds yesterday to retain its unbeaten record in the second phase of the Louis Vuitton Pacific Series sailing regatta and advance to the challenger final.
Switzerland's Alinghi won the four races it contested in the series' second round and will sit out the knockout phase of the regatta, starting today, in which six teams will vie for the other place in the challenger final.
Host Team New Zealand, beaten by 24 seconds by Oracle Racing of the US, now progresses directly to the best-of-seven series final in which it will race the winner of the challenger event.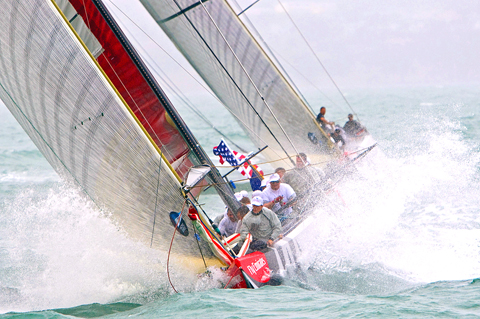 BMW Oracle Racing of the US, front, competes against Emirates Team NZ in the Louis Vuitton Pacific Series race in Auckland, New Zealand, yesterday.
PHOTO: AP
Oracle will race the winner of a sail-off between China Team and Italy's Luna Rossa in one challenger quarter-final while, in the other, the Damiani Italia Challenge will race the winners of a match between Britain's TeamOrigin and France's K-Challenge.
China Team and K-Challenge were the leading qualifiers from the four-team Silver Fleet, winning the right to rejoin challenger racing among teams from the stronger Gold Fleet.
Alinghi beat Luna Rossa yesterday, leaving the Italian team winless in the second round-robin, after trailing around the first mark.
Oracle's Russell Coutts outsailed his compatriot Dean Barker in yesterday's clash with Team New Zealand to lead across the start line and around all marks.
Italia Challenge beat TeamOrigin by 24 seconds after the British yacht crossed the start line early and was forced to make a full turn and cross again.
Greek Challenge beat South Africa's Team Shosholoza in a sailoff for ninth and 10th places in the 10-team event.
Comments will be moderated. Keep comments relevant to the article. Remarks containing abusive and obscene language, personal attacks of any kind or promotion will be removed and the user banned. Final decision will be at the discretion of the Taipei Times.