HANCOCK'S GAME: Hancock's A to Z of the Beijing Olympics
This was an action-packed Olympics and though the host was China, it was also about 203 other countries or regions and the billions of people who turned up or tuned in. Here's an alphabetical summary of the highlights:
Air: Having lived in Beijing's smog, the Olympics was a breath of fresh air. The Games organizers did clean up their act by banning cars, building and factory work. Shame it won't last.
Beijing: She tarted herself up and was looking sexy for such an ancient lady. A massive infrastructure program, splendid venues and flowers by the roadside transformed the capital city for her coming out ball.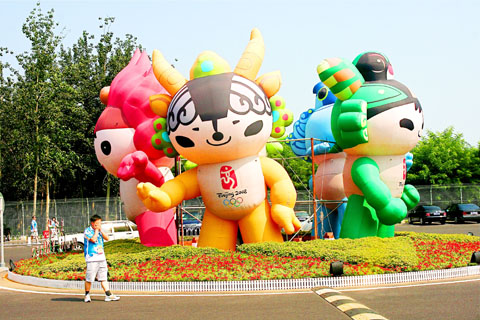 A volunteer hides his eyes from the Fuwa mascots at the Athlete's Village in Beijing yesterday.
PHOTO: JOHN HANCOCK
Condoms: There may have been sex in the city, but not at the Athlete's Village. More than 100,000 prophylactics were available to Olympians, but two thirds were not picked up. At previous Games they ran out.
Denial: When the Chinese government doesn't like something it refuses to talk about it in the hope it goes away. Banned words in the Chinese media included "synch" (after the Opening Ceremony singer was caught miming); "condoms" (see above); "gay Olympians" (see below) and "smog" (until there were blue skies).
Equestrian: While there were drug cheats at the Games (including Taiwanese baseball player Chang Tai-shan) it was looking pretty clean, until four horses tested positive for the banned pain reliever capsaicin, derived from chili peppers.
Fans: Always a highlight of the Games, the usual motley collection of sports enthusiasts, publicity hounds and weirdos turned out. This time pilgrims in rickshaws who cycled across China for up to six years to get to the event were the winners for their dedication.
Gold: China's Olympians were outstanding and this was the first time an Asian country has led the medal table.
He Kexin: The winner of the uneven bars final is the unfortunate pawn in an-age related controversy. The Chinese government says she is 16, some foreign reporters claim she is 14 and therefore too young to compete. If it is found the government lied it will be seen as state-sponsored cheating.
IOC: A record number of countries, or 204 National Olympic Committees, participated in the Games and 87 National Olympic Committees had medal winners.
"Jiayou": The chant the rest of the world didn't quite understand ("add oil"?). The orchestrated routine the home fans were supposed to perform (clapping hands twice, raise arms in air, etc.) was a flop.
Kim: Most popular surname for an Olympian. There were 114 in total, all but three of them Korean.
Loser: The headline should have been "Liu-ser!" when the Chinese hurdler Liu Xiang broke down out of the blocks. Tyson Gay's meltdown was also cathartic.
Men (sexiest Olympian): South African swimmer Ryk Neethling finished last in the 100m freestyle but caused waves for women. Diver Yahel Castillo from Mexico was also on the ladies' lists of hotties.
Nathalie du Toit: The 24-year-old South African who lost her left leg in a road accident became the first amputee to compete in both the Olympic and Paralympic Games. She came 16th in the 10km open water race.
Outed: About 2 percent to 10 percent of the general population is homosexual. Of 10,708 Olympians just 10 were openly gay. So, are super athletes incredibly hetero or shy?
Protests: Two old ladies were threatened with re-education for daring to protest about being forcibly removed from their homes to make way for the Olympics without being properly compensated.
Questions: According to journalists who covered previous Olympics this one had the most confrontations between media and organizers. The traditional "presser" used to be a dull affair, they said, but with human rights and other issues on the agenda it was renamed the "slaughterhouse."
Records: Forty world records and more than 120 Olympic records ensure that these Games will go down in history.
Souvenirs: There wasn't much tacky stuff on offer as organizers kept entrepreneurs in check, but battery operated, flashing "sacred flame torches" were the best of the bunch.
Touts: They deserve a gold medal, as they risked imprisonment for selling tickets to events Chinese government officials, the Olympic family and sponsors didn't turn up to.
Usain Bolt and Michael Phelps: True heroes, they revolutionized their respective sports.
Volunteers: The unpaid army deserves three cheers.
Women (sexiest Olympian): Swimmer Amanda Beard failed in the pool, but was a pinup; beauty contestant Leryn Franco of Paraguay was the other international winner; while diver Guo Jingjing was China's favorite, though she is promised to Hong Kong tycoon Kenneth Fok.
X-Games: The marketing and stunts that make the extreme action sports such a big deal were successfully adopted by the Games organizers.
Yao Ming: China's human "Great Wall" couldn't stop the Lithuanians.
Zhang Yimou: The Opening Ceremony was a show. It may be his finest achievement, even if some people are calling the special effects cheating.
"John Hancock" is the Taipei Times' correspondent for the Beijing Olympics.
Comments will be moderated. Keep comments relevant to the article. Remarks containing abusive and obscene language, personal attacks of any kind or promotion will be removed and the user banned. Final decision will be at the discretion of the Taipei Times.