Sastre set to claim overall Tour victory
STRENGTH IN DEPTH Carlos Sastre is set to become the third successive Spaniard to win cycling's premier event, following Alberto Contador and Oscar Pereiro
LE TOUR FRANCE: When the pressure was on, Carlos Sastre stepped up at the Tour de France.
The 33-year-old Spaniard virtually guaranteed overall victory by holding off Cadel Evans of Australia and other contenders in a decisive time trial in Stage 20 on Saturday.
Worn down by an onslaught from Sastre's powerful CSC team during the three-week race, Evans couldn't muster the leg power he needed to erase a 1 minute, 34 second deficit, and was caught offguard by the Spaniard's tenacity.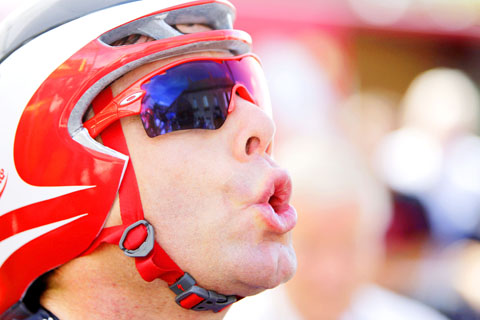 Cadel Evans of Australia concentrates prior to the start of the 20th stage of the Tour de France on Saturday.
PHOTO: AP
Overall, after more than 84 hours of racing since the July 5 start in western Brest, Sastre leads Evans by 1 minute, 5 seconds, while Bernhard Kohl of Austria is third, 1:20 behind.
By the math of the Tour, that's close — but just enough for the soft-spoken Spanish veteran to take home the yellow jersey yesterday.
"This is the dream of my life that's become a reality now," said Sastre, who finished in the top 10 in five of his previous seven Tour appearances. "I was feeling better and better and was in top form at the end of this week."
Yesterday's finale — a 143km ride from Etampes to the Champs-Elysees — was likely to be a ride of honor that won't change the overall standings.
In the Tour's etiquette, attacks on the leader are frowned upon in the last stage and any attempts at a breakaway by a rival are easy to counter on the flat course anyway.
CSC were expected to protect Sastre hawkishly yesterday, and keep him out of trouble — like a crash, which was the only imaginable threat to his hold on the jersey.
In Sastre's Spanish home village of El Barraco, northwest of Madrid, hundreds of fans watching the race on a giant-screen TV cheered wildly as he crossed the finish line — some jumping and hugging each other in joy.
Sastre made the sign of the cross, kissed his fingers and shook them skyward as he crossed the line. He credited his teammates, who sheltered him from the wind in the stages after he took the jersey in the last and most punishing Alpine ride on Tuesday. That helped him save energy for the time trial.
"On the climbs, CSC were so strong. It comes down to they have two or three times the budget we do, they can straight away buy much better quality riders," said Evans, the Silence Lotto team leader. "Strength in numbers, it was no surprise. But Sastre's ride in the time trial today for me was a real surprise."
Kohl's Gerolsteiner teammate Stefan Schumacher of Germany won the time trial, a 53km race against the clock in central France from Cerilly to Saint-Amand-Montrond — for his second stage win.
Kohl, who began 1:33 back of Sastre, gave a standout performance to retain third place overall. He's better known as a solid climber, having already secured the polka dot jersey given to the Tour's best mountain man.
The Austrian deprived a podium spot from Denis Menchov of Russia and Christian Vande Velde of the US, who were each faster than Kohl, Sastre and Evans on Saturday — but had too too much time to overcome.
This is the second straight year the Tour has enjoyed one of its tightest finishes, with the lead up for grabs going into the final time trial — giving some much-needed sporting drama to an event that has been dogged for years by doping scandals.
Three cyclists, including Italian star Riccardo Ricco, were kicked out of the race during the first two weeks. Sastre, however, insisted his success has come through hard work and sacrifice, saying unequivocally: "I'm clean."
"There have been cheaters in the past, and there always will be," he said. "But there are people who work silently, with honesty, and who are outside of all these controversies."
Sastre is poised to become the third successive Spaniard to win the Tour: Alberto Contador won last year and wasn't allowed to defend the title, and Oscar Pereiro inherited the 2006 title that Floyd Landis of the US lost in a doping scandal.
Evans was second last year, 23 seconds behind Contador.
On Saturday, Schumacher clocked 1 hour, 3 minutes, 50 seconds, and CSC rider Fabian Cancellara of Switzerland was 21 seconds back.
Kim Kirchen was third, 1:01 behind. Sastre was 12th, 2:34 back.
Evans was regarded as a stage favorite: He placed second in two Tour time trials last year that were about the same length. But on Saturday, he finished seventh, 2:05 behind the German.
"I will be back next year," the 31-year-old Evans said. "I think I have three or four good Tours left in me."
Comments will be moderated. Keep comments relevant to the article. Remarks containing abusive and obscene language, personal attacks of any kind or promotion will be removed and the user banned. Final decision will be at the discretion of the Taipei Times.