Argentina wins maiden trophy in field hockey
Argentina notched up their first-ever Champions Trophy win over Australia here on Sunday, beating the Antipodeans 2-1.
In other games on the second day of competition, Spain trounced South Korea 7-2 and the Netherlands defeated Germany 5-3.
A penalty corner to Lucas Vila and a field goal by Lucas Argento in the first 15 minutes set up Argentina's win, their first over Australia in four Champions Trophy tournaments.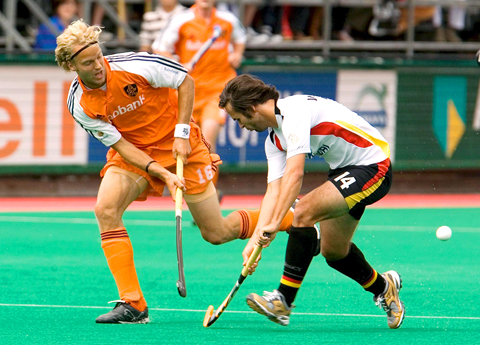 Dutch field hockey player Floris Evers, left, battles for the ball with Tibor Weissenborn from Germany during their Champions Trophy field hockey match in Rotterdam, Netherlands, on Sunday.
PHOTO: EPA
Fergus Kavanagh deflected in a goal in the second quarter to get Australia back into the match.
But the Australians could not penetrate Argentina's defense in the second half and resorted to taking off the Australian goalkeeper for the last three minutes to mount a fruitless all-out attack on Argentina.
"Argentina are a difficult team to beat with a unique style and a defense that is very difficult to break down," Australia coach Barry Dancer said.
Dancer's Argentine counterpart Carlos Retegui insisted his team would not get carried away with their maiden win.
Spain gave South Korea a lesson in converting scoring chances, winning 7-2.
Pol Amat scored four field goals before taking a long rest on the bench with Santi Freixa, Xavier Ribas and Ramon Alegre adding one each.
Byun Hoon Kim and Jong Hyun Jang scored penalty corners for South Korea.
"There was a difference in attitude of the players today and they were more prepared for the match," Spain coach Maurits Hendriks said following Spains 3-1 loss to Netherlands on Saturday.
"In general we had better dynamics up front as the forwards changed positions a lot which posed problems for Korea," he said.
Germany blew a 2-0 advantage in the first half to lose 5-3 to tournament hosts the Netherlands.
For the first time in the Champions Trophy the match was played in three periods to allow the pitch to be watered more frequently due to the drying effect of the strong wind and sunshine.
Comments will be moderated. Keep comments relevant to the article. Remarks containing abusive and obscene language, personal attacks of any kind or promotion will be removed and the user banned. Final decision will be at the discretion of the Taipei Times.