SOUTH AFRICA 2010: Qatar, UAE through to final phase
Qatar and the United Arab Emirates (UAE) lived to fight another day, but it was curtains for Iraq and Syria as the last two berths in the final phase of Asian World Cup qualifying were filled.
They join Australia, Bahrain, Iran, Japan, North Korea, Saudi Arabia, South Korea and Uzbekistan as the 10 teams who go into the draw on Friday.
The top two in each group will automatically progress to the 2010 World Cup finals, with the fifth placed team playing off against a side from Oceania, with the winner of that match joining them.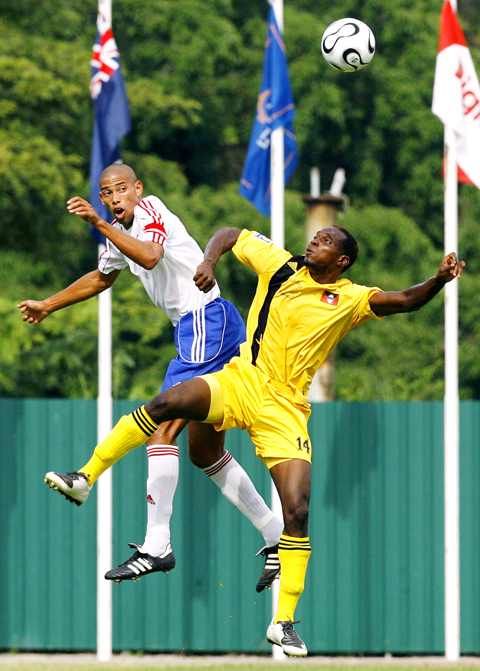 Cuba's Alain Cervantes, left, fights for the ball with Antigua and Barbuda's Simon Tyio during their World Cup 2010 qualifying match in Havana on Sunday.
PHOTO: AP
In Dubai, Qatar snatched a vital 1-0 win away to Iraq, with Sayd Ali Bechir rising masterfully to meet a Hussein Yasser cross to score the only goal in the 77th minute.
It left Qatar second in Group 1, even on points with Australia, but behind on goal difference.
In Group 5, the United Arab Emirates advanced despite suffering a 3-1 defeat at home to Syria.
Jehad Alhoussain scored twice and Firas al-Khatib added a third for Syria, with Ismaeil Matar netting UAE's only goal from the penalty spot.
That penalty would prove decisive, however, as the result left the two sides even on seven points, but the UAE's superior goal difference (0, as opposed to Syria's minus 1) was enough to send them through.
Iran defeated Kuwait 2-0 to finish as winners of the group.
Singapore scored twice in the space of a minute to win 2-1 against Lebanon in Group 4. The other match in that group saw Saudi Arabia defeat Uzbekistan 4-0.
In Group 2, Oman defeated Thailand 2-1 in Muscat.
■ AFRICA
AP, JOHANNESBURG
Seydou Keita scored a pair of goals six minutes apart midway through the second half and led Mali to a 3-0 victory over Sudan, putting them three points clear in their group with two matches to play.
Cameroon and Cape Verde continued their struggle for the Group 1 lead. Cameroon top the group with 10 points, and Cape Verde won 3-1 over Mauritius on Sunday to remain a point behind.
Guinea bolstered their chances on Sunday, Ismael Bangoura scoring a hat-trick in a 4-0 victory over Namibia to climb to the top of Group 2 on goal difference. They have seven points, just ahead of Kenya, who played out a 0-0 draw in Zimbabwe on Saturday.
Benin top Group 3 after a 2-0 victory over Niger on Sunday. Angola's match on Sunday with Uganda had to be postponed for a day when the officials did not arrive in time.
Ghana and Libya remained tied at the top of Group 5 with nine points each. Ghana won 2-0 against Gabon on Sunday to keep pace with Libya. Gabon have three points.
Ivory Coast took a major step toward the next round by beating Botswana 4-0 in Abidjan on Sunday, with Cisse Sekou scoring a brace in the second half. The victory improved the Ivorians to eight points at the top of Group 7. Mozambique remained four points off the lead with a 3-0 victory over Madagascar on Sunday.
Ethiopia kept their hopes alive in Group 8 with a 6-1 rout of Mauritania, giving them six points to stay within three of group leaders Morocco and Rwanda.
The Republic of Congo had a 2-0 victory over Chad on Sunday, with goals from Mouithis Lys and Ibara Frabcel. They remain three points behind Mali in Group 10.
In Group 12, Shabani Nonda scored two goals in the first half and added another in the second in Congo's 5-1 victory over Djibouti, while Egypt won 2-0 against Malawi at home.
Sunday's CONCACAF results:
• US 1, Barbados 0 (agg: 9-0)
• El Salvador 3, Panama 1 (agg: 3-2)
• Guyana 1, Suriname 2 (agg: 1-3)
• Bermuda 0, Trinidad and Tobago 2 (agg: 2-3)
• St. Lucia 1, Guatemala 3 (agg: 1-9)
• Cuba 4, Antigua and Barbuda 0 (agg: 8-3)
• Netherlands Antilles 0, Haiti 1 (agg: 0-1)
Comments will be moderated. Keep comments relevant to the article. Remarks containing abusive and obscene language, personal attacks of any kind or promotion will be removed and the user banned. Final decision will be at the discretion of the Taipei Times.