Cuba's Dayron Robles sets 110m hurdles world record
Dayron Robles' world record in the 110m hurdles took the focus off Usain Bolt's bid to increase his status as the world's fastest man at the Golden Spike meet on Thursday night.
Robles clocked 12.87 seconds, taking 0.01 seconds off the previous mark set by China's Olympic and world champion Liu Xiang (劉翔) in 2006 at Lausanne. Robles was well clear of the field, beating Terrence Trammell of the US into second place at 13.21 and Ukraine's Sergey Demiduk into third in 13.42.
The 21-year-old Robles, born in Cuba's eastern province of Guantanamo, just missed the podium by finishing fourth at the world championships last year and does not have a major international medal. But now he appears to be one of Cuba's best hopes for the Beijing Olympics.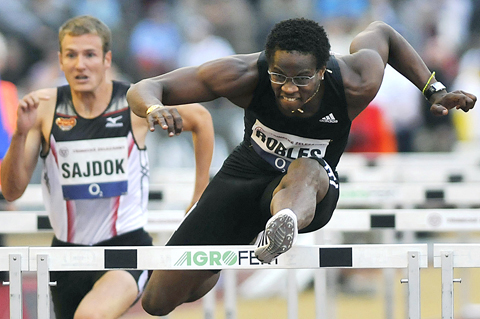 Cuban athlete Dayron Robles competes in the 110m hurdles at the Golden Spike international athletics meet in Ostrava, Czech Republic, on Thursday. At left is Stanislav Sajdok of the Czech Republic, who placed seventh.
PHOTO: AP
"It is such a good time, I did not expect that. Wow!" Robles said. "Thanks Ostrava! I am very happy and satisfied. I do not know if I can beat Liu Xiang in Beijing now. But we will see."
Robles won seven of eight races over 60m during the indoor season until a disappointing seventh at the World Indoor Championships in March, when he was late out of the blocks because he thought there had been a false start.
He was 2-2 in head-to-heads with Liu in the 110m hurdles last year, when he set his previous personal best of 12.92 in finishing fifth at the World Athletics Finals at Stuttgart.
Now his record puts extra pressure on Liu, who is China's biggest hope for gold on the track at the Beijing Games and has been hampered by a sore hamstring.
Bolt won the 200m in 19.83 seconds, a world leading time for the season in his first appearance in his favorite event this year. But he was a half second outside what he needed to set world records in consecutive meets.
Bolt, who set the 100m world record at 9.72 last month in New York, is yet to decide whether to run 100m or 200m in Beijing.
Croatia's world champion Blanka Vlasic produced her season's best high jump performance at 2.05m. She set the bar at 2.1m, 1cm over the world record, but missed three times.
Jeremy Wariner, the Olympic and world champion over 400m, tackled the 300m world record but at 31.72 was well outside the mark of 30.85 set by his mentor Michael Johnson in 2000.
Dire Tune of Ethiopia has set a world best in the women's one-hour race by running 18.517km, improving the previous mark of 18.34km set in 1998 by Tegla Loroupe of Kenya. The Boston Marathon champion completed the rarely run race on Thursday in warm weather at the Ostrava stadium, using four-pace setters.
Tirunesh Dibaba, who set the women's world record in the 5,000m last week, won the 10,000m in 31 minutes, 03.37 seconds, well off record pace.
In other results, Derek Atkins of the Bahamas won the 100m at 10.08 from Brian Dzingai of Zimbabwe and Paul Capel of the US.
In the 100m hurdles, Lolo Jones of the US won at 12.69 seconds, beating compatriot Candice Davies, who stayed 0.11 seconds behind.
Christine Obergofoll of Germany won the javelin at 67.72m, upsetting local favorite Barbora Spotakova, who finished second at 66.91m.
Comments will be moderated. Keep comments relevant to the article. Remarks containing abusive and obscene language, personal attacks of any kind or promotion will be removed and the user banned. Final decision will be at the discretion of the Taipei Times.