Kubica grabs first Formula 1 win
Robert Kubica grabbed his first Formula One victory and the overall points lead on Sunday after Lewis Hamilton made a huge mistake that took him and world champion Kimi Raikkonen out of the Canadian Grand Prix.
Hamilton slammed his McLaren into the rear of Raikkonen's Ferrari in the pits early in the race, taking out both and giving the BMW Sauber driver a clear road to victory.
It was a great day for the BMW Sauber team, winning for the first time in its 42 races as an F1 team and sweeping the top two spots with Nick Heidfeld finishing second, ahead of Red Bull Racing's David Coulthard in third.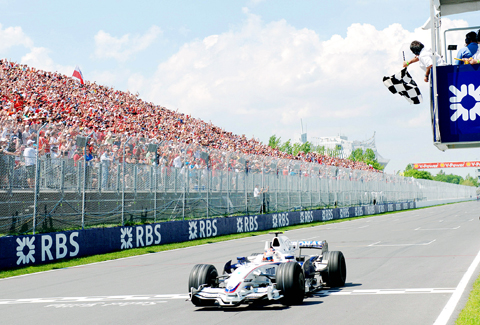 Robert Kubica of Poland, driving a BMW Sauber, takes the checkered flag as he crosses the finish line on Sunday to earn victory at the Canadian Formula One Grand Prix in Montreal.
PHOTO: AFP
As Kubica crossed the finish line a member of his team said on the radio, "That's a historic win, Robert. You are leading the championship points."
The Polish driver's simple answer: "Thanks."
But he did show his excitement in the cockpit, pumping one fist in the air and then the other. He then hugged everyone within reach after getting out of his car.
But, even after finishing second twice this season, Kubica likely would have still been looking for that first win if not for Hamilton's surprising pit road gaffe.
Hamilton started on the pole at Circuit Gilles Villeneuve and led until the safety car came out and the leaders pitted on lap 19 of the 70-lap race.
Raikkonen, who came into the race trailing came out ahead of the McLaren driver, along with Kubica, who had been in between Hamilton and Raikkonen. Raikkonen and Kubica stopped side-by-side at a red light at the end of pit road and Hamilton, picking up speed, rammed into Raikkonen's car, knocking off the rear wing. Nico Rosberg then hit the rear of Hamilton's car.
After the race, officials announced that both Hamilton and Rosberg will be penalized 10 positions on the starting grid at the next event, the French Grand Prix.
Both Hamilton and Raikkonen quickly climbed from their damaged cars and the Finnish world champion tapped Hamilton on the helmet as he walked past, pointing toward the light. Hamilton, obviously angry at himself, pushed past several cameras in the McLaren garage.
Kubica was untouched in the pit road crash and, after everyone else on the lead lap finally made their first pit stops, he found himself in the lead for good on lap 42.
Comments will be moderated. Keep comments relevant to the article. Remarks containing abusive and obscene language, personal attacks of any kind or promotion will be removed and the user banned. Final decision will be at the discretion of the Taipei Times.