FIFA suspends Iraqi soccer team
HEARTFELT PLEA Iraq's coach Adnan Hamad urged his government and soccer's governing body not to destroy his players' dreams of appearing in the World Cup finals
FIFA has provisionally suspended Iraq from international soccer for one year due to a government decision to disband the sport's national organizing association.
On the first day of its meetings in Sydney, the FIFA Executive Committee decided yesterday to suspend the Iraqi Football Association (IFA) following a governmental decree last week which dissolved the Iraqi National Olympic [IOC] Committee and all national sport federations.
The Executive Committee said it would only revoke the suspension if it received by Thursday "written confirmation from the Iraqi government that the decree has been annulled."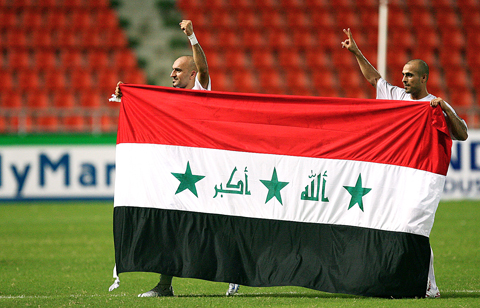 Iraqi players celebrate their team's victory against Vietnam after their Asian Cup quarter-final match in Bangkok last July. FIFA suspended Iraq from international competition yesterday ahead of this weekend's World Cup qualifier against Australia.
PHOTO: AFP
Iraq was due to play Australia in a World Cup qualifier at Brisbane on Sunday and was scheduled to arrive in the Queensland state capital late today.
Earlier yesterday, FIFA chief Sepp Blatter said he remained confident Iraq would be able to fulfill its commitments, but did not rule out the possibility it would be suspended.
"We have asked the government to withdraw its decision against the Iraq Football Association and we believe the IOC has also made the same request and threatened the same punishment [suspension] as FIFA,'' Blatter told Australian newspapers.
Blatter said he "could not imagine that this belligerent situation" would lead to Iraq not taking part in the rest of the Asian World Cup qualifiers.
"Iraq are the Asian champions and brought so much hope and joy to their country when they won the final in Malaysia last year," he told the Australian newspaper. "I am confident there is enough pressure on the government to help them change their mind."
Iraq's coach urged FIFA and the Iraq government to resolve their dispute and avoid killing his players' dream of reaching the 2010 World Cup finals.
Adnan Hamad said Iraq's refusal to reinstate its soccer federation and FIFA's hardline stance risked jeopardizing the only thing that brought unity to his country.
"It's difficult for me and the players — It's our dream to go to the World Cup," Hamad said. "Now the Iraqi government has made this decision it's become difficult for us. These players won't get another chance to play at the World Cup. Politics is stopping them living their dream."
Comments will be moderated. Keep comments relevant to the article. Remarks containing abusive and obscene language, personal attacks of any kind or promotion will be removed and the user banned. Final decision will be at the discretion of the Taipei Times.