Oakland Athletics sweep Red Sox
Jack Hannahan hit a leadoff single and later drove in two runs, and Jack Cust hit a two-run homer as the Oakland Athletics completed a three-game sweep of the defending World Series champion Boston Red Sox with a 6-3 victory on Sunday.
Jon Lester (3-3) allowed seven hits and four runs over five innings, taking the loss in his first start since throwing a no-hitter on Monday night against Kansas City. The Boston left-hander scuffled through early trouble before retiring the last six batters he faced.
Joe Blanton (3-6) labored through six inconsistent innings to win for the first time in five May starts, allowing five hits and four walks while striking out seven. Huston Street pitched the ninth for his 11th save in 13 chances.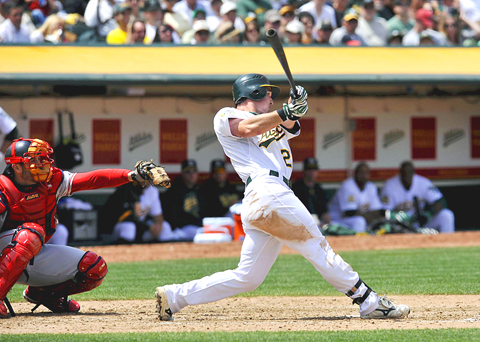 The Oakland Athletics' Jack Hannahan follows through with a two-run RBI single off Boston Red Sox starting pitcher Jon Lester during the fourth inning as Red Sox catcher Jason Varitek looks on at McAfee Coliseum in Oakland, California, on Sunday.
PHOTO: EPA
White Sox 3, Angels 2
At Chicago, Carlos Quentin led off the ninth inning with his second homer off John Lackey (1-1), and Chicago beat Los Angeles to avoid a three-game sweep.
Rangers 2, Indians 1
At Cleveland, right fielder Ben Francisco misplayed a simple single into a costly error in the 10th, enabling Jarrod Saltalamacchia to score from first base with the winning run as Texas edged Cleveland.
Saltalamacchia drew a two-out walk on the 10th pitch he saw from Masahide Kobayashi (2-2).
Yankees 6, Mariners 5
At New York, Jose Molina hit a two-out RBI double to cap a four-run eighth inning, and New York rallied past Seattle for its fifth straight victory.
Blue Jays 3, Royals 1
At Toronto, Shannon Stewart drove in the go-ahead run on a fielder's choice amd Toronto's Dustin McGowan won for the first time in four starts. Kansas City have now lost seven straight.
Twins 6, Tigers 1
At Detroit, Jason Kubel hit a tiebreaking grand slam with two outs in the eighth inning and Glen Perkins shut down Detroit's offense to take two of three in the series.
Rays 5, Orioles 4
At St. Petersburg, Florida, Evan Longoria drove in the winning run with a double in the ninth inning, giving Tampa Bay a three-game sweep of Baltimore.
AP, SAN DIEGO, California
The lights were on and the sun was going down when Adrian Gonzalez hit a three-run homer with two outs in the 18th inning on Sunday to give the San Diego Padres a 12-9 win over the Cincinnati Reds.
It was the fourth time the Padres played at least 13 innings this season. They played a 22-inning game at home against Colorado on April 17 and April 18, losing 2-1.
The last team to play a game of at least 22 and 17 innings in the same season was the 1989 Los Angeles Dodgers, who played two 22-inning games and a 17-inning game.
Scott Hairston started the winning rally with a one-out walk off Edinson Volquez (7-2), the second starting pitcher the Reds put on the mound in extra innings. Brian Giles reached on first baseman Joey Votto's two-out throwing error, moving Hairston to third.
Gonzalez then hit a full-count pitch over the fence in straightaway center field for his 14th homer.
The game lasted five hours, 57 minutes. It was the third-longest game in Reds history.
Rockies 4, Mets 1
At Denver, Willie Randolph didn't get the pick-me-up he needed when New York lost to the Colorado Rockies, whose patchwork lineup included four recent call-ups.
One of them, Seth Smith, hit his first major league homer, a three-run shot off John Maine to back an impressive start by Aaron Cook (7-3).
In other games it was:
• Phillies 15, Astros 6
• Pirates 6, Cubs 5, 11 innings
• Diamondbacks 9, Braves 3
• Marlins 8, Giants 6, 1st game
• Marlins 5, Giants 4, 2nd game
• Nationals 7, Brewers 6
• Dodgers 4, Cardinals 3
Comments will be moderated. Keep comments relevant to the article. Remarks containing abusive and obscene language, personal attacks of any kind or promotion will be removed and the user banned. Final decision will be at the discretion of the Taipei Times.