NATIONAL LEAGUE: Reds humble Chicago with 9-0 victory
STRIKEOUT Carlos Lee hit the winning run in the bottom of the ninth to lift Houston past the Nationals, while the Brewers' went below .500 for the first time this season
Jon Lieber became only the second pitcher in Chicago Cubs history to allow four homers in an inning, and Joey Votto connected three times in all as the Cincinnati Reds powered their way to a 9-0 victory on Wednesday.
Votto started a four-homer second inning off Lieber (2-2), who was making his first start of the season. Adam Dunn and Paul Bako also had solo shots, and Jerry Hairston Jr.'s two-run homer completed the history-matching rally. Brandon Phillips and Votto hit consecutive solo homers off Sean Marshall in the fifth. An inning later, Votto completed the biggest game of his two-year career with a two-run drive off Sean Gallagher.
Mets 12, Dodgers 1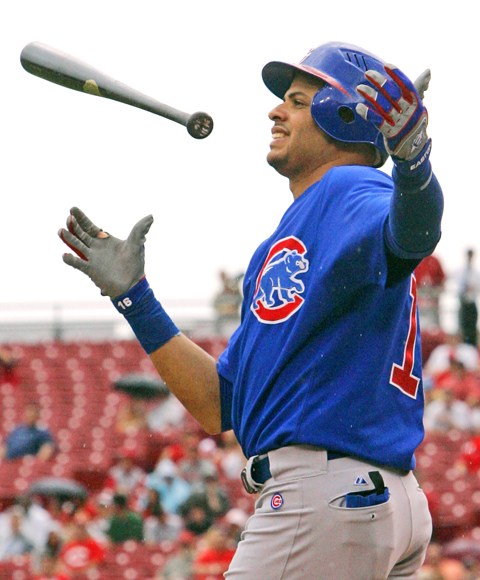 Chicago Cubs' Aramis Ramirez flips his bat after striking out against Cincinnati Reds pitcher Edinson Volquez to end the top of the fifth inning of their baseball game on Wednesday in Cincinnati, Ohio.
PHOTO: AP
In Los Angeles, John Maine became the first New York starter this season to pitch more than seven innings, taking a shutout into the ninth.
Maine (4-2) hit a two-run single and was two outs from his third shutout and complete game in Major League Baseball when Matt Kemp hit an RBI single, extending his hitting streak to 12 games.
A day before his 27th birthday, Maine allowed four hits in 8 1-3 innings and won his third straight start.
Braves 5, Padres 2
At Atlanta, pinch-hitter Greg Norton broke a seventh-inning tie with a bases-loaded single and Atlanta beat San Diego for its fifth straight win.
With the game tied 2-2, Padres starter Randy Wolf (2-2) was lifted after loading the bases in the seventh on Brian McCann's double, Matt Diaz's single and Mark Kotsay's walk.
Kelly Johnson's fly ball to center drove in Diaz, and Yunel Escobar added a run-scoring single to left for a 5-2 lead. Wolf gave up eight hits and five runs with four walks and one strikeout.
Pirates 3, Giants 1
At Pittsburgh, Xavier Nady hit a two-run homer to spoil Barry Zito's mostly effective return to the San Francisco rotation and Pittsburgh's Phil Dumatrait pitched 5 2-3 scoreless innings for his first career win.
Zito (0-7), roughed up in each of his first six starts, was far better after spending 10 days working out his problems in the bullpen. The left-hander worked five innings, allowing three hits, two runs, two walks and five strikeouts was easily his best of the season.
Marlins 6, Brewers 2
At Miami, rookie Burke Badenhop pitched 5 2-3 innings for his first major league victory and Florida dealt Milwaukee its fifth loss in a row.
The Brewers' longest losing streak this season sent their record below .500 for the first time.
Jorge Cantu and Dan Uggla hit back-to-back homers for Florida.
Hanley Ramirez singled twice, walked twice and scored twice.
Badenhop (1-2) gave up five hits and two runs. He had a season-high seven strikeouts and walked only one.
Astros 4, Nationals 3
At Houston, Carlos Lee drove in the winning run in the bottom of the ninth inning with a single to lift Houston past Washington for its fifth straight win.
Lee's liner flew just over the head of Lastings Milledge and scored Kaz Matsui.
Matsui walked and stole second in the ninth before Joel Hanrahan (0-2) intentionally walked Lance Berkman. Jesus Colome came on in relief and Matsui advanced to third on a wild pitch before Lee's hit. Lee second consecutive game-winning RBI against Washington.
Ryan Zimmerman had two homers, the second in the sixth inning to tie it at 3 for Washington.
Rockies 4, Cardinals 3
At Denver, Chris Iannetta tripled home two runs off Jason Isringhausen to cap a four-run eighth-inning rally for Colorado.
After managing just four hits off Adam Wainwright in seven innings, the Rockies rallied against St. Louis' bullpen to win for just the fourth time in 17 games.
The Rockies rally started against relievers Kyle McClellan and Randy Flores. With the score 3-1, Isringhausen (1-3) came in and allowed pinch-hitter Ryan Spilborghs' run-scoring single before Iannetta sliced a triple into the right-field corner.
Phillies 5, Diamondbacks 4
At Phoenix, Chase Utley singled in the go-ahead run in the eighth and Arizona twice blew late-inning leads against Philadelphia.
Conor Jackson went 2-for-3 with two RBIs, including a run-scoring double that put Arizona up 4-3 in the seventh, but he left the game after a nasty head-to-head collision with the Phillies' Shane Victorino in the eighth.
Eric Bruntlett followed with an RBI double, then Utley's run-scoring single — his 27th RBI — put Philadelphia ahead 5-4.
AMERICAN LEAGUE
AP, DETROIT, MICHIGAN
At Detroit, Placido Polanco hit a broken-bat, tiebreaking single with two outs in the ninth off Jonathan Papelbon as Detroit Tigers edged Boston 10-9.
Boston had everything set up for its sixth straight win, rallying from a four-run deficit with its star closer on the mound. But Papelbon (2-1) blew his first save in 11 chances by allowing two unearned runs.
Matt Joyce hit a leadoff single off Papelbon in the ninth and shortstop Julio Lugo's fielding error created a jam. After Curtis Granderson's RBI groundout, Polanco blooped one over a leaping Lugo for his season-high fifth hit.
Royals 9, Angels 4
At Kansas City, Missouri, David DeJesus and Alex Gordon both homered and Kansas City, the lowest-scoring team in the American League, banged out 14 hits to beat the Angels.
Zack Greinke (4-1) went seven innings for the victory as the Royals snapped the Angels' four-game winning streak and won at home for just the fourth time in 13 games.
Jered Weaver (2-5) had his worst start of the year, charged with a season-high eight runs in a season-low 3 1-3 innings. The right-hander gave up 10 hits and had one walk and one strikeout.
DeJesus hit a three-run shot off him in the second and Gordon added a two-run drive in the fourth.
Blue Jays 6, Rays 2
At Toronto, Shaun Marcum came one out away from a shutout and Scott Rolen hit a two-run homer to lead Toronto over Tampa Bay.
Marcum (4-2) struck out nine, allowing two runs in 8 2-3 innings.
He won back-to-back starts for the first time this season and lowered his ERA to 2.59.
In other games, it was:
• Athletics 6, Orioles 5, 10 innings
• Twins 13, White Sox 1
• Rangers 2, Mariners 0
Comments will be moderated. Keep comments relevant to the article. Remarks containing abusive and obscene language, personal attacks of any kind or promotion will be removed and the user banned. Final decision will be at the discretion of the Taipei Times.