Bonds held hitless as San Francisco wins
Barry Bonds went hitless a night after connecting for his 754th home run, leaving the San Francisco star one shy of tying Hank Aaron's record, but the Giants went on to defeat the Florida Marlins 4-3.
With his mom in the stands on Saturday, Marlin's pitcher Dontrelle Willis overmatched the slugger he admired growing up in the Bay Area. Bonds was 0-for-3 with a walk, popping out twice and striking out against Willis, who has lost seven straight decisions, the longest skid of his big league career.
After a day off today, Bonds' pursuit moves on to Los Angeles, where he'll be in front of hostile fans at Dodger Stadium.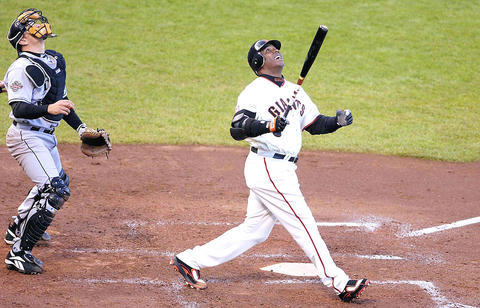 San Francisco Giants slugger Barry Bonds strikes out against Florida Marlins pitcher Dontrelle Willis at AT&T Park in San Francisco, California, on Saturday. Bonds is only one home run away from tying Hank Aaron's career home run record of 755.
PHOTO: EPA
Pinch-hitter Mark Sweeney lined a tying RBI double in the ninth off Kevin Gregg (0-4) ahead of Durham's hit. Jack Taschner (2-0) was the winner.
Fans jumped to their feet each time Bonds made his way to the batter's box. Bonds connected for his 754th homer in the first inning a night earlier, then drew four walks the rest of the night.
Cardinals 5, Brewers 2
At St. Louis, Anthony Reyes ended a 12-game regular-season losing streak that began last September, helping the St. Louis Cardinals beat the Milwaukee Brewers 5-2 on Saturday night to sweep a day-night doubleheader.
Ryan Ludwick's RBI single capped a three-run ninth off closer Francisco Cordero for a 7-6 victory in Game 1. The Cardinals, who trailed by six runs in the third, mounted their biggest rally since coming from six down to beat Milwaukee 10-6 on June 9 last year.
Mets 3, Nationals 1
Nationals 6, Mets 5
At New York, Ryan Langerhans hit a go-ahead single in the eighth inning, and Washington salvaged a split of their day-night doubleheader.
Joel Hanrahan pitched six innings in his major league debut and tripled in his first at-bat for the last-place Nationals, who have won three of four.
Astros 3, Padres 1
At Houston, Carlos Lee hit a home run for the third time in four games and Roy Oswalt outpitched Greg Maddux to win for the seventh time in eight starts against the Padres.
Oswalt (10-6) matched a season high with 10 strikeouts, showing no ill effects from a strained chest muscle that forced him to miss his last start.
Diamondbacks 4, Braves 3
At Phoenix, Conor Jackson singled home Chris Young with one out in the 10th inning as Arizona won for the eighth time in a row -- and third in their final at-bat.
Tyler Yates, the Braves' fourth pitcher, walked Young on four pitches to start the tenth. Orlando Hudson sacrificed Young to second and Eric Byrnes was intentionally walked.
Cubs 8, Reds 1
At Cincinnati, Alfonso Soriano homered twice and drove in five runs as the Cubs avoided back-to-back losses for the first time in nearly two months.
Reds ace Aaron Harang left the game after the first inning because of lower back soreness.
Phillies 10, Pirates 5
At Philadelphia, Chris Coste hit a three-run homer, Jimmy Rollins drove in three runs and the Phillies won for the seventh time in eight games.
J.D. Durbin (3-2) pitched five shaky innings but left with a five-run lead.
Rockies 6, Dodgers 2
At Denver, Jeff Francis scattered seven hits over seven innings and Troy Tulowitzki and Matt Holliday hit two-run homers for Colorado.
With Arizona's win on Saturday, the Dodgers are only percentage points ahead of the Diamondbacks for the lead in the NL West.
Francis (11-5) has now won six straight decisions. He hasn't lost since June 8 at Baltimore. He gave up two runs, struck out five and allowed no walks.
At Seattle, Kenji Johjima and Yuniesky Betancourt both homered, taking advantage of the only mistakes Oakland starter Chad Gaudin made in Seattle's 4-3 win over the Athletics on Saturday.
Johjima hit a two-out, two-run homer in the second to tie the game at 3-all and Betancourt put the Mariners in front for good with a solo shot in the fifth.
Red Sox 12, Devil Rays 6
At St. Petersburg, Florida, After Jonny Gomes spoiled Jon Lester's bid for his second straight win since rejoining the Red Sox, Boston rallied with six runs in the 12th inning.
Gomes tied it at 6 with a two-run shot in the ninth off Red Sox closer Jonathan Papelbon, but Julio Lugo drew his second bases-loaded walk and Kevin Youkilis followed with a three-run double in Boston's big 12th inning.
Twins 3, Indians 2
At Cleveland, Johan Santana took a no-hit bid into the sixth inning, then the Twins needed Brian Buscher's go-ahead groundout in the ninth inning to beat the Indians.
Torii Hunter doubled off Joe Borowski (2-4) to start the inning and took third on Jason Kubel's groundout. Borowski hit Rondell White in the left side with a 3-2 pitch and White was replaced by pinch runner Lew Ford, who broke for second on a 1-0 pitch to Buscher that was hit to second baseman Mike Rouse.
White Sox 2, Blue Jays 0
At Chicago, Mark Buehrle pitched eight scoreless innings and Jerry Owens hit his first career home run for Chicago.
The White Sox have won five of its last six games and the Blue Jays lost its second straight after winning a season-high five in a row.
Orioles 7, Yankees 5
At Baltimore, rookie Brian Burres took a two-hit shutout into the seventh inning, Miguel Tejada had four RBIs and Baltimore beat Roger Clemens for its sixth straight victory.
Alex Rodriguez, needing a home run to reach 500 for his career, struck out three times and went 0-for-4. He also made an error, botching a grounder to third that led to an unearned run.
Royals 6, Rangers 5
At Kansas City, John Buck had three hits and two RBIs and the Royals beat up Rangers starter Kevin Millwood to win their third straight.
Texas made things interesting in the ninth off closer Octavio Dotel. Nelson Cruz hit a two-run homer and Frank Catalanotto followed with a double, before Dotel struck out pinch hitter Ramon Vazquez and got Michael Young to fly out to end the game. It was Dotel's 11th save in 14 chances.
Angels 10, Tigers 3
At Anaheim, California, Garret Anderson hit a disputed three-run homer in the eighth inning to break open a tie game and Orlando Cabrera added a two-run homer to cap the seven-run inning for the Angels.
Jason Grilli (5-3), pitching his third inning of relief, gave up an infield hit to Vladimir Guerrero leading off the eighth and was replaced by Tim Byrdak. Casey Kotchman sacrificed the runner to second and Gary Matthews Jr was intentionally walked before Anderson drove a 1-0 pitch toward the top of the 6m wall in right field.
A fan appeared to reach over the railing and glove the ball, but first base umpire Ed Montague ruled it a home run.
Comments will be moderated. Keep comments relevant to the article. Remarks containing abusive and obscene language, personal attacks of any kind or promotion will be removed and the user banned. Final decision will be at the discretion of the Taipei Times.