Quinney falls apart as Baddeley birdies three of last four holes to win FBR Open
Aaron Baddeley had already conquered the pressure of leading down the stretch on the US PGA Tour.
Jeff Quinney still hasn't.
Baddeley birdied three of the final four holes and took advantage of Quinney's late collapse on Sunday for a one-stroke victory in the FBR Open, the Australian's second win on the tour.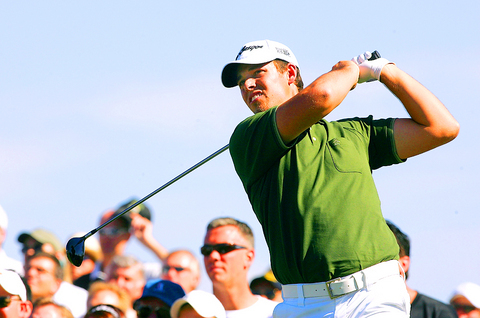 Aaron Baddeley of Australia hits a tee shot on the 11th hole in the final round of the FBR Open on Sunday at the TPC Scottsdale course in Scottsdale, Arizona. Baddeley finished at 21 under par for a one-stroke victory.
PHOTO: AFP
It was a dramatic late turnaround for two golfers who are virtually neighbors in north Scottsdale, Arizona.
Baddeley trailed Quinney by three shots with four holes to go but birdied the 15th, 16th and 17th holes en route to his second US PGA Tour victory.
The 26-year-old Australian, who also has US citizenship, won the Verizon Heritage last year.
"I'm sure Jeff is disappointed with the way he finished, but I was just trying to put pressure on him towards the end," Baddeley said.
"When I got three back, I was really just thinking if I can be one back playing the last hole, I've got a chance," he said.
As it turned out, he was 1-up with one hole to go.
Far different
Baddeley said he felt far different after winning this one than after his initial US PGA Tour victory.
"The first one felt more of a relief," he said, "where this one is more like `All right, now we're making headway to where I want to go.' ... I want to be the best."
Quinney, a US PGA Tour rookie after five seasons on the Nationwide Tour, had led since late in the second round but bogeyed the final two holes, marking the third straight tournament he has led or shared the lead in the last round but failed to win.
His misery began when his tee shot splashed into the water at the 304m, par-4 17th.
After his drop, his third shot landed just 1.3m from the cup, but then he missed the short putt for a bogey.
Baddeley, meanwhile, rolled in a 3.3m birdie putt on the 17th to go from one shot behind to one ahead.
`Best putts'
"That was probably one of the best putts I hit all week," he said.
Baddeley shot his second consecutive 7-under 64 to finish at 21-under 196.
John Rollins tied the best round of the week at 63 and was second at 20 under, one shot ahead of Quinney (68).
Bart Bryant was 18 under and Billy Mayfair followed at 17 under.
"You knew a lot of birdies were going to be flying," Rollins said. "The weather was perfect, the golf course has been fantastic all week. You just knew you had to make a bunch of birdies."
Baddeley earned US$1.08 million (NT$35.6 million) for the victory under bright sunshine at the TPC Scottsdale.
A record one-day crowd of 93,475 spectators watched the final round on Sunday, bringing the total for the week to 507,990, shy of last year's record 536,767.
Quinney tried to be satisfied with his third consecutive top-seven finish.
"I'm just going to look back and learn a few things this week," he said. "I mean, if you would have told me this a couple of weeks ago, that I've made whatever amount of money I made, I'd take that in a second."
Falling from first place to third cost Quinney US$672,000 in prize money.
"You know, I'm still a very confident player," he said. "I'm not going to let this bring me down at all. I can learn from it and just get better next time."
Baddeley sank a 3m birdie putt to tie Quinney at 19 under, but the tie didn't last for long on the 544m 13th hole.
Quinney, playing in the same group, hit a bunker shot 1.3m from the cup, then made it for a birdie to regain a one-stroke lead.
Bogey-free streak
On the 436m, par-4 14th, Quinney made a 3m putt for birdie go to 21 under, and Baddeley ended a string of 35 consecutive holes without a bogey after his tee shot went into a bunker.
His second shot sailed left into the deep rough, with a sand trap between him and the green.
He ended up missing a 11m shot for par.
Quinney missed a 2m birdie putt on the 15th.
Quinney played for Arizona State University and had Sun Devils fans behind him all day.
Meanwhile, Baddeley had friends and family wearing T-shirts that read "Bad's Brigade." Baddeley's sister-in-law made them on Saturday night.
Heath Slocum had a hole-in-one with a 7-iron on the 170m fourth hole.
It was his first on the US PGA Tour and fifth on the tour overall this season. He finished sixth at 16 under.
Comments will be moderated. Keep comments relevant to the article. Remarks containing abusive and obscene language, personal attacks of any kind or promotion will be removed and the user banned. Final decision will be at the discretion of the Taipei Times.