Wu Ching-kuo bids to lead world amateur boxing
Perched in his wheelchair at the head of a Caribbean hotel table, Anwar Chowdhry had no doubt his 20-year reign as amateur boxing's top official would continue past the weekend.
The 84-year-old president of the International Boxing Association is facing what could be the toughest, and possibly last, election of his career.
Taiwanese challenger Wu Ching-kuo said he has locked up essential support from delegates angry over allegations of corruption and worried about the sport's future.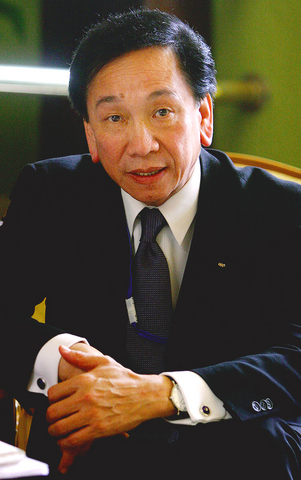 Ching-Kuo Wu of Taiwan, a challenger for the presidency of the International Boxing Association, is seen during the XVI AIBA Congress in the Dominican Republic on Friday.
PHOTO: AP
But Chowdhry said he would be re-elected yesterday because Wu was unqualified for the job.
"I have to do it because there is no choice," Chowdhry said. "(Wu) doesn't know anything about boxing."
The sport's long-time Pakistani leader entered this week's quadrennial Congress dogged by allegations that he hid personal expenses and stalled reforms demanded by the International Olympic Committee. The IOC froze more than US$9 million set aside for the organization last year to force changes in judge selection.
Wu and others say they're concerned the sport could be kicked out of the Olympics, concerns that Chowdhry called "stupid."
The 60-year-old Wu was equally confident of a victory yesterday, saying he had won the support of delegations including the US and China, which despite its rivalry with Wu's native Taiwan has worked with him on plans for the 2008 Olympic Games.
An architect and former basketball player in Taiwan, Wu is an IOC member who previously served as an committee chairman. He has proposed reforms such as increased marketing, new television contracts and the installation of scoreboards to allow fans to see how judges score fights in real time.
Wu said the changes, especially the television contracts and scoreboards, are necessary to preserve the sport. And to get those in place, he said, Chowdhry must be defeated.
"Currently it's a one-man decision," Wu told AP. "If we can make these changes, I can guarantee boxing will be safe."
Boxing has been one of the main sports of the modern Olympics, which began in 1896, but the officiating has caused an uproar several times. A glaring example came at the 1988 Seoul Games when Roy Jones was denied the gold medal despite dominating Park Si-hun of South Korea in the final.
Delegates were also scheduled to consider the IOC's rule changes for judge selection.
Comments will be moderated. Keep comments relevant to the article. Remarks containing abusive and obscene language, personal attacks of any kind or promotion will be removed and the user banned. Final decision will be at the discretion of the Taipei Times.