Men's hockey competition about to begin
Almost everyone agrees on seven of the eight teams that will reach next week's critical quarterfinals in Olympic men's hockey.
Defending champion Canada, Sweden and the Czech Republic are the most likely medalists when group play starts Wednesday. Russia, Finland, Slovakia and the US are possibilities. And Germany is an in-between team -- ranked just above rank-outsiders Latvia, Kazakhstan, Switzerland and Italy.
Arturs Irbe, a former NHL goaltender who is expected to start for Latvia against the US, spoke for the also-ran teams.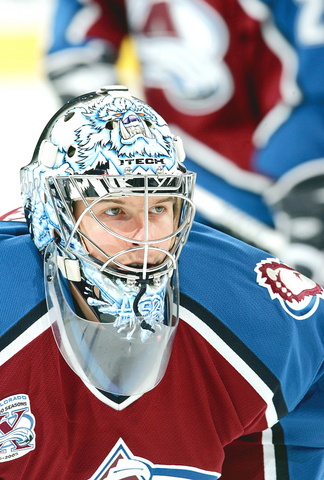 Colorado Avalanche goalie David Aebischer of Switzerland ahead of an NHL game on Jan. 3. Aebischer is one of nine Avalanche players representing their country at the 2006 Winter Olympics.
PHOTO: AP
"Hopefully we can play close games and make the teams that are expected to win games against us kind of sweat and get a little nervous," said Irbe, who plays for the Salzburg Red Bulls in Austria. "We definitely do not have the firepower that can just gun down the opposition."
This is the third consecutive Olympics using NHL players. Every team but Italy has at least one NHL player -- Italy is in only because it's the host nation. The rosters of the seven contenders are composed of 90 percent NHL talent -- and the Canadians and Americans have nothing but.
Canada was the overwhelming favorite until last week when Wayne Gretzky -- the team's executive director -- was linked to a gambling investigation.
Probably Canada's best-known personality, Gretzky arrived Tuesday in Turin looking tired and drained.
"I don't like overshadowing anybody." Gretzky said, when asked about the distractions.
Gretzky says he has never placed any wagers with a gambling ring. His wife, Janet Jones, is alleged to have placed gets with a ring led by Rick Tocchet, a former NHL player. He has taken leave of his job as Gretzky's assistant coach with the NHL's Phoenix Coyotes.
"He [Gretzky] has said that he's had nothing to do with this thing," Canada coach Pat Quinn said Tuesday, sitting next to Gretzky at a news conference. "As far as we're concerned, Wayne and his family has our utmost support and respect."
The defending Olympic champion Canadians have ruled recent international hockey, taking the 2004 World Cup and two of the last three World Championships. Their main rival is the Czech Republic, which took gold in the '98 Olympics and won the most recent World Championship.
The favorites share a common thread -- the best goaltending in the field. Martin Brodeur and Roberto Luongo lead Canada, the Czechs have Dominik Hasek and Tomas Vokoun, and Henrik Lundqvist will start for Sweden.
Top clubs have all been hit by injuries. Jet lag will also be a factor the first few days, with many players only arriving on Tuesday -- 24 hours before play begins. Many of the NHL players were stranded by a massive snowstorm that struck the US east coast, closing airports and grounding flights.
Canada will be without top defensemen Scott Niedermayer and Ed Jovanovski, both out injured. Holes in defense could be costly on the larger Olympic surface, where the defense faces more pressure than on smaller NHL rinks.
Sweden, which was upset by Belarus in the 2002 quarterfinals, may see its chances hinge on center Peter Forsberg, who is nursing a groin problem and whose status is uncertain.
All of the contenders have had to call up replacements.
Losers to Canada in the 2002 final, the US may be playing without its hottest goaltender.
The Buffalo Sabres' Ryan Miller was left off the team after breaking his thumb. He didn't recover quickly enough when the team was picked in December. Instead, the goalie picks are Rick DiPietro, Robert Esche and John Grahame.
Most of the contenders have easy openers on Wednesday.
In Group A, Canada plays Italy, the Czechs open with Germany and Finland plays Switzerland.
In Group B, Sweden plays Kazakhstan, Slovakia plays Russia and the US plays Latvia.
The top four teams in each group reach the quarterfinals. The gold-medal game is Feb. 26.
Comments will be moderated. Keep comments relevant to the article. Remarks containing abusive and obscene language, personal attacks of any kind or promotion will be removed and the user banned. Final decision will be at the discretion of the Taipei Times.