Maria Sharapova beats Tanasugarn
PROFESSIONAL TENNIS TOUR The top-seeded Russian lost the first two games in the first set but recovered to win the next six and overpower her Thai opponant
Wimbledon champion Maria Sharapova advanced to the Japan Open final yesterday with a convincing 6-2, 6-3 victory over Thailand's Tamarine Tanasugarn. \nTop seeded Lleyton Hewitt defeated France's Cyril Saulnier 7-5, 6-1 to set up a men's semifinal showdown with fifth-seeded Jiri Novak of the Czech Republic, who downed Thailand's Paradorn Srichapan 6-4, 6-4. \nTop seeded Sharapova dropped the first two games in the first set but quickly recovered to win the next six and overpower Tanasugarn at Ariake Colosseum. \n"I got off to a slow start. I didn't have a proper warmup and she broke my serve right away," said the 17-year-old Russian, who won Sunday's Korea Open. \n"I made a double fault, but started to serve better as the match went on and was able to return well, and that was the key," she added. \nHewitt, who won here in 2001, had his hands full in the first set, but took control in the second when he capitalized on two double faults to break Saulnier twice. \nSaulnier, who defeated Sweden's Thomas Johansson in the third round, looked tired in the second set and was unable keep up with the Australian. \n"It took me a few games to get on to his serve," said Hewitt. "As the match went on, I was able to put pressure on him and the double faults started to come." \nSaulnier, who had four aces in the first set, double faulted in the fourth game of the second set when Hewitt took a 3-1 lead. \nThe tournament's ninth-seeded player double faulted again in the sixth game before Hewitt won the match with his ninth ace. \nSharapova will face American Mashona Washington in today's final. Washington posted a 3-6, 7-5, 6-2 win over seventh-seeded Klara Koukalova of the Czech Republic. \nIn head-to-head matches against Washington, Sharapova has won twice and lost once. \nThe last time the two players met, Washington defeated Sharapova 6-3, 2-6, 6-2 in the second round of August's Pilot Pen tournament in New Haven. \n"She has a good serve and I'll have to return well," said Sharapova. "I'll have to dictate the play a little better than I did last time but I try not to worry too much about what my opponent will do and just try to play my game." \nSharapova, who broke through at the Japan Open last year to win her career first WTA singles title, is tremendously popular in Japan. Friday's quarterfinal was near capacity and Saturday's final has been sold out for weeks. \n"It's always nice to get the support of the fans here," said Sharapova. "I hope I can live up to their expectations and defend the title." \nWith a typhoon approaching Tokyo, organizers were forced to close the roof at Ariake for Friday's matches. \nAmelie Mauresmo overcame a slow start to win her first match as the world's top ranked player, beating Patty Schnyder of Switzerland 7-5, 6-4 at the Porsche Grand Prix on Thursday. \nShe was joined in the quarterfinals by French Open champion Anastasia Myskina and US Open winner Svetlana Kuznetsova. \nMauresmo became the first French player, man or woman, to claim the top ranking on Sept. 13. \n"I'm very proud -- I dreamed of this as a kid," Mauresmo said. "I'm enjoying this phase of my life like never before." \nShe struggled initially with Schnyder's serve and trailed 5-2 before climbing back into the match. She needed five match points before winning. \nMauresmo could still lose her top ranking to Lindsay Davenport at the US$650,000 event, although the American will have to advance two rounds further than Mauresmo at the tournament, among several scenarios. \nThird-seeded Myskina, nursing a shoulder injury, edged Frenchwoman Nathalie Dechy 4-6, 6-2, 6-1. Myskina had lost her previous two second-round matches since the Olympics and was shaky against Dechy at the beginning. \n"I didn't have any self-confidence. I was nervous as usual at the start," the Russian said. \nMyskina next faces countrywoman Elena Likhovtseva, who struggled past 1993 champion Mary Pierce of France 0-6, 6-4, 6-3. \n"It worked out today against Dechy, but I don't know if it will be enough against the other Russians," Myskina said of her play. \nKuznetsova downed another Russian, Elena Bovina, 7-5, 6-4 and will take on Fabiola Zuluaga of Colombia, who beat Anna Smashnova-Pistolesi when the Israeli retired with a left groin strain while trailing 6-4, 1-0. \nOn Friday, Mauresmo meets Lisa Raymond of the United States in another quarterfinal, while second-seeded Davenport faces qualifier Jelena Jankovic of Serbia-Montenegro. \nDavid Ferrer upset third-seeded Juan Carlos Ferrero 3-6, 7-5, 6-3 in an all-Spanish second-round match at the Lyon Open on Thursday. \nFerrer and Ferrero were both from the Valencia region but it was the first time they played each other. Ferrer will face Jonas Bjorkman of Sweden in Friday's quarterfinals. \nMikhail Youzhny of Russia, a semifinalist last year, overcame Agustin Calleri of Argentina 6-3, 6-7 (2), 7-6 (4) and claimed a last-eight berth against Xavier Malisse of Belgium. \nFourth-seeded Joachim Johansson of Sweden beat qualifier Julien Benneteau, the last remaining Frenchman, 6-3, 6-4, and will play another Swede, Robin Soderling. \nJurgen Melzer of Austria ousted Hicham Arazi of Morocco 4-6, 7-6 (4), 6-1 to advance to his seventh quarterfinals of the year, and he'll face seventh-seeded Vince Spadea of the US. It will be their fourth match this year, with Spadea leading 2-1.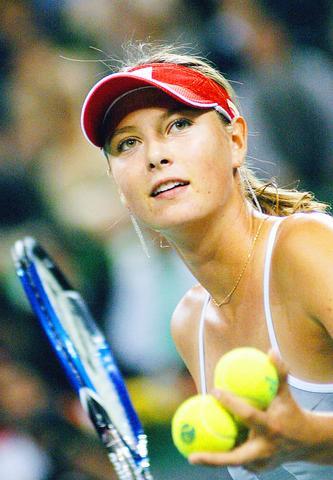 Maria Sharapova prepares to hit tennis balls that she signed to fans following her victory over Tamarine Tanasugarn after her Japan Open semifinal match in Tokyo, Friday. Sharapova won 6-2, 6-3. Sharapova will face Mashona Washington in today's final.
PHOTO: EPA
Comments will be moderated. Keep comments relevant to the article. Remarks containing abusive and obscene language, personal attacks of any kind or promotion will be removed and the user banned. Final decision will be at the discretion of the Taipei Times.