Tigers claw their way back
Detroit was a laughingstock in 2003 while losing an American League-record 119 games. But not this year. \nThe Tigers might not win a major league baseball division title, but at least they're respectable, just five games under .500 and giving opponents fits. \n"It's a completely different atmosphere in this place," Twins manager Ron Gardenhire said during a recent series at Comerica Park. "You used to come in here expecting to win, and now every game is a fight. That's not a team anyone wants to play these days." \nIvan Rodriguez, Carlos Guillen, Ugueth Urbina and Jason Johnson are just some of the newcomers having strong seasons. Young holdovers Omar Infante, Brandon Inge, Mike Maroth and Nate Robertson have gone from prospects to producers. \nWhen the deadline passed on Saturday for trades without waivers, Detroit decided it wasn't interested in unloading players suddenly attractive to playoff-hopeful teams. \n"Clubs were calling about some of our players, but we liked those players and we weren't looking for just prospects," Tigers president Dave Dombrowski said on Monday. "We've made tremendous strides and we feel like we're in a position to keep building toward our goal of a championship." \nThe Tigers (50-55) are tired about talking about last year, but that doesn't stop the interesting comparisons. \nThey surpassed the 2003 victory total of 43 in their 91st game, easily setting a record for fewest games needed to overtake a win total from the previous year. \nThe Tigers finished last year 47 games behind AL Central champion Minnesota and lost 20 more games than the next-worst team in the majors (Tampa Bay). Now, they're 9 1/2 games behind the division-leading Twins, and have more wins than nine teams. \n"We've come a long way," manager Alan Trammell said. \nLast year, the Tigers scored the fewest runs (3.6 per game) in the AL; had the worst fielding percentage (.978) in the league; trailed every team in baseball in batting average (.240) and were among the worst in the majors in ERA (5.30). \nThis season, they're among the best in baseball in runs (5.3 per game) and batting average (.278). But they've been wildly inconsistent because they rank among baseball's worst in ERA (4.84), fielding percentage (.977) and errors (92). \nDetroit's shortcomings, especially with its middle relievers and setup men, has led to an 8-17 record in one-run games and a 4-8 mark in extra innings. \nWhile the Tigers are not making Minnesota worry about staying atop the division, they do have a shot at ending the season with a .500 record for the first time since 1993. \nRodriguez often has said the Tigers are playoff contenders, and while they likely will not be in the postseason, the All-Star catcher is a big reason it's even a topic of conversation. He is batting .349, tied with Barry Bonds for the major league lead, and has been a confidence-building presence. \nWhite Sox manager Ozzie Guillen, Florida's third base coach last season, is not surprised Rodriguez has led Detroit's climb to respectability. \n"Rodriguez can obviously turn around any club," Guillen said. "He carried our team all last year on the field and in the clubhouse."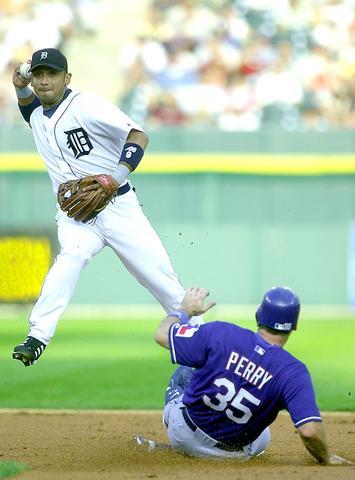 Tigers shortstop Carlos Guillen, left, throws to first base as Herbert Perry of the Rangers is forced out at second at Comerica Park in Detroit, Michigan, Tuesday.
PHOTO: REUTERS
Comments will be moderated. Keep comments relevant to the article. Remarks containing abusive and obscene language, personal attacks of any kind or promotion will be removed and the user banned. Final decision will be at the discretion of the Taipei Times.