Greece shocks France in quarterfinal
EURO 2004 The defeat signals the likely end of a generation for the French team, which has a slew of players over 30 years old
As the best player in the world, he was supposed to have grown into a natural leader. On Friday, Zinedine Zidane was not up to the challenge and France was eliminated by underdog Greece 1-0 in the quarterfinals of Euro 2004.
Slow and sullen throughout, captain Zidane failed to take charge of the defending champion and the Greeks made up for a lack of talent with something the silky smooth players from France sorely missed -- heart and commitment.
"We are all responsible for our elimination," said Zidane afterward.
Georgios Karagounis, front, of Greece, protects the ball from Olivier Dacourt of France during their Euro 2004 quarterfinal match in Lisbon, Portugal, Friday.
PHOTO: AP
"Too many technical mistakes and a lack of ideas in the last part of the game did not allow us to come back after a great goal," added France coach Jacques Santini, in what could be seen as criticism of his captain.
Greece made the difference in the 66th minute when striker Angelos Charisteas scored with a header from the center which gave goalie Fabien Barthez no chance.
Apart from Real Madrid's Zidane, Arsenal's Thierry Henry also had a lackluster performance and France never came close to showing the form that allowed it to build a 22-game unbeaten streak, which was snapped Friday.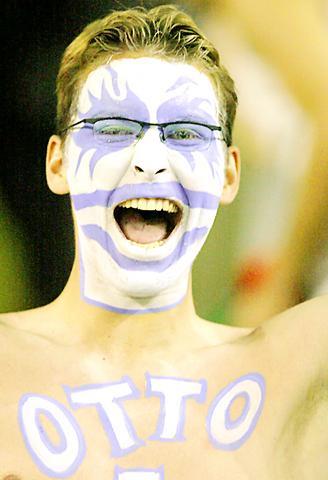 A supporter of the Greek national team celebrates a win over France during Euro 2004 at the Jose Alvalade stadium in Lisbon, Friday.
PHOTO: EPA
It was the second disastrous tournament in a row for France, which crashed out in the first round of the 2002 World Cup.
At world and European level, they could not defend their title. "Playing the defending champion always is an added boost for opponents," said Santini.
France came into Euro 2004 a troubled team.
Santini had already said he would step down after the tournament to take on Tottenham Hotspur and it became increasingly clear that Desailly was only a shadow of his former imposing self.
Add the injury to midfield mainstay Patrick Vieira and it spelled big trouble for France.
After the demise of Desailly, Zidane, 32, was forced into the role of leader of Les Bleus and it never came easy. He saved France with two injury time goals against England for a 2-1 win, but failed badly on Friday.
During the first half, Zidane struggled along with his team.
In the stands, the adoration was immense. Cries of "Zizou, Zizou" went up and one woman had painted a prominent Zizou in the French colors on her uncovered waist.
During France's famous 1998 World Cup run, the captaincy was in the hands of Didier Deschamps, a dogged midfielder with few refined skills but a determination which fueled the whole team.
In comparison, Zidane was meek.
Most of the time, he trotted around the field in an imperial jog, counting on Claude Makelele or Olivier Dacourt to do the hard work.
Once he was served a ball, he either tapped it back quickly or got in a muddle from which he rarely escaped. All so often, he lost the ball.
Throughout the first half, tension built within him as he and his team increasingly struggled against the more energetic underdogs, ranked only 33rd in the world.
In the 44th minute, he was so fed up with the close marking that he went sniping at the ankles of Georgios Karagounis and immediately was served a yellow card.
Santini took some of the blame, admitting he forced Zidane into a more withdrawn role to free up space on the wings. It didn't work.
At the end, France just could not change tactics.
"We were just rushing forward and that was not the best way to go about it. It's a big disappointment," said Santini.
Comments will be moderated. Keep comments relevant to the article. Remarks containing abusive and obscene language, personal attacks of any kind or promotion will be removed and the user banned. Final decision will be at the discretion of the Taipei Times.