Jonathan Hurst pitches location
In an era where homeruns are flying out of ballparks everyday and power hitters are often front-page news, it's easy to overlook how important sound pitching is to the fundamental success of a baseball team. \nSound pitching does not necessarily mean overpowering pitching, as four-time Cy Young winner Greg Maddux of the Atlanta Braves has demonstrated throughout his career with his masterful grasp of the hitter's mentality. It's such an approach that Brother Elephants' ace Jonathan Hurst strives to attain. \nThe 36-year-old former major leaguer is a native of the Big Apple, but chose to travel down South for his college education. At Spartanburg Methodist College in South Carolina, Hurst played on the same team as Pittsburgh Pirates right fielder Reggie Sanders. He received first-team junior college All-American honors in 1987. \nAfter spending two years at Spartanburg, the right-hander began a minor league career in 1987 and made his Major League debut with the Montreal Expos in 1992. \nHurst moved on to the New York Mets in 1994 for one season before joining the former Mercury Tigers of the CPBL in 1998. Though his first two seasons with the Tigers were less than spectacular, Hurst finally broke into his all-star form with the 2000 Brother Elephants where he posted a 1.82 ERA and a league-high 16 wins. \nHis stellar performance in 2000 won him a chance to play for the Yakult Swallows of the Nippon Professional Baseball league (NPB) in 2001, before he rejoined the Elephants last year, where he racked up 16 wins once again. \nHurst began this season with the Diablo Red Devils in Mexico as the closer, but that was before Elephants managers realized how much they really missed the veteran and asked him to re-join the team for the third time in four years. Since returning to the team in late March, Hurst has gone 6-2 in 10 starts with an ERA of 3.15. What he has brought to the team's young pitching staff is a sense of stability, something that had been missing during the Elephants' 3-9-1 run in the first month of the season. \n"With Hurst around, we all feel more secure," ace closer Hsiao Ren-wen (蕭任汶) said after Hurst's return. \n"Even though we don't speak the same language, all the guys know Hurst has an answer for all our baseball questions." \nHsaio was indirectly referring to Hurst's insight on the hitter's mentality. Like Greg Maddux, Hurst pitches more with his head than with sheer strength, because he understands how important it is for the pitcher to think like a hitter. Once a pitcher knows what pitches the hitters expect, he is less likely to get into trouble. \n"I know I can't pitch forever, so I will try to outthink the hitters more, instead of blowing pitches by them," Hurst said. "Besides not throwing them the pitches they are looking for, location [of the pitch] is everything." \nHurst believes that he has a few more "good years" left in him and would not mind finishing his career with the Elephants in Taiwan. That spells trouble for all opposing CPBL hitters.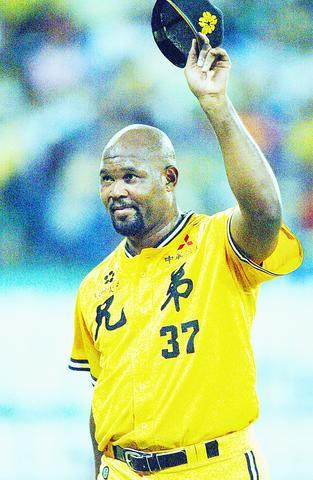 Jonathan Hurst, pitcher for the Brother Elephants, salutes his fan in this file photo. He's back playing baseball in Taiwan for a second time in his career.
PHOTO: LIN CHENG-KUNG, TAIPEI TIMES
Comments will be moderated. Keep comments relevant to the article. Remarks containing abusive and obscene language, personal attacks of any kind or promotion will be removed and the user banned. Final decision will be at the discretion of the Taipei Times.