A `prince,' turned politician, turned monk
BLUE BLOOD Growing up among Taiwan's elite, Chen Li-an built a career in politics, and eventually ran for president, but left it all behind to work for charity
Four years after running in the first direct presidential election, Chen Li-an (陳履安) stepped into the political spotlight again yesterday, this time to endorse the KMT's candidate Lien Chan (連戰) for the election.
It remains, however, unclear what impact the blue-blooded veteran politician will have on the election. But a look at Chen's pivotal role in Taiwan's politics may offer some clues.
During the 1996 presidential election, Chen and his then running mate, lawyer Wang Ching-feng (王清峰) won 1.7 million votes running an unconventional campaign touring as ascetic monks throughout Taiwan.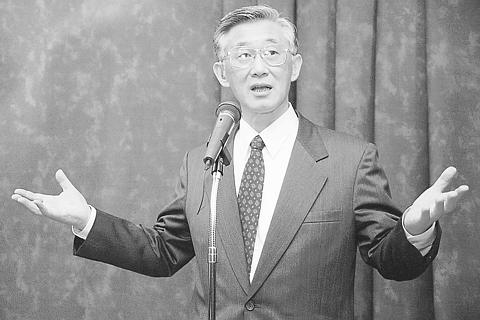 Former KMT heavyweight Chen Li-an hosts a press conference yesterday to announce his support for Lien Chan's presidential bid.
PHOTO: SUNG CHIH-HSIUNG, LIBERTY TIMES
The spiritual tone of campaigning resulted in an impressive election achievement and also turned Chen into something of a moral and spiritual leader among Taiwan's politicians.
But to many middle-aged Taiwanese, especially those with family roots in China, Chen's image is a far cry from the Buddhist practitioner that he and Wang Ching-feng tried to cast themselves as four years ago.
He was a son of Chen Cheng (陳誠), late vice-president to Chiang Kai-shek, and one of Taiwan's famously privileged Four Princes (四大公子) as he is often reminded by people and local media.
Chen earned a PhD in mathematics from New York University and gained extensive experience in government posts. His previous posts were as Control Yuan Speaker, Defense Minister and Minister of Economic Affairs.
While in these posts, he built strong relations with Taiwan's major enterprises, including "the god of business management" Wang Yung-ching (王永慶), president of the Formosa Group.
Wang appointed Chen as headmaster of the Ming-chi Technology College (明志工專) which was owned by Wang.
And Wang also endorsed Chen during the 1996 election, according to local media reports.
Born into a well-to-do family with a military background (Chen Cheng was a member of Chiang Kai-shek's general staff), Chen had good relations with not only the Chiang family but also other prominent families in Taiwan, including the Lien family.
It has been rumored that Chen's eldest son Chen Yu-ting (陳宇廷) and Lien Hui-hsing (連惠心), Lien Chan's eldest daughter were close when they were both studying in the US.
Converting to Buddhism more than 20 years ago brought a major change not only to Chen Li-an but his whole family.
Chen not only changed his image as a "prince" in political circles, but began to use his influence to promote Buddhism.
His Hwa-yu Foundation (化育基金會) is one of the most active groups preaching Tibetan Buddhism in Taiwan.
The foundation has long supported the Karma Kagyu sect of Tibetan Buddhism, helping to repair temples in Lhasa and supported the Karmapa Lama, who made a dramatic escape from Tibet to India on Jan. 5 this year.
Chen also became friends with Master Wei Chueh (惟覺), founder of the Chinese Century Buddhist Association (中國世紀佛教協會), and Master Hsing Yun (星雲), founder of Buddha's Light International Association (國際佛光會).
Master Wei Chueh yesterday made a remark that was interpreted as a show of support for Lien. Master Hsing Yun four years ago openly supported Chen's bid for president, which, allegedly brought tensions to the master's tight connection with the KMT.
But Chen's remarks on cross-strait relations yesterday made people more curious about his connections with the mainland.
After the 1996 election, Chen announced that he would never run again for a public post. He has since made visits to Nepal, Tibet and China. From 1996 to 1998, Chen visited China at least three times, and met with high officials including Chinese president Jiang Zemin (江澤民).
"Jiang Zemin's policy is simple: Taiwanese must admit they are Chinese and not resort to separatism. The rest of it is nothing frightful," Chen was quoted as saying in an interview with local media two years ago.
Chen also criticized Lee Teng-hui's "go slow, be patient"(戒急用忍) on trade with China, saying in another media interview that it was time to review the policy.
Apart from close relations with Tibetan Buddhist temples and some officials, Chen has been making efforts in promoting charities in China, especially for the welfare of that country's minorities.
According to Chen, he has been traveling back and forth between Macau in the past two years, negotiating with Chinese scientists to promote charity activities.
Staff from the Hwa-yu Foundation yesterday denied that Chen had spoken to high-ranking Chinese before making his remarks on cross-strait affairs. But after yesterday's statements, Chen has jumped into the campaign not only as a moral leader but as an active participant in cross-strait relations.
Comments will be moderated. Keep comments relevant to the article. Remarks containing abusive and obscene language, personal attacks of any kind or promotion will be removed and the user banned. Final decision will be at the discretion of the Taipei Times.