Community allotment for senior citizens a runaway success 共餐牽線 老人種菜中正大學熱銷
One year ago, Huang Yu-chen, a student at National Chung Cheng University's Department of Adult and Continuing Education, together with teacher Chen Yu-ching, went to Wantan Village in Chiayi County's Jhongpu Township to assist the village in establishing a community canteen for the elderly. On discovering that local volunteers had donated land for elderly members of the community to grow vegetables, Huang helped them to set up an allotment. Huang says they participated so enthusiastically in the project that this yielded a surplus of vegetables, with far too many for villagers to use by themselves. She solved the problem by establishing a Facebook group called Wantan Sungho Grocers, which lists the types of vegetables for sale and the quantity available each time. Word of mouth quickly spread interest in the Facebook group among students and teaching staff at the university, and the group now has over 300 members.
For nearly 10 months now, every weekend Huang rides her scooter, laden with vegetables, the 27km distance from Wantan Village to National Chung Cheng University. Huang sells bunches of leafy greens for just NT$10, barely making a profit. Brushing off any idea of hardship, Huang says she was initially concerned that nobody would want to buy the produce, but now the vegetables usually sell out within 10 minutes after she updates the Facebook group. Huang adds that fellow students even ask about the location of the village and the provenance of the vegetables.
The enthusiastic response from students has greatly encouraged the village's green fingered senior citizens, some of whom have taught themselves how to use social media in order to interact with their gourmandizing clientele. Income generated from the sale of their vegetables is used to buy plant seeds and organic fertilizer. Huang says the allotment's elderly volunteers hope that, by growing and selling their healthy vegetables, they can look after the university's students as if they were their own grandchildren.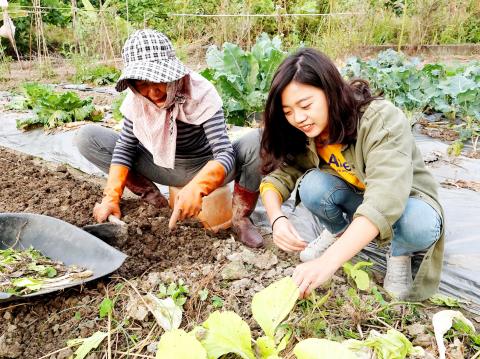 National Chung Cheng University student Huang Yu-chen, right, assists an elderly volunteer at an allotment in Wantan Village, Chiayi County in an undated photograph. 中正大學學生黃語晨(右)在灣潭社區的菜園協助長輩,拍照日期不詳。
Photo: Wang Shan-yen, Liberty Times
照片:自由時報記者王善嬿
(Translated by Edward Jones, Taipei Times)
一年多前,中正大學成人及繼續教育研究所學生黃語晨跟隨陳毓璟老師到嘉義縣中埔鄉灣潭村輔導社區成立老人共餐據點,因有社區志工捐地讓長輩種菜,黃語晨也協助開闢菜園;長輩參與踴躍,所種的蔬菜供應共餐仍有剩餘,她遂設立「灣潭松鶴菜店仔」臉書社團網頁,公告每次販售的蔬菜種類及數量,獲中正大學師生熱烈回響,社團已有三百多人加入。
近十個月來,黃語晨幾乎每週從灣潭村騎機車約廿七公里到中正大學販售,每把青菜只賣十元,幾乎無利潤可言,她甘之如飴說,原本擔心沒人買,結果每次上網公告不到十分鐘就賣光,同學還會問她「長輩是住哪個社區?」、「蔬菜來自哪裡?」
由於同學反應熱烈,也讓社區長輩對種菜更有信心和興趣,還學會上網與網友互動,把賣菜所得拿來買更好的種子與有機肥料,希望如同對待孫子般照顧中正學生。
(自由時報記者王善嬿)
Comments will be moderated. Keep comments relevant to the article. Remarks containing abusive and obscene language, personal attacks of any kind or promotion will be removed and the user banned. Final decision will be at the discretion of the Taipei Times.