"Sex and the City" celebrates 20th anniversary 「慾望城市」二十週年 四位慾女各自精彩
Hit TV series "Sex and the City" celebrated its 20th anniversary last week. Since it premiered on June 6, 1998, the HBO TV show set in New York City has swept the world, having considerable influence throughout the globe. The show made the four lead actresses famous, and would give rise to two feature films.
According to USA Today, the four actresses have continued to be active since the show ended in 2004. Sarah Jessica Parker, who played Carrie Bradshaw, a writer with a newspaper column, has become a fashion icon in real life — just like her character in the show. Kim Cattrall, who played public relations expert Samantha Jones, has starred in several theatrical productions in recent years.
Kristin Davis, who portrayed art dealer Charlotte York, is involved with several charity groups. Cynthia Nixon, who portrayed lawyer Miranda Hobbes, got married to her same-sex partner while becoming an LGBT rights activist. She announced in March her intention to run in the Democratic Party's primary for governor of New York State.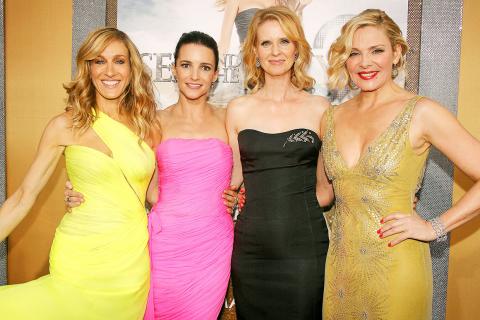 The cast of "Sex and the City 2," from left, Sarah Jessica Parker, Kristin Davis, Cynthia Nixon and Kim Cattrall, attends the premiere in New York on May 24, 2010. 電影「慾望城市2」的演員(左起)莎拉潔西卡帕克、克莉絲汀戴維斯、辛西亞尼克森、金凱特羅,於二○一○年五月二十四日在紐約參加首映會。
Photo: AP
照片:美聯社
(CNA, translated by Eddy Chang)
熱門電視影集「慾望城市」上週慶祝首播二十週年,這部以紐約市為背景的HBO影集,在一九九八年六月六日播出後風靡全球,並展現出跨地域的文化影響力,該劇也捧紅了四位女主角,之後還拍成兩部電影。
根據《今日美國報》,該劇於二○○四年劃下句點後四位女明星仍相當活躍。飾演報紙專欄作家「凱莉」的莎拉潔西卡帕克,如同劇中角色一般,在現實生活中成為時尚指標。金凱特羅飾演公關專家「莎曼珊」,近年來曾演出多齣舞台劇。
飾演藝術品經銷商「夏綠蒂」的克莉絲汀戴維斯,熱中參與慈善機構的活動。飾演律師「米蘭達」的辛西亞尼克森,則和同性伴侶結婚並成為同志平權推動者,三月還宣布投入民主黨紐約州長初選。
(中央社)
Publication Notes
TODAY'S WORDS
今日單字
1. premiere v.
首播
(shou3 bo1)
2. active adj.
活躍
(huo2 yue4)
3. column n.
專欄
(zhuan1 lan2)
4. fashion icon phr.
時尚指標
(shi2 shang4 zhi3 biao1)
5. governor n.
州長
(zhou1 zhang3)
Comments will be moderated. Keep comments relevant to the article. Remarks containing abusive and obscene language, personal attacks of any kind or promotion will be removed and the user banned. Final decision will be at the discretion of the Taipei Times.