Entertainer Blackie Chen rewarded for good deed in car accident 「黑人」陳建州千萬超跑遭撞 好心有好報
Driving his McLaren through Taipei's Xinyi District about two weeks ago, entertainer Blackie Chen's car was gently rear-ended by a taxi, putting some dents and a crack in the rear bumper of the supercar that costs as much as NT$15.8 million (US$527,634). Knowing that the driver bumped into his car by accident, Chen let the driver go without claiming any compensation.
Chen said he could not bear to have the driver pay for the extremely high repair cost, which is expected to be as much as NT$1.2 million. He has been praised for having shown a " charitable heart" for being so understanding. As it turned out, Lin Chih-ming, general manager of Yun San Motors, the dealer of the McLaren supercar, saw the news and, impressed by Chen's kindness, decided to have the company do the repairs for free.
Chen is the husband of celebrity singer Christine Fan. Apart from hosting TV talk shows over the last few years, he also co-founded A Legend Star Entertainment, whose artists include teen idol Leo Chen.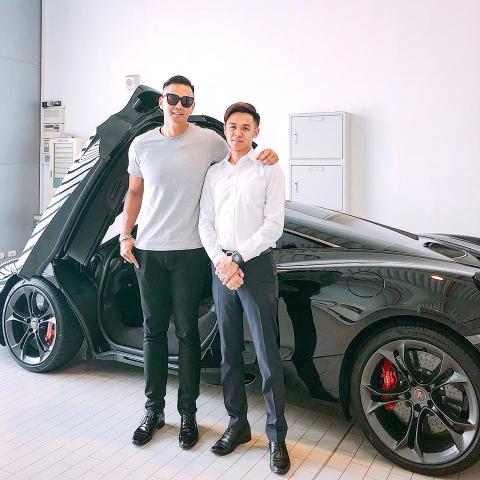 Blackie Chen, left, and a McLaren supercar sales agent are pictured in this undated photo in this screengrab from Chen's Facebook page. 藝人「黑人」陳建州(左)和麥拉倫超級跑車銷售專員合影,翻攝自黑人的臉書。
Photo: Chung Chih-kai, Liberty Times
照片︰自由時報鍾智凱
(Liberty Times, translated by Eddy Chang)
藝人「黑人」陳建州兩週前開著麥拉倫超級跑車行經台北市信義區,遭到後方計程車擦撞,造成高達一千五百八十萬(約五十多萬美元)天價超跑的保險桿凹陷、破裂。黑人體諒小黃司機不是故意要撞他,因此並未索賠就讓他離開。
黑人說不忍心讓司機花大錢賠償維修費,該費用預估將高達一百二十萬,他也因為這項善舉而被誇十分「佛心」。沒想到麥拉倫代理商永三汽車總經理林志明看到新聞,被他的善舉感動,該公司已決定要免費替他維修。
黑人是知名歌手范瑋琪的老公,近年來除了主持電視談話節目,還共同創立了傳奇星娛樂公司,旗下則包括青少年偶像陳立農等藝人。
(自由時報)
Publication Notes
TODAY'S WORDS
今日單字
1. bumper n.
保險桿
(bao2 xian2 gan3)
2. supercar n.
超級跑車
(chao1 ji2 pao3 che1)
3. bump v.
碰撞 (peng4 zhuang4)
4. compensation n.
賠償金
(pei2 chang2 jin1)
5. charitable heart phr.
佛心 (fo2 xin1)
Comments will be moderated. Keep comments relevant to the article. Remarks containing abusive and obscene language, personal attacks of any kind or promotion will be removed and the user banned. Final decision will be at the discretion of the Taipei Times.