Robots throw a spanner in the works at Tesla's Model 3 factory 特斯拉Model 3 汽車工廠 機器人從中搗亂
In recent years we've become accustomed to regular predictions that robots and artificial intelligence (AI) will soon replace everything from factory workers to lawyers and even doctors. Only last month, influential economic think tank Organization for Economic Cooperation and Development warned a revolution in automation will leave 66 million jobs worldwide at risk of being replaced by machines in the near future.
However, in a rare win for humans, electric car trailblazer Tesla Motors — which operates what is believed to be the most automated production line of any carmaker on the planet — last month admitted they had installed too many robots on the company's Model 3 assembly line. These were blamed for slowing down production and causing severe delays. Production targets were slashed from an initial 5,000 cars per week to 2,500 and then 2,000.
During an interview last month with US television network CBS, billionaire entrepreneur and Tesla CEO Elon Musk described the manufacturing line at Tesla as "production hell" and posted the following mea culpa on Twitter: "Yes, excessive automation at Tesla was a mistake. To be precise, my mistake. Humans are underrated." The company was forced to pull the plug on some of its robots and employ more humans.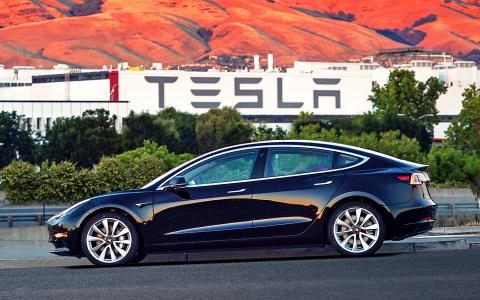 A Tesla Model 3 drives past the Tesla Motors production plant in Fremont, California, US. 一輛特斯拉型號Model 3 的車輛行經加州弗里蒙特的特斯拉汽車製造廠。
Photo: AP
照片:美聯社
The problem centers around Tesla's newest product, the Model 3, a mid-range sedan with a base price of US$35,000 that forms the backbone of the electric carmaker's long-term strategy to bring electric car driving to the masses.
It is a marked turnaround from the euphoria of the Model 3's unveiling back in 2016 when Tesla received over 400,000 pre-orders for the new model in just 10 days after the announcement. Back then, Musk confidently predicted the Tesla factory, a sprawling complex in California's Silicon Valley, would be turned into an "alien dreadnought" with a small army of robotic arms churning out cars at breakneck speed.
There is currently little detail in the public domain about the precise cause of the production bottlenecks aside from the interview Musk gave to CBS, during which he said too much new technology was put into the Model 3 at once and should have been staggered. Musk also alluded to a problem of over-automization, referring to a "crazy, complex network of conveyor belts" which failed to work and had to be completely abandoned.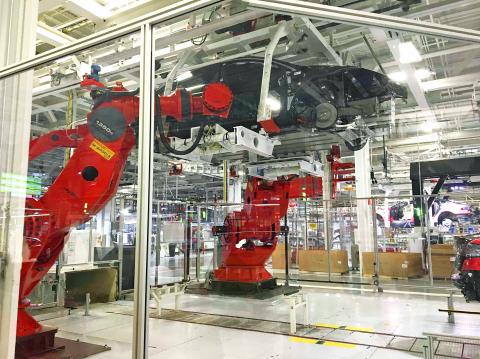 Robots nicknamed Thunderbird and Cyclops work together to lower a vehicle on to the assembly line at Tesla Motors Inc factory in Fremont, California, US. 暱稱為雷鳥與獨眼巨人的機器人合力將一台車輛降到組裝線上,攝於加州弗里蒙特的特斯拉汽車公司工廠。
Photo: Reuters
照片:路透
According to analysts at Wall Street firm Bernstein, quoted by Business Insider, "Tesla has tried to hyper-automate final assembly. We believe Tesla has been too ambitious with automation on the Model 3 line." Bernstein adds that Japanese carmakers try to limit automation because it "is expensive and is statistically inversely correlated to quality." According to Bernstein, Japanese automakers get the process right first, then introduce the robots: the opposite of Musk's approach.
Does this mean predictions of robo-droids programmed with AI sending humans to the scrapheap are premature?
It is not the first time Tesla has encountered production hiccups. The company had to overcome similar bumps in the road with its Model X SUV, but production now appears to be back on track.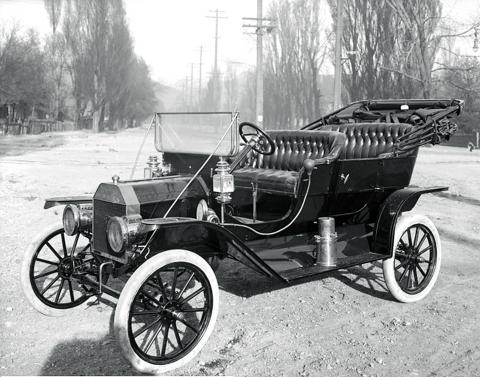 A 1910 Ford Model T is pictured in the same year in Salt Lake City, Utah, US. 一輛一九一○年的福特T型車,在該年攝於猶他州的鹽湖城市。
Photo: Wikimedia Commons
照片:維基共享資源
As for the Model 3, the latest signs are positive. Musk recently said Tesla has managed to stabilize Model 3 production at 2,000 units a week, while delivery times have shortened. Musk also recently tweeted that he expects Tesla will be profitable and cash flow positive by the third and fourth quarters of this year.
Sales of the Model 3 are looking good, too, with the car accelerating past competition from BMW and Mercedes-Benz earlier this month to become the best-selling mid-size sedan in the state of California, according to news Web site Electrek. Tesla — and Musk — certainly have a track record of proving naysayers wrong and turning difficult situations around. Perhaps we should still fear the robot revolution after all.
(Edward Jones, Taipei Times)
近年來,對於機器人與人工智慧很快就會取代人類所有工作──從工廠工人到律師,甚至是醫師──這類屢見不鮮的預言,我們早已習以為常。在上個月,深具影響力的經濟智庫「經濟合作暨發展組織」還曾提出警告,表示自動化的技術革命將會在不久的將來使世界上六千六百萬個工作陷入被機器取代的風險。
不過,人類最近也難得扳回一城:電動車領域的先驅特斯拉汽車公司的營運著被視為地球上所有汽車製造業者中最為自動化的生產線,該公司在上個月坦承,他們在公司Model 3 車款的組裝線上安裝了太多機器人,這被認為是拖累製造速度並導致嚴重延誤的元凶。車輛製造的目標數量從最初的一週五千輛大砍為兩千五百輛,而後又降為兩千輛。
特斯拉的首席執行長伊隆·馬斯克這位億萬富翁企業家,上個月在接受美國電視網哥倫比亞廣播公司訪談時,把特斯拉內部的生產線描述為「生產地獄」,並在推特上發布這樣的罪己詔:「確實,特斯拉的過度自動化是一個錯誤。更準確地說,是我的錯。人類被低估了。」該公司被迫拔掉幾台機器人的電源,並且聘僱更多人類。
問題主要圍繞在特斯拉的最新產品Model 3:這輛底價三萬五千美元的中價位轎車,構成這家電動車製造商企圖讓駕駛電動車普及化的長期戰略主軸。
這次事件是一個顯著的轉折點,徹底改變了Model 3於二○一六年揭露時的欣喜陶醉感。特斯拉當年宣布推出該車款後,僅僅十天內就收到超過四十萬輛的預購單。那時,馬斯克自信地預測特斯拉工廠──一座在加州矽谷內擴張的複合式建築──將會搖身一變,成為一艘「異形無畏號戰艦」,其中由機械人手臂組成的一小支軍隊不斷飛快地噴射出車輛。
關於製造瓶頸的確切原因,目前能公開找到的相關細節相當少。除了那次接受哥倫比亞廣播公司訪談時,馬斯克曾提到Model 3一次用上太多新科技,早該讓人感到憂心。馬斯克也暗示過度自動化的問題,提到這個「瘋狂而複雜的輸送帶網絡」不但無法運作,還必須被徹底捨棄。
美國財經科技網站《商業內幕》引述華爾街伯恩斯坦研究公司的分析師意見,指出「特斯拉一直試著讓最終組裝階段極度自動化。我們相信特斯拉對Model 3線上的自動化技術太過野心勃勃。」伯恩斯坦公司補充表示,日本汽車製造商都試著限制自動化程度,因為這項技術「既昂貴,而統計上也與品質呈現負相關。」根據伯恩斯坦的說法,日本汽車製造商會先確認過程無誤,才引入機器人協助,這跟馬斯克的方針完全相反。
這是否代表寫入人工智慧的智能機器人會把人類送進垃圾堆的預測言之過早?
這並不是特斯拉第一次遭遇小規模的生產延誤。該公司在生產運動型休旅車Model X 時早已順利克服類似的顛簸,現在該車款的製造看起來已回到正軌。
最新跡象顯示,Model 3 仍然大有可為。馬斯克近日指出,特斯拉已成功把Model 3 的生產量穩定在一週兩千輛,也已縮短交貨時間。馬斯克最近也發布推文,表示他預期特斯拉會在今年的第三季與第四季轉為有盈利的公司,並產生正現金流。
根據Electrek新聞網報導,Mode 3 銷售持續看好,在這個月稍早還加速擺脫了與BMW和賓士之間的競爭,成為加州最暢銷的中型轎車。特斯拉以及馬斯克在證明唱衰者預測錯誤並且扭轉困局等方面,確實擁有良好的記錄。或許,人類仍然應該對機器人革命抱持著戒慎恐懼的態度。
(台北時報章厚明譯)
Follow Up
讀後練習
Reading Comprehension
The birth of modern car production: the Ford Model T
The Ford Model T, produced between 1908 and 1927 by the Ford Motor Company, was the world's first affordable motor car and made the automobile accessible to the middle classes for the first time. A major factor in the Model T's success was the way it was manufactured: It was the first car to be mass-produced on a moving assembly line, which enabled the company to sell its product at a price significantly lower than its competitors.
The moving assembly line, developed by the company's founder Henry Ford, streamlined the production process by breaking it down into 84 distinct steps performed by work groups. Workers assembled the cars as they moved along the production line, pulled by a rope.
Instead of moving teams of workers around the cars, the moving assembly line brought the car to the workers. The system revolutionized car production and reduced the assembly time for a vehicle from 12 hours to about 90 minutes. This enabled Ford to reduce the price of the Model T from US$850 to under US$300.
As the production process became ever-more refined, a Ford Model T eventually rolled off the production line every 24 seconds and by 1927 the company had sold more than 15 million Model Ts worldwide, accounting for half of all automobile sales at the time.
(Edward Jones, Taipei Times)
Publication Notes
TODAY'S WORDS
今日單字
1. robot n.
機器人 (ji1 qi4 ren2)
2. artificial intelligence phr.
人工智慧 (ren2 gong1 zhi4 hui4)
3. automated adj.
自動化的 (zi4 dong4 hua4 de5)
4. production line phr.
生產線 (sheng1 chan3 xian4)
5. bottleneck n.
瓶頸 (ping2 jing3)
6. profitable adj.
有盈利的 (you3 ying2 li4 de5)
7. cash flow positive phr.
正現金流 (zheng4 xian4 jin1 liu2)
Comments will be moderated. Keep comments relevant to the article. Remarks containing abusive and obscene language, personal attacks of any kind or promotion will be removed and the user banned. Final decision will be at the discretion of the Taipei Times.