New Cerber ransomware targets Bitcoin wallets 勒索病毒新變種 專竊比特幣錢包
Security software company Trend Micro says that Cerber ransomware, which has been targeting Taiwan and spread through malicious advertising since last year, now has a new variant.
According to Trend Micro, the new wave of attacks by the Cerber malware, which is spread through email attachments, is designed to steal Bitcoin wallet data by accessing files that belong to Bitcoin wallet apps, including wallet.dat used by Bitcoin Core wallet, *.wallet used by Multibit wallet app and electrum.dat used by Electrum wallet app.
Nonetheless, simply accessing the files does not mean the malware can take the money in the wallets. The cyber criminals behind the malware still need the passwords. Also, the Electrum app no longer uses electrum.dat files, having stopped using them in 2013.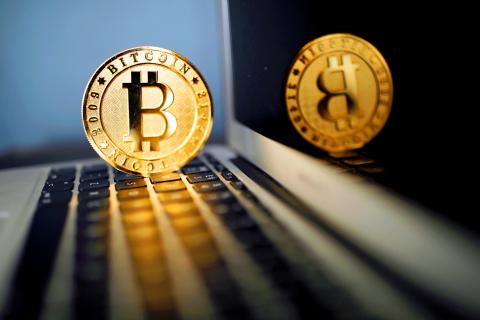 A Bitcoin is seen in an illustration picture taken at La Maison du Bitcoin in Paris, France, on June 23. 圖為虛擬貨幣比特幣示意圖,六月二十三日攝於法國巴黎。
Photo: Reuters
照片:路透社
The new Cerber malware can also steal passwords stored in the Internet Explorer, Google Chrome, and Mozilla Firefox web browsers.
The stolen data will be sent to the command and control servers, while the original wallet files will be deleted from the victim's computer.
Regarding prevention of infection by the new Cerber malware, Trend Micro notes that chances of malware infections can be effectively reduced by avoiding opening email attachments from unknown senders.
(CNA, translated by Tu Yu-an)
資安業者趨勢科技指出,自去年以來透過惡意廣告散播、把台灣當主戰場的Cerber勒索病毒,又有新變種。
根據趨勢科技,這波Cerber病毒是經由電子郵件附件散布,專門鎖定虛擬貨幣比特幣錢包,其作法是直接偷取比特幣錢包應用程式的對應檔案,即Bitcoin Core用的dat、Multibit用的*.wallet和Electrum用的dat。
不過,竊取這些檔案並不代表就能取得錢包內的比特幣,歹徒仍須取得用來開啟錢包的密碼。此外,Electrum從二○一三年後期即不再使用electrum.dat檔案。
新的Cerber變種還可偷取儲存在Internet Explorer、Google Chrome及Mozilla Firefox瀏覽器上的密碼。
病毒會將竊取到的資料傳送至駭客的幕後操縱伺服器,並刪除受害人電腦上的錢包檔案。
針對防範之道,趨勢科技指出,只要避免開啟來源不明的電子郵件附件檔案,即可有效降低感染風險。
(中央社)
Publication Notes
TODAY'S WORDS
今日單字
1. malicious advertising phr.
惡意廣告
(e4 yi4 guang3 gao4)
2. variant n.
變種
(bian4 zhong3)
3. browser n.
瀏覽器
(liu2 lan3 qi4)
4. server n.
伺服器
(si4 fu2 qi4)
5. infection n.
感染
(gan2 ran3)
Comments will be moderated. Keep comments relevant to the article. Remarks containing abusive and obscene language, personal attacks of any kind or promotion will be removed and the user banned. Final decision will be at the discretion of the Taipei Times.