NASA telescope finds 10 more planets that could have life NASA發現十顆系外行星 可能有生物居住
NASA's planet-hunting telescope has found 10 new planets outside our solar system that are likely the right size and temperature to potentially have life on them.
After four years of searching, the Kepler telescope has detected a total of 49 planets in the Goldilocks zone. And it only looked in a tiny part of the galaxy, one quarter of one percent of a galaxy that holds about 200 billion stars.
Seven of the 10 newfound Earth-size planets circle stars that are just like ours. That means the planets may have some of the most basic requirements that life needs, upping the chances for life.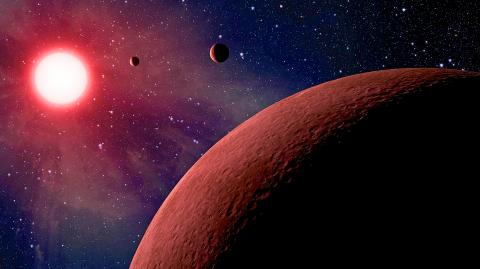 This artist rendering shows some of the 219 new planet candidates, 10 of which are near-Earth size and in the habitable zone of their star, identified by NASA Kepler space telescope. 美國太空總署利用克卜勒太空望遠鏡觀察到兩百一十九顆系外行星,其中十顆與地球大小接近,且位於恆星附近的宜居帶。圖為行星模擬圖。
Photo courtesy of NASA
照片:美國太空總署
"Are we alone? Maybe Kepler today has told us indirectly, although we need confirmation, that we are probably not alone,'' Kepler scientist Mario Perez said in a news conference on June 19.
The Kepler space telescope was launched in 2009 with the aim of surveying part of the galaxy to see how frequent Earth-size and potentially habitable planets are.(AP)
美國太空總署近日透過專門搜索新星球的克卜勒太空望遠鏡發現了十顆類似地球的系外行星,不僅大小與溫度都接近地球,還可能有生物存在。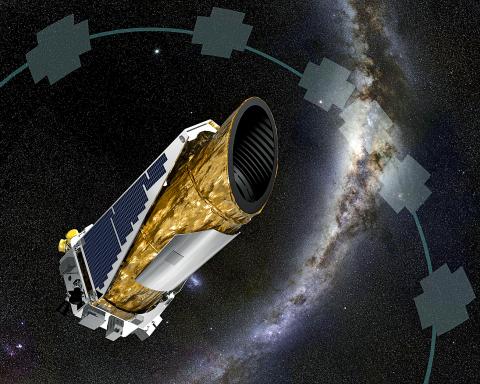 An illustration of the Kepler space telescope in outer space. 克卜勒太空望遠鏡於外太空的模擬圖。
Photo courtesy of NASA
照片:美國太空總署
經過四年的搜尋,克卜勒太空望遠鏡在宜居帶總共發現四十九顆行星。整個銀河系估計約有兩千億顆星球,而目前美國太空總署以克卜勒太空望遠鏡調查過的區域只有其中的百分之零點二五。
在最新發現的十顆類地行星中,有七顆繞著恆星運行。這表示這些行星可能具備能孕育生命的基本條件,可能有生物存在。
參與克卜勒任務的科學家馬力歐·佩瑞斯在上個月十九日的記者會上說:「宇宙中還有其他的生命嗎?雖然現在還無法證實,但或許克卜勒的新發現已經間接告訴我們,在地球之外是有其他生物的。」
克卜勒太空望遠鏡於二○○九年升空,目標為調查銀河系中有多少與地球大小相仿的宜居星球。(台北時報編譯涂宇安譯自美聯社)
Publication Notes
TODAY'S WORDS
今日單字
1. telescope n.
望遠鏡 (wang4 yuan3 jing4)
2. solar system phr.
太陽系 (tai4 yang2 si4)
3. galaxy n.
銀河 (yin2 he2)
4. habitable adj.
適合居住的
(shi4 he2 ju1 zhu4 de5)
Comments will be moderated. Keep comments relevant to the article. Remarks containing abusive and obscene language, personal attacks of any kind or promotion will be removed and the user banned. Final decision will be at the discretion of the Taipei Times.