Kaohsiung's Fongyi Academy 高雄鳳儀書院
If you plan to visit the Fongshan area by taking the Kaohsiung Metro to Fongshan station, your first port of call should be the Fongyi Academy. Steeped in history and literature and situated within the old Qing Dynasty-era Fongshan City, Fongyi Academy was where young Qing Dynasty-era students went to receive an education. The academy also served as an examination hall and was the highest seat of learning in southern Taiwan at the time.
Following a five-year-long restoration, the academy reopened to the public on Nov. 1, 2014. Visitors to the academy should first take a moment to admire the beautiful architecture. The academy is arranged around three interconnecting courtyards which house an entrance gate, lecture room and hall, while the left and right sides house student dormitories.
To ensure that visiting an old building is not a dull experience, adorable molded statues have been placed in many spaces in order to return the building to its original historic setting and recreate the appearance of old Fongshan. Weary travelers can sit in one of the former students' dormitories and order a cup of tea and light snacks.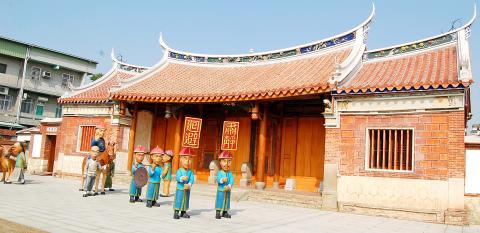 The entrance gate to the Fongyi Academy in Kaohsiung is pictured on Jan. 17, 2015. 鳳儀書院門口,二○一五年一月十七日攝於高雄市。
Photo: Chen Wen-chan, Liberty Times
照片:自由時報記者陳文嬋
(Liberty Times, translated by Edward Jones)
搭捷運玩鳳山的首站,就先從充滿歷史、書香氣息的鳳儀書院開始。在清朝的鳳山古城內,鳳儀書院乃是當時學童求學的教室和考場,可說是當時南部地區的最高學府。
歷經五年整修後,二○一四年十一月一日重新開放,參觀就從其建築之美看起,前後共三進式的書院格局,包括頭門、講堂、廳堂,左右側還分別設有學生宿舍。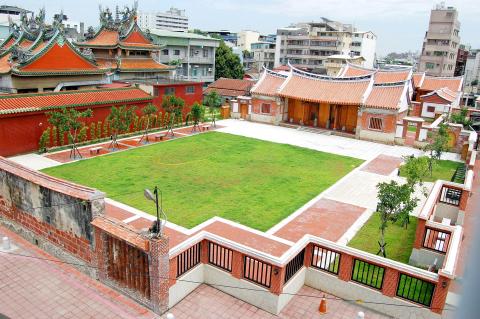 Fongyi Academy in Kaohsiung is pictured on May 8, 2014 following completion of restoration work. 整修完畢的高雄鳳儀書院,攝於二○一四年五月八日。
Photo: Chen Wen-chan, Liberty Times
照片:自由時報記者陳文嬋
為了不讓參觀傳統建築過於單調,多處空間還擺設了可愛的塑像群,還原當時的歷史場景及重現鳳山老面貌,逛累了還可坐在學舍內點些茶飲和茶點。
(自由時報記者黃文茹)
Publication Notes
TODAY'S WORDS
今日單字
1. examination hall n. phr.
考場
(kao2 chang3)
2. restoration n.
整修
(zheng3 xiu1)
3. lecture room n. phr.
講堂
(jiang3 tang2)
4. dormitory n.
宿舍
(su4 she4)
Comments will be moderated. Keep comments relevant to the article. Remarks containing abusive and obscene language, personal attacks of any kind or promotion will be removed and the user banned. Final decision will be at the discretion of the Taipei Times.