Dihua Street 迪化街 年味正濃
When it was first constructed, in the 1850s, in the Dadaocheng area in Taipei, Dihua Street was known as Center Street, presumably because of its central location within that part of town. The origin of some sections of the street stretch back further, to the time of Dutch rule, so it can lay claim to being one of the oldest streets in Taipei. The architecture is also the subject of conservation initiatives by the city government.
During the 19th century, the street established itself as a major commercial center, selling Taiwanese products and Chinese medicinal herbs, incense, fabrics, and the processing of Taiwanese tea. The name was changed to Dihua Street in 1947 when the Chinese Nationalist Party (KMT) started replacing local names with those of places in China. It was considered an appropriate reference, as the Dihua in China was an important regional commercial and financial center in the northwestern province of Xinjiang, built between 1763 and 1767 during the Qianlong reign of the Qing dynasty. The name survives in Taipei's Dihua Street, even though its Chinese namesake is now part of a city renamed Urumqi.
Relatively quiet for most of the year, the street becomes a hive of activity in the run up to the lunar new year period, when thousands of Taipei-ites descend to buy snacks and necessities for the new year festivities.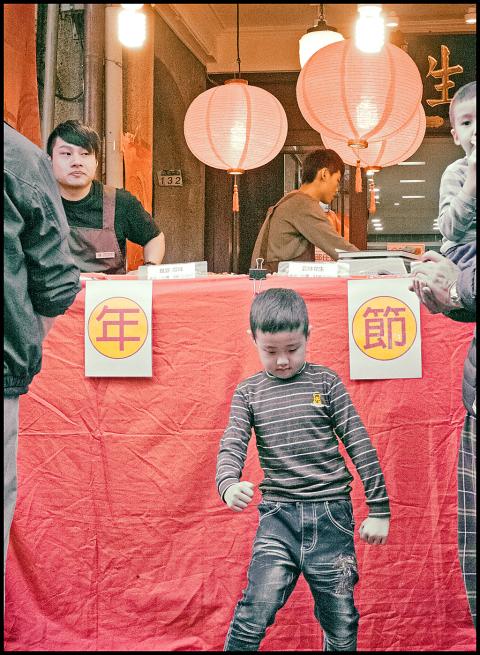 A boy dances outside a storefront in Taipei's Dihua Street on Jan. 17. 一名男孩在台北迪化街上的店面前跳舞,攝於一月十七日。
Photo: Paul Cooper, Taipei Times
照片:台北時報記者古德謙攝
(Paul Cooper, Taipei Times)
位於台北大稻埕的迪化街在一八五○年代剛建置時,原本叫做中街,或許是因為它位處於城區中央。迪化街其中有幾段的起源更早,可以追溯至荷治時期,所以迪化街可說是台北最早的街道之一。迪化街上的建築也是政府修復保存工作的重要目標。
十九世紀時,這條街是重要的商業中心,販售台灣本地的產品以及中藥、線香、布料、茶葉等。這條街在一九四七年改名為迪化街,因為國民黨政府開始將台灣的街道以中國的地名來命名。命名為迪化街是頗合適的類比,因為位於中國西北新疆省的迪化是重要的區域商業金融中心,該城在一七六三至一七六七年設置,時值清朝乾隆年間。中國的迪化市後來改名為烏魯木齊市,但是迪化這個名稱倒是在台灣留了下來。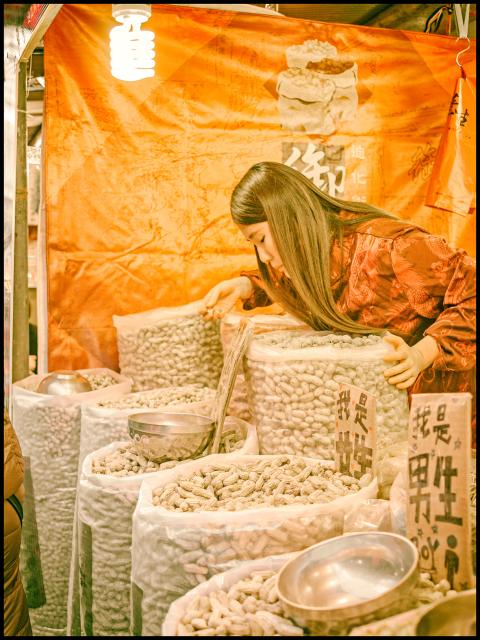 A peanut vendor leans forward searching for an object in Taipei's Dihua Street, Jan. 17. 一名花生攤販在台北迪化街的店內俯身找東西,攝於一月十七日。
Photo: Paul Cooper, Taipei Times
照片:台北時報記者古德謙攝
相較於平時的冷清,迪化街在春節期間有大量人潮湧入,採買準備過年的零食與年貨。
(台北時報編譯林俐凱譯)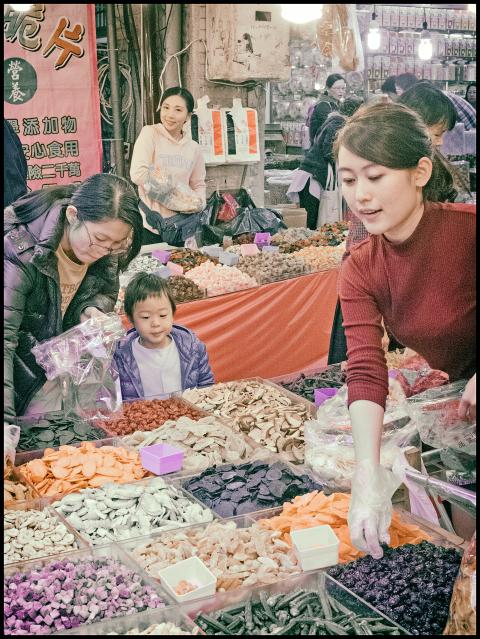 A child looks at lunar new year's snacks at a shop in Taipei's Dihua Street on Jan. 17. 一名男孩在台北迪化街上的店內看著零嘴,攝於一月十七日。
Photo: Paul Cooper, Taipei Times
照片:台北時報記者古德謙攝
Comments will be moderated. Keep comments relevant to the article. Remarks containing abusive and obscene language, personal attacks of any kind or promotion will be removed and the user banned. Final decision will be at the discretion of the Taipei Times.