Yilan County bears the brunt of losses from Typhoon Megi 颱風梅姬農損逾三點四億元 宜蘭最慘
According to statistics released by the Council of Agriculture (COA), between Tuesday and Wednesday last week, Taiwan's agriculture, forestry, fishery and animal husbandry industries, and other privately-operated facilities, are estimated to have suffered losses amounting to NT$341.86 million from the impact of the gale-force winds and torrential rain caused by Typhoon Megi.
According to COA analysis on financial losses sustained at a county and municipal city level, estimated losses are: Yilan County NT$117.88 million, or 34 percent; Kaohsiung NT$59.2 million, or 17 percent; Taichung NT$57.62million, or 17 percent and Miaoli County NT$24.96 million, or 7 percent, with losses in the first three regions the most severe.
Total losses for the agricultural industry are estimated at NT$332.36 million with an area of 6,065 hectares of crops thought to have been damaged. The rate of damage is estimated to be 23 percent which means that 1,383 hectares of land will be unable to be harvested.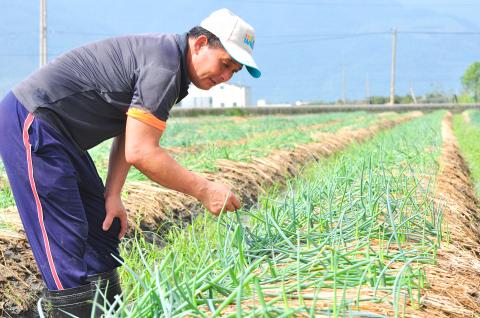 A farmer inspects his damaged spring onion crop on Wednesday last week in Yilan County. 宜蘭縣一名農民上週三檢查他所種植的蔥受損的情形。
Photo: CNA
照片:中央社
The council's statistics show that the main crop damaged by the typhoon was guavas with 294 hectares of guava crop have been damaged, causing an estimated NT$47.52 million worth of losses.
(CNA, translated by Edward Jones)
農委會統計,台灣自上週二及週三受颱風梅姬強風豪雨影響,農林漁牧業及民間設施估計損失新台幣三億四千一百八十六萬元。
農委會分析縣市受損情形,以宜蘭縣損失一億一千七百八十八萬元、占百分之三十四,高雄市損失五千九百二十萬元、占百分之十七,台中市損失五千七百六十二萬元、占百分之十七,苗栗縣損失兩千四百九十六萬元、占百分之七,以前三縣市較嚴重。
農產損失金額估計三億三千兩百三十六萬元,農作物被害面積六千零六十五公頃,損害程度百分之二十三,換算無收穫面積一千三百八十三公頃。農委會統計,受損作物主要是番石榴,被害面積兩百九十四公頃,損失金額四千七百五十二萬元。
(中央社)
Publication Notes
TODAY'S WORDS
今日單字
1. loss n. 損失
(sun3 shi1)
2. gale-force wind n phr. 強風
(qiang2 feng1)
3. torrential rain n. phr. 豪雨
(hao2 yu3)
4. damage n. 損害
(sun3 hai4)
Comments will be moderated. Keep comments relevant to the article. Remarks containing abusive and obscene language, personal attacks of any kind or promotion will be removed and the user banned. Final decision will be at the discretion of the Taipei Times.