Pokemon Go a smash hit for Nintendo Pokemon Go爆紅 創下多項驚人記錄
Following the explosive popularity of the smartphone game Pokemon Go, US foreign investment analysts say investors should keep an eye on the popular game's revenue model, the profit levels of its parent company, its follow-up plans for future market performance and its impact on the Nintendo games console business.
Pokemon Go has only been on the market for a matter of two weeks, yet it has already produced several astonishing records, including breaking through the 10 million download barrier within the first week of its release. The app also surpassed communications tech company Twitter's daily active user count and its average daily user times are higher than those for Facebook, Instagram, Snapchat and WhatsApp.
According to US foreign investment analysts, the huge response to Pokemon Go since it hit the market may have caused investors to re-evaluate the latent value of Nintendo games consoles' intellectual property, which has resulted in Nintendo's share price going through the roof.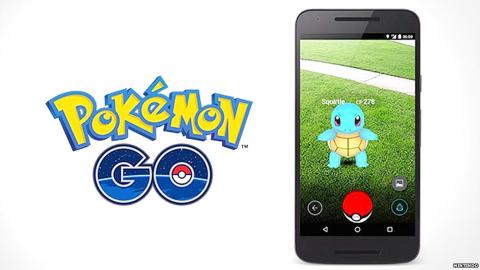 A screenshot of smartphone game Pokemon Go is pictured in an undated photo. 精靈寶可夢Go手機遊戲畫面,拍照日期不明。
Photo: Screengrab from the Internet
照片:翻攝自網路
(CNA, TRANSLATED BY EDWARD JONES)
手機遊戲精靈寶可夢Go爆紅,美系外資分析,投資人應注意此款熱門手遊如何創造營收、相關公司獲利、後續上市時間規劃、以及對任天堂遊戲主機事業的影響。
精靈寶可夢Go上市短短兩週創下多項驚人記錄,其中包括首週突破千萬下載量、超過通訊軟體推特每日活躍用戶數、用戶每天平均使用時間比社群平台臉書、Instagram 、Snapchat、WhatsApp都還高。
美系外資表示,精靈寶可夢Go上市即大受歡迎,可能讓投資人重新評估任天堂遊戲主機智慧財產角色的潛在價值,因此激勵任天堂股價飆漲。(中央社)
Publication Notes
TODAY'S WORDS
今日單字
1. keep an eye on v. phr. 注意
(zhu4 yi4)
2. surpass v. 超過
(chao1 guo4)
3. re-evaluate v. 重新評估
(chong2 xin1 ping2 gu1)
4. go through the roof phr. 飆漲
(biao1 zhang3)
Comments will be moderated. Keep comments relevant to the article. Remarks containing abusive and obscene language, personal attacks of any kind or promotion will be removed and the user banned. Final decision will be at the discretion of the Taipei Times.