Catheter valve implantation cuts risk for elderly patients 二次「開心」風險高 九旬嬤經導管置換瓣膜救命
An elderly woman surnamed Chiang who is 92 years old underwent an open-heart surgery for aortic stenosis 10 years ago. Since the useful life of an implanted valve is limited to about 10 years, she needed to have a new valve implanted. If done by conventional surgery, the mortality rate for a second operation of this sort would be 10 to 20 percent. However, the Cheng Hsin Hospital used transcatheter aortic valve implantation (TAVI), in which there is no need to "open the heart." Instead, a catheter is used to implant the valve via the femoral artery.
Yin Wei-hsian, chief of Cheng Hsin Hospital's Division of Cardiology, says that aortic stenosis usually occurs in elderly people aged 65 or older. As people get older, the aortic valve may become hardened, calcified or narrowed, causing decreased blood flow, which may in turn lead to symptoms such as heart failure, angina and fainting.
Wei Jeng, chief of Cheng Hsin Hospital's Heart Center, points out that the conventional approach to aortic stenosis requires implanting a valve by means of open-heart surgery, but if the patient is over 80 years old and has undergone an implantation in the past, most doctors will generally refuse to operate on them because the surgery is too risky.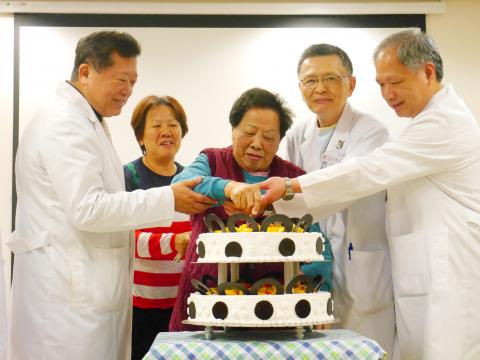 An elderly woman surnamed Chiang, center, celebrates with a medical team from Cheng Hsin Hospital in Taipei on Wednesday last week after having an aortic valve operation. 江奶奶(中)在台北振興醫院完成主動脈瓣膜植入術後,上週三與醫療團隊一起慶祝手術成功。
Photo: Lin Hui-chin, Liberty Times
照片:自由時報記者林惠琴
Yin says that TAVI requires a smaller incision and a much shorter surgical procedure, and the patient can get out of bed on the same day, while the operation carries a risk of less than 3 percent. The only problem is that the National Health Insurance scheme currently does not pay for this procedure, so patients have to pay around NT$1 million out of their own pockets to have it done.
Since performing its first TAVI in 2013, Cheng Hsin Hospital has carried out this procedure on more than 150 patients whose average age is 83, and the oldest of whom was 101 years old.(Liberty Times, translated by Julian Clegg)
高齡九十二歲的江奶奶,十年前因心臟主瓣膜狹窄曾動過一次「開心」手術,由於置放瓣膜的使用期限大約十年左右,因此須置放新瓣膜。若採用傳統手術,第二次手術死亡率高達百分之十至二十,但振興醫院使用「經導管人工主動脈瓣膜植入術」(TAVI),不用「開心」,只要利用導管經由股動脈穿刺置放瓣膜即可。
振興醫院心臟血管內科主任殷偉賢表示,主動脈瓣膜狹窄通常發生在六十五歲以上的老年人口。隨著年齡增長,主動脈瓣膜發生硬化、鈣化、狹窄等問題,造成血流不流暢,進而有心衰竭、心絞痛、暈厥等症狀。
振興醫院心臟醫學中心主任魏崢指出,針對主動脈瓣膜狹窄,傳統須「開心」置放瓣膜,但若是八十歲以上的患者,且曾經接受置放手術,因為手術風險過高,通常醫師會拒絕為其動刀。
殷偉賢說,TAVI的傷口小,大幅縮短術程,當天就可下床。手術風險在百分之三以內。只是目前健保尚未給付,患者必須自費上百萬元。
從二○一三年進行首例TAVI以來,振興醫院已將此術應用於一百五十位以上的患者,平均年齡八十三歲,其中年齡最高者為一百○一歲。(自由時報記者林惠琴)
Publication Notes
TODAY'S WORDS
今日單字
1. implant v.
置放;植入 (zhi4 fang4; zhi2 ru4)
例: The doctor advised the patient to have a pacemaker implanted.
(醫生建議病人置放心臟節律器。)
2. mortality rate n. phr.
死亡率 (si3 wang2 lu4)
例: Racing drivers have a high mortality rate.
(賽車手的死亡率很高。)
3. catheter n.
導管 (dao2 guan3)
例: The surgeon used a catheter to remove the blood clot.
(外科醫生使用導管來清除血塊。)
Comments will be moderated. Keep comments relevant to the article. Remarks containing abusive and obscene language, personal attacks of any kind or promotion will be removed and the user banned. Final decision will be at the discretion of the Taipei Times.