Gueiren's "bent-over building" will be gone by mid-May 歸仁的「歪腰大樓」 五月中掰掰
A month has passed since the powerful earthquake of Feb. 6, and the Wang Lin Hotel in Tainan's Gueiren District, which **leaned** over toward the east in the earthquake, is being demolished. Because the hotel stands next to the busy Jhongshan Road, while the High-Speed Rail also passes nearby, it has attracted a great deal of attention. Some Internet users **jokingly call** it the "bent-over building," and it has become known as a new landmark in the ancient city of Tainan.
Wang Lin Hotel spokesperson Tseng Hui-hsuan says that demolition work is proceeding in full swing and is expected to be finished by May 18. Tseng says that although the earthquake caused the hotel's owners a loss of more than NT$200 million, the hotel will be rebuilt on the spot in the hope that it will bring business and tourism development to Gueiren District. She stresses that all the investors are Taiwanese and they will invest a further NT$650 million to rebuild the hotel, demonstrating their determination to put down firm roots in Gueiren.
The **scaffolding** that had been put up around the exterior of the Wang Lin Hotel has now been removed, and the building is being demolished from the inside out. Not only can passers-by see it for themselves; even travelers riding the High-Speed Rail can see it from a distance. Some people laughingly say that when they see this new landmark they know that they have reached Tainan's Gueiren District.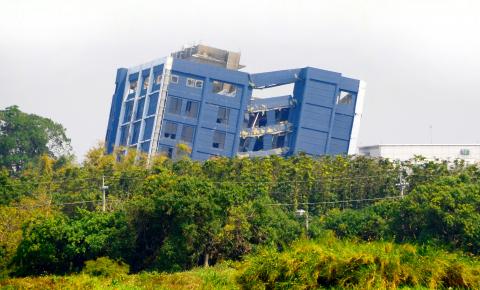 The Wang Lin Hotel in Tainan's Gueiren District, which has been leaning over since the Feb. 6 earthquake, is pictured on March 6. 自二零六強震後便一直傾斜的台南歸仁旺林飯店,攝於三月六日。
Photo: Wu Chun-feng, Liberty Times
照片:自由時報記者吳俊鋒
(Liberty Times, translated by Julian Clegg)
二○六強震已經滿月,當時往東側傾斜的台南歸仁區旺林飯店,目前仍在拆除中,由於緊鄰車流往返頻繁的中山路,附近也有高鐵行經,格外引起注意。網友戲稱是「歪腰大樓」,還封為古都台南的新地標。
旺林飯店發言人曾蕙萱表示,拆除作業正全力進行中,預計五月十八日前完成。雖然這次地震損失金額超過兩億元,未來仍將原地重建,希望帶動歸仁區的商務、觀光發展。她強調,業者全都是台資,未來要再投入六.五億元重建,展現扎根歸仁當地的決心。
旺林飯店外的鷹架已撤離,從內部開始拆除,不僅行經民眾可以親睹,連坐在高鐵上的旅客也能遠望,笑稱只要看見這個新地標,就知道「台南歸仁已經到了」。
(自由時報記者吳俊鋒)
Publication Notes
TODAY'S WORDS
今日單字
1. lean v.
傾斜 (qing1 xie2)
例:The church tower leans slightly toward the west.
(教堂的塔樓微微向西傾斜。)
2. jokingly call phr.
戲稱 (xi4 cheng1)
例: The workers jokingly call their supervisor "the great dictator."
(工人戲稱他們的主管是「大獨裁者」。)
3. scaffolding n.
鷹架 (ying1 jia4)
例: Steel and bamboo scaffolding each have their advantages.
(鋼鐵和竹子製成的鷹架各有各的優點。)
Comments will be moderated. Keep comments relevant to the article. Remarks containing abusive and obscene language, personal attacks of any kind or promotion will be removed and the user banned. Final decision will be at the discretion of the Taipei Times.