Pingtung high school girl beats the odds to win a place at National Taiwan University 靠獎學金求學 屏女黃欒雅入學台大
Huang Luan-ya, a student from Pingtung Girls' High School who comes from a single-parent family, has been able to further her education by relying on a scholarship and other means of financial assistance. Although Huang has been unable to take after-school lessons due to her family's precarious financial situation, she was nevertheless able to maintain sixth place in her school's mathematics class for gifted students. Huang even used her time outside of classes to work as a volunteer. She received a recommendation from her school to participate in the selection process for National Taiwan University (NTU) and was admitted into her first choice: to study at NTU's Department of Psychology.
In her second year of high school, Huang's parents divorced. Huang and her younger brother lived with her father and grandmother, while Huang's father took on extra jobs to maintain the family's livelihood. Under these straitened circumstances, Huang set her sights high. After graduating from junior high school, she passed the entrance exam for Pingtung Girls' High School. Every day, Huang would take the bus from Donggang Township to Pingtung City to go to school. She even actively participated in after-school clubs, took the initiative to organize a tuition summer camp for elementary students from the countryside and volunteered at a family support center.
Huang says she wishes to study psychology at university because during her second year at junior high school, when her family situation was unsettled, aside from the care she received from the social affairs bureau, her school tutor sought her out and talked with her every day for a whole month. This gave her a great deal of emotional support, says Huang, so she hopes to be able to develop into a counseling psychologist and occupational therapist, in order to be able to help others like herself.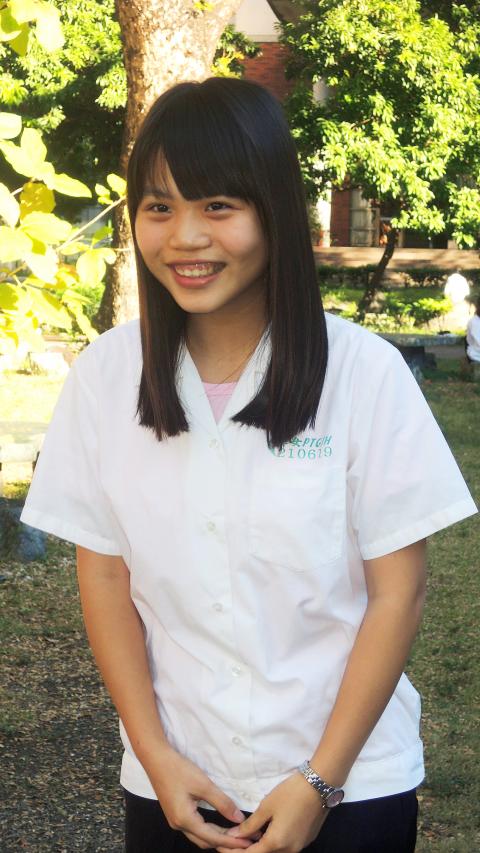 Pingtung Girls' High School student Huang Luan-ya smiles to the camera on Jan. 6 in Pingtung County. 一月六日在屏東縣,屏東女中學生黃欒雅笑著。
Photo: Luo Hsin-chen, Liberty Times
照片:自由時報記者羅欣貞
(Liberty Times, translated by Edward Jones)
來自單親家庭的屏東女中學生黃欒雅,靠著獎學金等補助求學,雖因經濟弱勢無法補習,卻能在數理資優班保持前六名,更利用課餘時當志工,獲學校推薦參加台灣大學希望入學甄選,錄取第一志願心理學系。
黃欒雅在國二那年父母離異,她與弟弟跟著父親、阿嬤生活,父親打零工維持家計,在不寬裕的環境中,她力爭上游,國中畢業考取屏東女中,每天從東港通車到屏市上學,還積極參加社團,主動為偏鄉小學舉辦課輔營隊,並到家扶中心當志工。
心理學系是黃欒雅的第一志願,她說,國二那年,因家裡狀況情緒不穩,除了有社會處社工關心,學校輔導老師也天天找她晤談,持續一個多月,給她很大的心理支持,所以希望自己以後,也能朝著心理諮商師、職能治療師發展,有能力幫助和自己一樣的人。
(自由時報記者羅欣貞)
Publication Notes
TODAY'S WORDS
今日單字
1. straitened circumstances n. phr.
不寬裕的環境 (bu4 kuan1 yu4 de5 huan2 jing4)
例: In the current straitened circumstances, the company is unable to give employees a pay rise this year.
(在目前不寬裕的環境下,公司今年無法給員工加薪。)
2. set one's sights high v. phr.
力爭上游 (li4 zheng1 shang4 you1)
例: John set his sights high to become a millionaire businessman by his 30th birthday.
(約翰力爭上游,希望能在他三十歲生日前成為一個百萬富翁企業家。)
3. volunteer v.
當志工 (dang1 zhi4 gong1 )
例: Anne volunteers at a home for the elderly every weekend.
(安妮每週末在一家養老院當志工。)
Comments will be moderated. Keep comments relevant to the article. Remarks containing abusive and obscene language, personal attacks of any kind or promotion will be removed and the user banned. Final decision will be at the discretion of the Taipei Times.