Learning is fun at science summer camp 松高前進偏校 輕鬆教科學
Students from Songshan Senior High School in Taipei organized a service team to go to Xinghua Elementary School in New Taipei City's Sanjhih District and hold a four-day, three-night "Running Kids educational and recreational camp." The teacher in charge, Kuo Ching-ching, says that this camp was planned around the themes of science and environmental protection, in the hope of using interesting science games and DIY lessons to let children from a school in an outlying area gain an easy understanding of scientific knowledge. With a smile, Kuo says that all the lessons were planned by the students, who did everything by themselves, from the initial planning and conception through to surveying the location and making improvements.
After getting confirmation of which colleges have accepted them in May and June, the 29 students who took part in this project planned the activities on their own initiative, hoping to use experiments and playacting as ways of interacting with the children, so as to let them easily get an understanding of scientific knowledge and the importance of environmental protection.
The scientific experiments were well integrated with everyday life. For example, one involved drooping a string onto an ice cube and then sprinkling it with salt. Because the salt causes a fast-freezing effect when it comes in contact with the ice cube, the ice cube can be lifted up with the string. The children all thought this was amazing. The service team also blended environmental protection ideas into a play, which was entitled "The 3R Kids" — the three Rs being reduce, reuse and recycle. In the course of acting in the play, as well as getting an understanding of environmental protection concepts, the children also got to learn some English.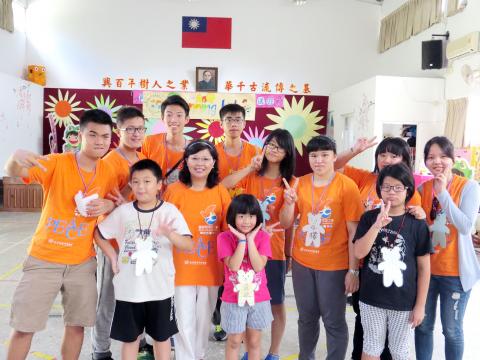 Teenagers and children do activities together during a summer camp at Xinghua Elementary School in New Taipei City's Sanjhih District earlier this month. 本月月初,青少年與孩童在夏令營中一起參與活動。攝於新北市三芝區興華國小。
Photo courtesy of Taipei Municipal Songshan Senior High School
照片由松山高中提供
Service team organizer Shen Yun-i has been accepted to study in the Department of Nursing at National Cheng Kung University. She says that everyone got absorbed with great enthusiasm and went from being strangers to having an unspoken understanding. "We learned a lot of things that we never learned in class. It was really great!" she says.
(Liberty Times, translated by Julian Clegg)
台北市松山高中學生組服務隊,到新北市三芝區興華國小進行四天三夜的「Running Kids育樂營」,帶隊老師郭靜靜表示,這次營隊以科學、環保為主軸設計課程,希望透過有趣的科學遊戲、DIY課程,讓偏遠學校的孩子們能輕易理解科學知識。她笑說,所有的課程全部由學生規劃,從企劃、構思、場勘、改進都一手包辦。
參與這次計畫的廿九名學生,在五、六月確定錄取學校後,主動規劃活動,希望藉由做實驗、演戲和小朋友互動,讓小朋友輕易理解科學知識以及環保的重要。
科學實驗相當生活化,像是在冰塊上擺一條線,之後再撒鹽,因鹽巴遇到冰塊會有急速冷凍效果,一條線就可把冰塊拉起來,每個小朋友都覺得好神奇!服務隊也把環保觀念融入戲劇,劇目是「3R寶寶」,分別為reduce、reuse、recycle,演戲過程中,小朋友除了解環保概念,還能學英文。
服務隊總召沈芸伊錄取成大護理系,她表示,看到大家熱情投入,從彼此陌生到有默契,「我們學到很多課堂上學不到的東西,真的很棒!」
(自由時報記者梁珮綺)
Comments will be moderated. Keep comments relevant to the article. Remarks containing abusive and obscene language, personal attacks of any kind or promotion will be removed and the user banned. Final decision will be at the discretion of the Taipei Times.