Portraits of imperial Taiwanese soldiers 見證歷史的台籍日本兵
The father of Liu Min, a painter from Nantou's Puli Township, used to be a Taiwanese soldier who served in the Japanese military in World War II. In order to present the lives of Taiwanese soldiers like him to the public, Liu has spent eight years recording the oral histories recounted by her elderly father and his comrades, as well as drawing their weather-beaten faces and painting the difficult lives they led.
Liu says her father Liu Ying-hui is 94 years old. In 1943, when he was 22, he was enlisted by the Japanese to serve at Rabaul in Papua New Guinea along with 40 others from his home town. Two years later Japan surrendered and they were taken over by the Australian military. Because their supplies were cut off, they had to survive by eating bats, lizards and beetle grubs. After eight months of hardship, they were sent back to Puli.
Liu Min was the youngest child in her family. When she was little, she often heard her father talk about his military life in Southeast Asia. His close comrades were frequent guests in their home and would often join her father in reminiscing about the past. When they sang Japanese military songs, it was as if their memories were full of the vicissitudes of life, which made her often wonder how these old men might feel about what they had been through. Eight years ago, as the Japanese army veterans were passing away one by one, she began to interview her father and his comrades and record their history. She draw their portraits and wrote down their unforgettable memories, including such themes as the eve before being sent to war, battlefields, comrades, families and the whirlpool of history.
(Liberty Times, translated by Ethan Zhan)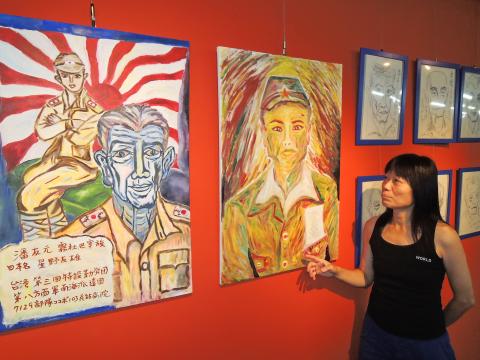 Artist Liu Min explains her paintings of Taiwanese soldiers who served in the Japanese military at an exhibition in Puli Township, Nantou County on Aug. 14. 晝家劉敏在展覽中闡述她畫中的台籍日本兵。攝於八月十四日,南投縣埔里鎮。
Photo: Tung Chen-kuo, Liberty Times
照片:自由時報記者佟振國
南投縣埔里鎮畫家劉敏的父親是二戰時期的台籍日本兵,為能讓台籍日本兵的生命被看見,她特別花了八年時間記錄年邁父親與其同袍戰友的口述歷史,更畫下他們歷經風霜的面容,也畫出台籍日本兵的艱辛歲月。
劉敏表示,父親劉英輝已高齡九十四歲,一九四三年他廿二歲,被日本人徵調到南洋巴布亞新幾內亞的拉包爾從軍,與他一起被徵調的同鄉有四十人。過了兩年,日軍投降,他們由澳洲軍隊接管,因軍援斷絕,只能吃蝙蝠、蜥蜴、雞母蟲求生。艱辛求生八個多月才獲遣返回到埔里。
家中排行老么的的劉敏,小時候常聽父親講述到南洋當兵的經驗,感情深厚的同袍也常到家中敘舊。聽他們唱著日本軍歌,回憶中似乎充滿滄桑,讓她也常常思索著這些歐吉桑的心情。直到八年前有感於這群台籍日本兵日漸凋零,才開始為父親與同袍戰友採訪記錄,畫下他們的畫像,以及寫下刻骨銘心的記憶,包括出征前夕、戰地戰友、家庭、歷史的漩渦等主題。
(自由時報記者佟振國)
Publication Notes
TODAY'S WORDS
今日單字
1. enlist v.
徵調;徵召 (zheng1 diao4; zheng1 zhao4)
例: Teddy and Bill were enlisted in the navy in 1944.
(泰迪及比爾一九四四年被徵召至海軍服役。)
2. take over phr.
接管 (jie1 guan3)
例: Because their baseball coach retired, our coach took over their team two years ago.
(因為他們的棒球教練退休了,因此我們教練兩年前接管了他們的球隊。)
3. vicissitude n.
滄桑 (cang1 sang1)
例: He laughed when he thought about the vicissitudes of this love affair.
(當他想起這段感情的滄桑,他笑了。)
Comments will be moderated. Keep comments relevant to the article. Remarks containing abusive and obscene language, personal attacks of any kind or promotion will be removed and the user banned. Final decision will be at the discretion of the Taipei Times.