Banciao residents save trees 颱風倒樹 板橋人「自己的樹木自己救」
Typhoon Soudelor toppled more than 10,000 trees in Taipei and New Taipei City, and many of the fallen trees are still lying around waiting to be saved. On Tuesday last week, about 100 residents from a community close to the Music Park in New Taipei City's Banciao District started an activity they called "saving our trees by ourselves" as they spontaneously joined up to cut off broken branches from fallen trees and use ropes to pull them upright, straighten them and replant them at their original spots. They were hoping that the activity would help foster a culture conducive to loving and saving trees rather than letting the fallen trees lie around and rot.
Residents in the area said that more than 100 trees had been toppled in the Music Park and the nearby Bade Park during the typhoon, but for several days afterward no one came to take care of them. A resident surnamed Chen said that people who often exercise in the parks felt sad and wondered why no one came to take care of the trees when so many had been toppled.
Chen also said that the "saving our trees by ourselves" activity began last Tuesday and that neighborhood residents responded by participating and helping to cut broken branches, adding that "even if the authorities intend to save these trees, they lack the manpower, so we are hoping that we can establish a culture conducive to saving trees and use the power of civic spontaneity to mobilize people and put fallen trees back up again."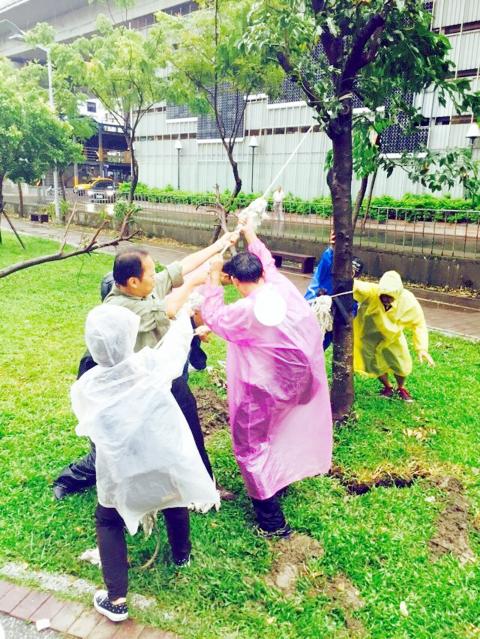 Banciao residents rescue a fallen tree in their community on Thursday last week by pulling it upright and replanting it. 板橋居民發起「自己的樹木自己救」,於八月十三日在雨中拉起倒樹種回。
Photo: Chen Wei-tsung, Liberty Times
照片:自由時報記者陳韋宗
Although it rained last Thursday afternoon, many people dressed in rain gear used ropes to pull fallen trees upright and shovels to clear the tree pits and steady the trees. Lee Chien-ming, a volunteer from Taiwan Kiwanis International, said that if the root system of a tree that has been toppled by the typhoon is exposed to the sun for several days before the tree is straightened again, it will have a much lower chance of surviving. Lee said that because of this, he hoped it would be possible to call on more people to help save trees.
(Liberty Times, translated by Perry Svensson)
蘇迪勒颱風吹倒雙北市上萬棵樹木,至今仍有許多倒樹橫躺等待救援;板橋音樂公園附近居民約百餘人,上週二起發起「自己的樹木自己救」行動,自發性修剪倒樹斷枝,並用纜繩將樹木拉起、扶正,種回原地,希望藉由行動建立「救樹、愛樹」文化,別讓風災倒樹就此枯死。
據附近居民表示,板橋音樂公園與鄰近的八德公園,受風災傾倒樹木超過一百棵,但災後多日,卻始終不見有人來救救這些樹木。陳姓居民說,常來公園運動的民眾都感嘆,怎麼倒了這麼多棵樹,就放在這裡,都沒有人來救?
陳姓居民說,從上週二開始發起「自己的樹木自己救」行動,鄰里居民都投入響應,幫忙修剪斷裂的枝葉,「公部門就算有心救樹,但人手不足,希望建立救樹文化,透過民間自發性力量,在風災過後動員扶正倒樹!」
上週四雖然午後下起大雨,但仍有許多民眾穿著雨衣,以繩子拉起倒樹,並用鏟子整理樹穴、固定樹幹。協助居民救樹的台灣樹人會志工李建明說,受風災傾倒的樹木,若根系曝曬烈日下多天,再扶正的存活率就會大幅下降,因此希望號召更多人響應,一起參與搶救。
(自由時報記者陳韋宗)
Publication Notes
TODAY'S WORDS
今日單字
1. topple v.
吹倒 (chui1 dao3)
例: The wind was so strong that it toppled the building.
(風強到把房子都吹倒了。)
2. spontaneously adv.
自發性地 (zi4 fa1 xing4 de)
例: The demonstrations started spontaneously after the news came out.
(新聞出來後,遊行便自發性地開始了。)
3. manpower n.
人手;人力 (ren2 shou3; ren2 li4)
例: You need a lot of manpower to build a pyramid.
(蓋金字塔需要龐大的人力。)
Comments will be moderated. Keep comments relevant to the article. Remarks containing abusive and obscene language, personal attacks of any kind or promotion will be removed and the user banned. Final decision will be at the discretion of the Taipei Times.