Car falls 30m, driver unhurt 飛墜三十公尺 車摔爛人輕傷
At 5am on Aug. 7, a black SUV driving along the Sinjhuang section of the road that runs outside the flood barrier between Sanchong and Sinjhuang in New Taipei spun out of control, crashed through the protective railing and fell headlong into the riverbed 30m below. Miraculously, although the SUV was almost completely destroyed, the driver, a man surnamed Chen, only received a few scratches, something witnesses to the incident found almost unbelievable.
Police who looked at the driving recording system say that Chen, 21, drove his SUV along the Sinjhuang section of Highway 65, going north at a speed of 90 km/h. In the inner lane about 100m ahead of Chen, a truck turned on its blinkers and shifted right to change lanes. Chen then swerved to the right and lost control of the car, which started skidding.
The recording shows that the SUV first skidded left and right and then spun to the right and hit the protective railing. The right front wheel first hit the 30cm-high curb separating the bicycle-and-scooter lane from the road, bursting the tire, whereupon the front of the car bounced upward and crashed through the protective railing, falling headlong 30m down. During the fall, the car spun forward to the right and finally landed heavily on its rear. The incident frightened early risers who were exercising in the vicinity and they called the police.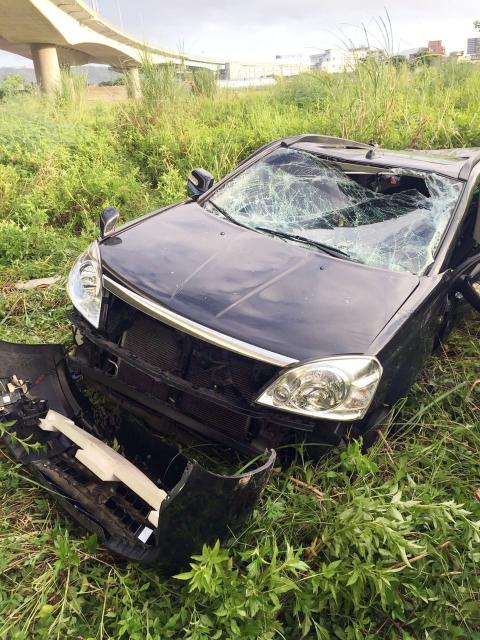 The wrecked car driven by a man surnamed Chen lies on the ground on Aug. 7. 八月七日,陳男車輛墜毀成廢鐵。
Photo: Huang Chieh, Liberty Times
照片:自由時報記者記者黃捷
When police and firefighters arrived on the scene, they found that the doors of the SUV had been pushed open, the windows had been crushed and the bumper had been broken in two. Chen was sitting firmly in the driver's seat, fully conscious with only a few scratches. After being rescued and sent to a hospital, tests showed that he had no alcohol in his blood, and by noon he had returned home to rest.
(Translated by Perry Svensson)
八月七日清晨五點,一輛黑色休旅車行經新北市新莊重新堤外道時,因閃車失控,衝出橋樑護欄,從三十公尺高度,倒栽蔥摔落河床,奇蹟的是,休旅車摔得近乎全毀,陳姓駕駛竟然只有擦傷,目擊者直呼不可思議。
警方調閱陳男行車紀錄器,從畫面看出,二十一歲陳男駕休旅車在台六十五線新莊路段,以時速九十公里往北行駛,前方百公尺外一輛大貨車打方向燈,右切變換車道,陳男急往右閃,車行失控打滑。
行車紀錄器畫面顯示,休旅車先左右飄移,旋即向右衝向橋樑護欄,右前輪先撞上三十公分高的汽、機車道分隔島,爆胎後,車頭彈起,衝破護欄,從近三十公尺高度,倒栽蔥墜下,車身在空中向右前方翻轉,最後以車屁股重重著地,附近早起運動的民眾嚇得報警。
警消抵達發現休旅車車門全部爆開,玻璃碎裂、保險桿斷裂,陳男卻穩穩坐在駕駛座,意識清醒,只有輕微擦傷,被救出送醫,酒測值為零,中午前已返家休養。
(自由時報記者黃捷)
Publication Notes
TODAY'S WORDS
今日單字
1. miraculously adv.
奇蹟的 (qi2 ji1de5)
例: He miraculously survived the airplane crash.
(他奇蹟的從這次空難中倖存下來。)
2. unbelievable adj.
不可思議 (bu4 ke3 si1 yi4)
例: It is unbelievable that he would win the lottery instead of me.
(中樂透的是他而不是我,真是不可思議。)
3. lose control v. phr.
失控 (shi1 kong4)
例: He was so angered by what he saw that he almost lost control.
(他為他所目睹的情形大為光火,近乎失控。)
Comments will be moderated. Keep comments relevant to the article. Remarks containing abusive and obscene language, personal attacks of any kind or promotion will be removed and the user banned. Final decision will be at the discretion of the Taipei Times.