Scientists solve mystery of milky rain 科學家解開牛奶雨之謎
Scientists have finally solved the mystery of a milky rain that **coated** cars and raised eyebrows across a wide swathe of North America's Pacific Northwest region this February. A Washington State University team said they had determined that dust from the dry bed of a shallow lake some 772 kilometers from where the rain fell was to blame for the unusual precipitation.
The rain left a trail of powdery residue across a nearly 322-kilometer stretch of eastern parts of Oregon and Washington State, leaving scientists and residents **perplexed** about its origins. Some scientists initially **speculated** that an erupting Japanese volcano was the source of the powdery white substance. Others blamed wildfires, and some thought that a Nevada dust storm was the cause.
All three theories were proven wrong. That led researchers to consider Oregon's Summer Lake, which is shallow and often largely dries up during droughts. A storm with winds reaching 96 kilometers per hour struck Summer Lake the night before the milky rain.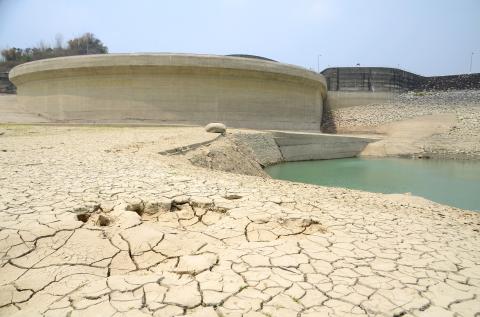 Cracks appear in the dry bed of the Nanhua Reservoir in Tainan on April 17. 四月十七日台南南化水庫乾涸見底,出現龜裂。
Photo: Wu Chun-feng, Liberty Times
照片:自由時報記者吳俊鋒
"That would have been powerful enough to lift a good-sized dust plume," said Nic Loyd, a meteorologist at the university.
(Courtesy of the Liberty Times)
今年二月間,在北美太平洋西北地區廣大地帶讓車輛覆蓋白白一層、讓人驚訝不已的牛奶雨之謎,終於被科學家解開。美國華盛頓州立大學的研究團隊說,他們判定這種不尋常的降雨,都是約七百七十二公里外一座淺湖乾涸湖底的沙所造成。
那陣雨降在奧勒岡州與華盛頓州東部,將近三百二十二公里的地帶遍佈粉末,讓科學家與居民不解其來源。某些科學家起初推斷,這種粉末狀白色物質來自日本一座噴發的火山。有人怪罪野火,也有人認為原因在於內華達州的沙塵暴。
結果證實上述三種理論都不正確。這讓研究人員開始考慮水不深、乾旱期大半乾涸的奧勒岡州夏湖。天降牛奶雨的前一晚,夏湖下了一場挾著每小時風速達九十六公里的暴風雨。
華盛頓州大氣象學家尼克.羅以德表示:「那種力量強大到足以捲起大片沙塵。」
(自由時報提供/翻譯:自由時報國際新聞中心)
Publication Notes
TODAY'S WORDS
今日單字
1. coat v.
覆蓋;塗上 (fu4 gai4; tu2 shang4)
例: When the cookies are cool, you coat them with molten chocolate.
(餅乾放涼後,在上面塗上融化的巧克力。)
2. perplexed adj.
不解;困惑 (bu4 jie3; kun4 huo4)
例: Doctors are still perplexed about this disease.
(這種疾病仍讓醫生困惑不解。)
3. speculate v.
推斷;猜測 (tui1 duan4; cai1 ce4)
例: Journalists are speculating as to whether interest rates will be cut.
(記者們猜測會不會降息。)
Comments will be moderated. Keep comments relevant to the article. Remarks containing abusive and obscene language, personal attacks of any kind or promotion will be removed and the user banned. Final decision will be at the discretion of the Taipei Times.